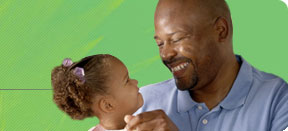 Obesity and Unhealthy Eating
Your child's plump little legs may have been cute when he or she was a baby, but, as your child grows, holding onto "baby fat" can signal real problems ahead. Since the 1970s, the number of overweight and obese children of all ages has sharply increased. According to the Centers for Disease Control and Prevention (CDC), weight status is measured by Body Mass Index (BMI):
Children are overweight if their BMI is above the 85th percentile (but below the 95th) for children of the same age and sex.
Children are obese if their BMI is at or above the 95th percentile for children of the same age and sex.

The increase in overweight and obese children from ages 2 to 5 has more than doubled in the past 20 years, which has serious short-term and long-term consequences. Serious health implications include increased risk for disorders such as hypertension, high cholesterol, type 2 diabetes, and sleep apnea. Obesity that lasts into adolescence also puts children at risk for bullying and a poor self-image, both of which can lead to substance abuse. Healthy eating habits established early on can protect our children physically and emotionally all the way into adulthood
Why Are Our Children Obese?
Several changes in the way we live contribute to childhood obesity. Children's physical activity has markedly decreased, and their more sedentary activities, such as watching TV and playing video and computer games, have increased. We also eat food prepared away from home much more often, and many restaurants serve increasingly larger portions of food (See Building Blocks' "Portion Distortion").
When we eat food that is high in fat and sugar and do not engage in physical activity, we are taking in more energy than we are putting out. Our bodies then store all that extra energy as fat. Children who eat large portions of food or eat foods high in calories may not be taking in the nutritional value needed for healthy growth. Many of these foods (and beverages) are convenient or easy to find, and children think of them as "fun." But a diet of foods high in fat, salt, and/or sugar content has significant health risks that can begin at a very young age.
How Does Unhealthy Food Affect Our Children?
Fats: Unhealthy food contains saturated fats, which affect heart health. The usual suspects: cheeseburgers, french fries, and junk food (i.e., potato chips).
Sugar: Increased sugar intake can eventually lead to type 2 diabetes. The usual suspects: candy, soft drinks, and even some fruit juices.
Salt: Too much salt raises blood pressure, which in turn affects heart health. The usual suspects: cheeseburgers, french fries, and potato chips.
A steady diet of unhealthy food increases a child's caloric intake while it decreases nutritional intake. Children who eat a lot of junk foods are not eating enough fruits and vegetables and not drinking enough milk, which are all necessary for a healthy diet. And, says CDC, obese youth are more likely than youth of normal weight to become overweight or obese adults and, therefore, more at risk for associated adult health problems. Obesity can lead to a host of other medical problems as well as feelings of social isolation.
Resources:
"Childhood Overweight and Obesity," from CDC, gives an overall view of the problem of childhood overweight and obesity in the United States, including severe health risks.
"Childhood Obesity," from the Mayo Clinic, explores the causes, risk factors, and complications resulting from childhood obesity, with tips on prevention and coping with and supporting your child's move toward healthy eating.
"Childhood Obesity," from the U.S. Department of Health and Human Resources, offers a detailed discussion of the change in childhood eating habits and activity levels and the impact on children's health.