Public Debt Information Related to the American Recovery and Reinvestment Act of 2009
Overview of the American Recovery and Reinvestment Act of 2009 (Recovery Act)
The Recovery Act was signed into law by President Obama on February 17th, 2009. It is an unprecedented effort to jumpstart our economy, create or save millions of jobs, and put a down payment on addressing long-neglected challenges so our country can thrive in the 21st century. The Act is an extraordinary response to a crisis unlike any since the Great Depression, and includes measures to modernize our nation's infrastructure, enhance energy independence, expand educational opportunities, preserve and improve affordable health care, provide tax relief, and protect those in greatest need. Learn more on recovery.gov.
Implementing the American Recovery and Reinvestment Act of 2009 (Recovery Act)
Public Debt's Administrative Resource Center provides services for federal agencies including accounting, procurement, human resources, investment management and information technology. There are provisions in the Recovery Act that provide funding for programs for some of the agencies that we serve. Although Public Debt does not have a direct role in implementing the Act, we are helping these agencies to fulfill their program responsibilities.
Notice on Civil Rights Obligations Applicable to the Distribution of Funds under the American Recovery and Reinvestment Act of 2009
Recovery Act Legislation
Summary
Full text:
Note: To read or print a PDF document, you need the Adobe Acrobat Reader (v5.0 or higher) software installed on your computer. You can download the Adobe Acrobat Reader from the Adobe Website.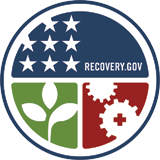 Learn how to apply for:
Treasury's Office of Inspector General (OIG) ensures that Treasury economically and efficiently manages the funds it has received under the Recovery Act.