Congress
The NIEHS is funded through an annual appropriation by Congress. The Office of Policy, Planning and Evaluation (OPPE) supports the NIEHS director and staff in defining and interpreting programs and research of the Institute to Congress, as well as to the public, scientific, and public health communities. OPPE also serves as a liaison to help ensure NIEHS accessibility and responsiveness to Congress, various government, health, and science agencies and organizations, and the public.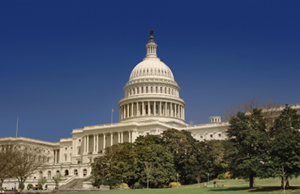 Contacts
Mary Gant
Program Analyst, Legislative Affairs

Tel (301) 496-2919
gant@niehs.nih.gov
Sheila A. Newton, Ph.D.
Director, Office of Policy, Planning & Evaluation

P.O. Box 12233, Mail Drop B2-07
Research Triangle Park, North Carolina 27709
Tel (919) 541-4343
Fax (919) 541-2583
newton1@niehs.nih.gov
Congressional Justifications and Statements
As part of the budget process, NIEHS annually submits a Congressional Justification to be included in the President's budget. Then Congressional subcommittees conduct hearings on the accomplishments and needs of the NIEHS before approving its budget request. A separate Congressional Justification is submitted for the Superfund Research Program. The NIEHS budget supports extensive extramural research and a dynamic intramural research program including clinical research in the effects of the environment on disease. In addition, NIEHS funds education and training opportunities to foster the development of the next generation of environmental scientists.
NIEHS Research Portfolio
Information on the research funded by NIEHS is available through the NIH Research Portfolio Online Reporting Tools ( RePORT  (http://report.nih.gov/))
hidden space
Report on Carcinogens (ROC): 12th Edition
Bill Tracking
Proposed or pending legislation relevant to NIEHS-supported research and activities, including bill summaries, status, and analysis, are available from the Library of Congress at Thomas.gov  (http://www.thomas.gov/).
HR652: Skilled Trades Second Responders Act of 2009
HR652 amends the Public Health Service Act to require the Director of the National Institute of Environmental Health Sciences to establish a national program for the training, certification, registration, tracking, and integration of skilled construction workers to assist first responders in responding to disasters, including natural and manmade disasters and terrorist attacks.
HR2084: Prevention, Awareness, and Research of Autoimmune Diseases Act of 2009
HR2084 amends the Public Health Service Act to require the Secretary of Health and Human Services, acting through the Director of the National Institute of Environmental Health Sciences, to award grants for research on environmental triggers that can cause the initiation of autoimmune diseases in genetically predisposed individuals.
HR3891: Safe and Healthy Housing Act of 2009
HR3891 directs the Director of the National Institute of Environmental Health Sciences and the Administrator of the Environmental Protection Agency (EPA) to evaluate the health effects of housing-related health hazards for which limited research or understanding of causes or associations exists.
Public Laws
Access to full text of
federal laws
relevant to environmental health sciences research, public health, and occupational health.