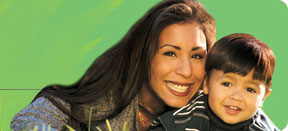 Creative Play
"Imagination is more important than knowledge. For knowledge is limited to all we now know and understand, while imagination embraces the entire world, and all there ever will be to know and understand."
— Albert Einstein
Young children learn and experience new things through their imagination. As parents, we need to remember that the basics of how children learn is not only 1+1=2 or "b" is the beginning sound in "baby." It is also in their telling you about pictures in clouds, building new worlds with blocks and clay, and making up stories about an imaginary friend.
Here are a few simple tips and some creativity support tools.
Have a dress-up box filled with old clothes, personal items, and accessories.
Keep drawing tools, clay, and blocks easily accessible.
Have blankets and sheets ready for building tents and playhouses.
Make up songs about everyday things and take turns adding silly rhyming lines.
Get down on the floor and let your child lead "let's pretend."
If asked, go on a pretend trip in an imaginary car.
Have household items ready to be part of a tea party or turn into homes for little acorn people.
Take a walk outside—open up the whole world to your child's imagination.
Listen to your children. When it comes to imagination, let them take the lead rather than tell them what to do or set up structured play. Children who are given choices about what to do show more creativity. And, most important, give them the opportunity to play freely, rather than fill their days with planned activities. If you see young children daydreaming, don't interrupt.
Resources: