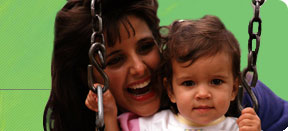 Change and Stress
Change, whether planned or unexpected, is hard for young children to understand and accept. When change happens because of a natural disaster or other crisis, loss adds even greater stress. Children may have a hard time talking about their feelings, but you often can see telltale signs of distress. According to "Tips for Talking to Children After a Disaster" (PDF) from the Substance Abuse and Mental Health Services Administration (SAMHSA), children may:
Revert to younger behaviors—sucking their thumb, crying more easily, or clinging to parents and caretakers.
Anger more quickly and more often.
Become quiet or withdrawn.
Eat too much or too little.
Sleep too much or too little.
What can you do to help?
Encourage children to ask questions. Make time for your children to talk about their worries with you, such as how they feel about loss and change.
Develop a plan. Plan together for other possible emergencies; help your children feel that there's something you can do to be safer.
Pay attention. Watch what children play or draw and what they see on TV. Turn off the news if it's too distressing or if visuals are difficult reminders of loss or change.
Find out what frightens them. Help children understand that no feelings are wrong-it's okay to be afraid, and it's okay to be sad one minute and laugh out loud another.
Focus on the positive. Help children see the good things that people do to support each other in times of disaster.
Stay in touch. Help children stay in contact with the people, places, and things that are important to them.
Change is stressful, and even harder for young children to handle if their routines are disrupted. Start each day by talking about and planning what your child will do that day. As soon as possible after a move or a crisis, it's good to get back into a daily routine. Even if it's a different routine in a different place, knowing what's planned helps young children feel more secure.
Resources:
Information and brochures from SAMHSA provide excellent talking points for parents.
Please note—to view documents in PDF format, you must have Adobe's free Acrobat Reader software. If you do not already have this software installed on your computer, please download it from Adobe's Web site.