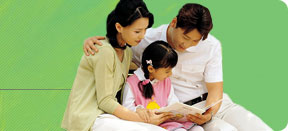 When the News Is Frightening
Although it may seem a bit silly to worry about "current events" with preschoolers, our national obsession with 24-hour news coverage and constant visual reminders of disastrous events in the news pretty much guarantee that even young children are exposed to the news. Unfortunately, exposure and understanding are not the same thing, especially for young children. Young children may worry, be confused, or have questions.
According to the PBS Parents' site, "Talking With Kids," when a topic of concern for your child comes up, follow these steps:
Find out what your child knows about the topic already. Try an open-ended question such as, "What have you heard?"
Listen carefully. Be sure you listen to what your child has to say. Ask questions to clarify.
Acknowledge your child's concerns. Show that you understand why your child is worried.
Offer reassurance. Explain why your child should not be worried about himself/herself, his/her families and friends.
Accept your child's point of view. Do not be judgmental.
Explain the event simply. Never get too complicated in your description of the event.
Ask more questions. Remember to make your questions open ended.
Talk about feelings. Share your feelings about what has happened in order to help your child share feelings as well.
Talk again. Be prepared to address the issue again.

Resources: