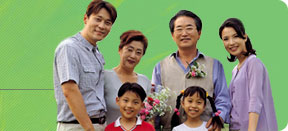 Foster Care and Adopted Children—Making a Difference
All children deserve a safe, loving, and permanent home to call their own. Unfortunately, some children, by no fault of their own, may find themselves living outside of their home.  In these cases, there is simply no substitute for the unconditional love, experiences, and rewards that foster or adoptive parents can provide.
Children enter foster care when a court determines that it is unsafe for a child to stay in his or her home and it transfers care responsibility to the state agency charged with ensuring the safety and welfare of children.  The state agency then identifies a foster care placement where the child can be cared for temporarily until a permanent placement is identified. Reasons for removing children from their home include maltreatment (e.g., domestic violence; physical and/or sexual abuse; substance abuse; or failure to provide proper nutrition, housing, clothing, medical attention, or education), neglect (e.g., parental lack of interest in parenting or an inability to care for the child due to mental instability, medical illness, or incarceration), and parental death.
As of September 30, 2010, more than 408,425 children in the United States were living in foster care. Foster care placements include a variety of living situations, such as kinship care (living in the care of relatives), nonrelative foster homes, group homes, and other independent living settings.  The preferred goal for children in foster care is permanency with caring parents.  Each state will have its own criteria on achieving permanency through foster care, but, typically, the following permanency options are sought: reunification with one or more biological parent, long-term placement with a relative, adoption, or guardianship.
How Foster or Adoptive Children May Feel
When children are removed from parental care or experience instability early in life, they are forced to endure different types and levels of stress.  Depending on the age of the children and the reasons for their placement, children may experience stress and respond to stressors in different ways. According to the U.S. Administration for Children and Families Children's Bureau, foster care or adopted children may feel:
Sadness, anger, and grief and need time to mourn and work through loss.  Parents can help them by answering their questions honesty, accepting their feelings, and helping them remember important people in their past.
Fear about losing another family or home. Fears may take the form of sleeping or eating difficulties, nightmares, separation difficulties, nervousness, or increased allergies and illness. Parents can create a safe environment by installing nightlights, providing cuddly clothing, preparing favorite foods, and reassuring their child that the family and home are permanent.
Overwhelmed by changes such as adjustment to a new home and new rules; the increasing involvement of social workers, therapists, medical staff, teachers, lawyers, and judges; and infrequent or inconsistent parental contact. Parents can reestablish their children's world by creating routines and rules to help them begin to organize their worlds and regulate their own emotions. 
Like all children, foster or adoptive children require love, guidance, understanding, and patience.  While some children may exhibit challenging behaviors, with nurturing guardians and a loving environment, they can develop positive behaviors and make significant contributions to your family and ultimately to the world.
Tips for Foster or Adoptive Parents
Foster or adoptiveparents can constantly reassure children that they are loved and safe by maintaining open communication with them as well as being actively involved in their lives. Regardless of the situation, children also need to know and understand that they are not responsible for what has happened to them. According to the U.S. Department of Justice, parents can provide a nurturing and safe environment by:
Remaining calm and reinforcing a stable and safe environment;
Keeping a regular schedule or routine for meals, quiet time, playtime, story time, and bedtime;
Helping children prepare for changes and new experiences;
Spending time together as a family;
Treating all children with respect and as an equal part of the family;
Being patient and letting children identify and express their feelings; and
Providing extra attention, hugs, comfort, and encouragement.
Nurturing foster and adoptive children so that they feel safe, wanted, and loved can help reverse some of the negative impacts they experienced prior to placement in their permanent family. Rebuilding  trust with children is imperative for them to start rebuilding their new life within a permanent home that they call their own. Caring parents and community members can help children excel and achieve a successful future.
For more information on becoming a foster parent, visit the U.S. Department of Health and Human Resources Administration for Children and Families Child Welfare Information Gateway
Family Activity:  Celebrate Me!
Educator Activity: I Feel Many Different Ways—Why?
Quiz for Parents: Foster Care and Adopted Children
Resources
U.S. Department of Health and Human Services, Administration for Children and Families
"Parenting Your Adopted Preschooler" is designed to help parents understand their preschool children's developmental needs. It provides practical strategies to promote a warm and loving relationship with your child based on honesty and trust.
Helping Your Foster Child Transition to Your Adopted Child summarizes how foster/adoptive parents can help their child make the emotional adjustment to being an adopted child. This factsheet provides specific steps parents can take to help children understand their emotional changes, along with helpful resources.
Foster Care Statistics 2010 provides the most recent national statistical estimates for children and youth in foster care from fiscal year 2010 and also provides earlier data to allow for some estimate of trends over time.
Selecting and Working With an Adoption Therapist offers foster care parents information on the different types of therapy and providers available to help adoptive families, and it gives suggestions on how to find an appropriate therapist.
Report to Congress on States' Use of Waivers of Non-Safety Licensing Standards for Relative Foster Family Homes summarizes the Fostering Connections to Success and Increasing Adoptions Act of 2008.
Preventing Child Maltreatment and Promoting Well-Being: A Network for Action 2012 Resource Guide provides resources to assist service providers in their work with parents, caregivers, and children to prevent child abuse and neglect and promote child and family well-being.
The Needs Of Abused And Neglected Children provides foster care parents information on special needs of children who have experienced neglect or abuse.
U.S. Department of Justice
Defending Childhood Initiative provides numerous resources on preventing, addressing, reducing, and understanding childhood exposure to violence.
Pediatrics, Journal of the American Academy of Pediatrics
"Developmental Issues for Young Children in Foster Care" provides information on the developmental issues for young children in foster care in terms of implications and consequences of abuse, neglect, and placement in foster care on early brain development.
"Families and Adoption: The Pediatrician's Role in Supporting Communication" provides tips for adoptive families in the various challenges they may face with regard to adoption.
American Academy of Child and Adolescent Psychiatry
"Foster Care Facts for Families" describes the foster care population in the United States and discusses the challenges of foster children and the parents.
Other Resources
The National Foster Parent Association supplies foster care families with tailored resources and tools to ensure foster care children needs are provided.
The National Child Traumatic Stress Network provides resources and information for parents and caregivers to help children recover from traumatic events.
Please note—to view documents in PDF format, you must have Adobe's free Acrobat Reader software. If you do not already have this software installed on your computer, please download it from Adobe's Web site.