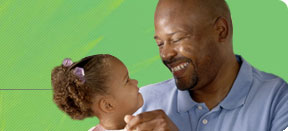 Playtime: To Structure or Not To Structure
Is engaging in unstructured activities a waste of time? We live in a society that implies that we need to make every moment count, and, therefore, we feel the need to fill up all of our children's time. We are raising children in an increasingly hurried and pressured style that may limit the benefits they would gain from child-driven play or unstructured playtime.
Structured play refers to organized activities, which usually come with a set of rules and specific objectives. When engaged in structured play, a child's play is geared toward a specific outcome, such as crossing the goal line or mastering a dance routine. Unstructured play, on the other hand, allows children to make up the rules as they go along and to create new limits within their own boundaries. Parents and children alike are often surprised by their original and imaginative inventions.
Unstructured time, or free play, allows children to use their creativity while developing their imagination and dexterity as well as physical, cognitive, and emotional strengths. It's through free play that children create and explore a world they can master, conquering their own fears while practicing adult roles. Studies have shown that through free play, children can develop new abilities that lead to enhanced confidence and the resiliency that they will need to face future challenges.
Preschool children, aged 3–4, seldom engage in planned or structured activities, such as music, martial arts, gymnastics, or dance classes; nor do they usually participate on competitive sport teams. However, as they approach 5 years, this situation may change. At this age, overstructuring a child's schedule―apart from the structured time of school―may have a negative impact on them.
Reasons for Not Engaging in Free Play
Many factors interact to effectively reduce many children's ability to explore, express themselves, and learn through unstructured playtime. Some factors include:
More families with a single head of household or two working parents, and fewer multigenerational households in which grandparents help care for children.
Parents who wish to make the most effective use of limited time with their children and believe that helping their children take advantage of every opportunity through structured activities.
Parents' receiving mixed messages, from a variety of resources, stating that good parenting requires actively building, from the earliest ages, every skill and aptitude their children might need. Often, parents believe that the best way to ensure that their children become high achievers is to allow them to participate in every artistic, athletic, and academic opportunity available.
Signs That Children Are Too Busy
Sooner or later, children who are too busy will begin to show signs of fatigue in different ways. Every child is different, but overscheduled children may:
Feel tired, anxious, or sad;
Experience physical effects, including stomachaches and headaches;
Miss meals, have trouble sleeping, be irritable; and
Avoid school and be unable to concentrate.
Tips for Slowing Down
If you think your child is overscheduled, take a moment, breathe, and think about your child's daily routine. If the calendar is full, sit down together and decide where you can cut back. Things to think about when restructuring your child's schedule:
Don't let teachers, friends, or neighbors make you feel as though your child needs to be doing more. Support your child's right to be a child and not a professional. Allow free time to play.
Allow unstructured time to teach your child to ride a bike, take a walk, listen and dance to music, or do nothing for a while; give your children some much-needed downtime.
Remember your fundamental job as a parent: It's not to create the next American Idol or sports superstar; it's to support, love, and accept your children, as well as to give them the essential tools to find their own way through life.
Reminders for Parents
The challenge for parents is to identify a balance that allows children to grow and become stronger and more confident without forcing them into too many structured situations. Unstructured family time may allow some of the best interactions between parents and children. Reasons to allow unstructured time include:
Some of the best interactions occur during downtime―talking, shopping, preparing meals together, washing clothes, working on a hobby or art project, playing sports together, or being fully immersed in child-centered play.
Children will be poised for success, basking in the knowledge that their parents serve as role models and that their family members make time to cherish one another. Time to be together, to listen, and to talk, nothing more and nothing less.
The cornerstones of parenting—listening, caring, providing guidance through effective and developmentally appropriate discipline, and sharing pleasurable time together—are the true predictors of a happy childhood, and they serve as a springboard toward a successful adulthood.
Family Activity: MAKING TIME COUNT
Educator Activity: MAKING CLASS TIME COUNT
Quiz for Parents: It's Time for Free Play!
Resources
Scholastics Magazine: Parents
"The Joys of Doing Nothing" describes research results finding that, today, parents often feel as if they are in a frantic race in which they are forever a few steps behind. Children today have half as much free time as they did 30 years ago.
Scholastics Magazine: Teachers
"The Importance of Pleasure in Play" describes the different forms of play and how it fuels healthy development of children.
KidsHealth
"Is Your Child Too Busy?" provides insight into the ways that children and parents can become overscheduled. The pressure to "keep up" can be physically and emotionally exhausting for both parents and children.
"Childhood Stress" provides tips for parents on how to listen to their children and encourages parents to acknowledge that they may be overscheduled and not just complaining about all their activities.
Education.com
"The Benefits of Under-Scheduling Your Child" extols the virtues of allowing children time to dream, imagine, and create in child-driven play.
"The Lost Art of Play" provides tips for parents on how to let go of their inhibitions and schedule playtime with their children to increase closeness and encourage self-expression.
"What Children Learn Through Play" provides parents with simple reminders of the skill sets learned by children through free time.
"Why Creative Play Matters" confirms that creative play develops imagination and creativity—tools whose importance is now recognized down the road in studying higher levels of math and science – as well as in intellectual, social, and emotional development.
Parenting.com
"Hyper-Parenting – The Overscheduled Child" provides insights to help parents make decisions about what might work best for your family.
National Public Radio
"Old-Fashioned Play Builds Serious Skills" provides a brief history of how children's play has changed overtime and how these changes have effected children's cognitive and emotional development.
Please note—to view documents in PDF format, you must have Adobe's free Acrobat Reader software. If you do not already have this software installed on your computer, please download it from Adobe's Web site.