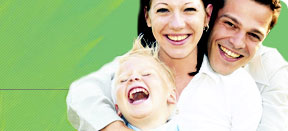 I CAN DO IT! Raising Confident Children
Children develop self-confidence through their achievements, such as potty training, tying their shoes, or even reciting the alphabet. As children accomplish such achievements, they feel capable, competent, and ready to do more.
When children strive to do more, they eventually become successful in performing certain tasks. Their success breeds increased self-confidence, which, in turn, affects their behavior. Additionally, the more confident children become, the better they are at forming healthy relationships with their parents/caregivers, teachers, and peers. These relationships are critical in ensuring that children maintain a positive and healthy lifestyle.
Parents, teachers, and caregivers are instrumental in building self-confidence and providing a strong support system. They are the children's champion, and it is important for them to help strengthen each child's sense of self, as it serves as protection for the child. According to research (see "You Can Do It!"), being a child's champion enhances protective factors, which are crucial in helping them resist peer pressures to engage in risky behaviors. Such risky behaviors include alcohol use, substance use, tobacco use, and sexual activity. Furthermore, protective factors can affect children's relationships with others as well as their success in school.
Parents and caregivers can help build their children's self-esteem and confidence through frequent positive reinforcement. Positive reinforcement–where the child receives encouraging and favorable communication from the parent or caregiver–typically results in an increase in the desired behavior. Therefore, when children receive positive reinforcement while accomplishing new things, they are more likely to try something more challenging because they have the belief that they can accomplish a specific task. Children's self-confidence will steadily increase as they acquire more skills and truly believe in their ability to do something. You may have heard your children say:
"I can do it!"
"Look at me!"
"I want to do it by myself!"
"I can do it by myself!"
These statements are key examples of how your children have embraced the belief that they can do something. Below are some steps you can take to help your children increase their self-confidence.
How To Build Your Children's Self-Confidence
Acknowledge your children's accomplishments. Let your children know that you recognize and value the new things (even the little things) they have learned to do. Be generous with your praise for real effort or accomplishment; if you make a big deal out of everything they do, they will not have a yardstick by which to measure their own growth.


Allow your children to do some things by themselves. Independent acts allow children to feel their own strengths and capabilities. Independence also helps them develop the skills to solve problems and make good decisions.


Put a positive expression on your face! Your reactions may affect how your children feel about themselves. A happy face and other positive expressions (e.g., tone of voice, body language) will help your children feel they are worth your time and attention.


Take inventory of your children's strengths and weaknesses. Monitor your children's activities closely to see what they are good at doing and what needs more work. Place your children in activities in which you know they will succeed to ensure a boost to their self-esteem. Success in one or more areas will give your children the courage and willingness to tackle more difficult skills.


Beware of making comparisons. When your children are performing a task or involved in an activity, encourage them to do better than they did before, NOT better than someone else! Children develop at different rates; as a parent, make sure you do not compare one child to his or her siblings or friends. Such comparisons undermine the child's self-esteem.


Let your children choose some of their activities. More than likely, if your children enjoy a particular activity, they will be more likely to spend more time at it, thereby increasing the capacity to learn from it and improve. Increased learning boosts children's sense of self-worth.
Family Activity: Look What I Can Do!

Educator Activity: Building Self-Confidence in the Classroom
Quiz for Parents: Building Self-Confidence
Resources
From Education.com
"Raising Confident and Secure Children," contributed by the National Association of Social Workers, discusses self-esteem in young children and how their temperament, strengths, and weaknesses affect their self-confidence.
"Importance of Self-Esteem in Young Children: You Are the Key," contributed by the National Association for the Education of Young Children, emphasizes the role that healthy emotions play in children's lives.
"Competence and Self-Worth," by J.E. Ormrod, explains research into the basic human need for competence and its relationship to feelings of self-worth.
"Supporting the Development of Self-Esteem," by N. Close, explores children's drive toward progressive development and their struggles with independence.