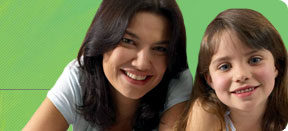 Play Games Together
Many board or online games are excellent tools for teaching logic, reading and reading readiness, classification, sound and color discrimination, and/or memorization. Time spent in learning how to play and in playing quality games is time spent on education.
According to a Parents' Choice article, "What's In a Game?", playing games also becomes a time for teaching social skills.
Children learn to follow rules, practice taking turns, and begin to understand and accept wins and losses.
Children fit in, becoming an important part of the group of children who are playing the game.
Acquiring and practicing these skills help children get along better in school—a sure way to make sure that they are ready and eager to learn.
Don't worry about whether a game teaches a specific set of skills. Playing games and solving puzzles are like exercise for the brain. Games develop strategic thinking and help children learn to see and use pattern recognition to solve problems and begin to understand the value of patience.
We often play games with children without even thinking about it. Peek-a-boo and pat-a-cake are two of our children's first games. Family game time can become part of your child's favorite memories, as he or she grows. The games will change as your child matures, but sharing quality family time and the appreciation of challenging puzzles and competition will continue.
Education.com
"Games for Preschoolers," from KidsHealth, provides detailed "how-to" directions for group games in the classroom.
"Best Board Games for Preschoolers," from Suite 101, lists and describes the top games for children who cannot read yet. All of them are great games for preschoolers, but they're also fun for the whole family.
Government Web Sites With Games for Young Children

"HHS for Kids," provided by the U.S. Department of Health and Human Services, links to many excellent resources for children of all ages.