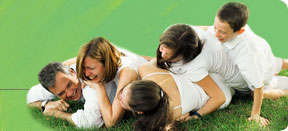 Being a Good Citizen
Being a good citizen means thinking about others. Good citizens help others—at home, at school, in the neighborhood, and in their communities. Families work together to tackle "good deed" projects. But, it is important to keep in mind your child's interests and abilities when choosing an activity.
Why Volunteer?
Children as well as adults can benefit from the "feel good" glow brought on by volunteering. Community Service: A Family's Guide to Getting Involved points out some of the benefits of volunteering. Community service:
Helps to bring a family closer together.
Helps a child learn something new and provides a feeling of accomplishment.
Strengthens a child's self-esteem by having him recognize what he has to offer to others.
Teaches a child responsibility, tolerance, and sacrifice.
Strengthens neighborhood and community connections and provides needed services, often to those who can least afford them.