Most-Viewed Bills
H.J.Res.15 [113th] Proposing an amendment to the Constitution of the United States to repeal the twenty-second article ...
H.R.226 [113th] Support Assault Firearms Elimination and Reduction for our Streets Act
S.150 [113th] A bill to regulate assault weapons, to ensure that the right to keep and bear arms is not unlimited ...
113th Congress (2013-2014)


Current Legislative Activities
The Congressional Record
The official record of the proceedings and debates of the U.S. Congress.
Go to the Congressional Record
Get the app for:
iPhone or iPad (external link)
Current Members of Congress
The Legislative Process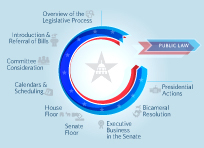 Nine videos explain each of the common legislative stages, and that the process by which a bill becomes law is rarely predictable.
The U.S. Founding Documents
A gallery of study resources about significant primary source documents from American history.
New on Congress.gov
Visiting the U.S. Capitol

Your visit to the historic U.S. Capitol begins as you enter the Capitol Visitor Center.
About Congress.gov
Presented by the Library of Congress using data from the Office of the Clerk of the U.S. House of Representatives, the Office of the Secretary of the Senate, and the Government Printing Office, Congress.gov will eventually incorporate all the information on THOMAS.gov.