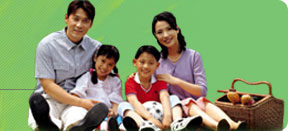 Tips on Time
Spend Time With Your Children
One of the most important things you can do to safeguard your children is to spend time with them. None of us ever feels we have enough time to do the things we have to do much less the ones we'd like to do! But, according to the Office of National Drug Control Strategy, when strong ties are formed between children and their families, and between families and their children's schools, children are least likely to develop drug problems.
Enhance the Quality of the Time You Spend
Children should be absolutely sure that they can count on your time with them. Set aside time when you can give your full attention to your child: family dinner hour, homework help, or once-a-week outings. Younger children need more time, although older children need regular time with you, too. And each of your children needs some time to spend with you alone, apart from brothers and sisters. Set aside together time with your children when they are younger and the habit will more likely continue as your children grow.
Three Kinds of Time
There are three kinds of time you can spend with your kids:
One-on-one time: Just you and your child talking, shopping, cooking, going to the playground or the park, watching TV, reading aloud, or playing a game
Family time: The whole family eating a meal, cleaning the house or car, hiking, making plans, reading aloud, cooking, going to a movie, or playing a game
Community time: Family, or you and your child, attending neighborhood or sports events or gatherings at places of worship
Share Yourselves
The whole point of spending time with your children is to share your own values, beliefs, and plans with your child. Talking with and listening to your child is one of the most important "quality time" activities you can do. And, it can happen anywhere, at any time—while folding laundry, playing a game, doing the shopping, or driving home from Grandma's house.