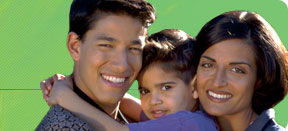 Healthy Snacks
Encourage healthy eating habits.
Make sure there are healthful snack choices easily available at your home or in the lunches you pack for your child.
Cut back on high-calorie sweets.
Reduce the number of candies, cookies, and cakes available for your children. It's okay to enjoy these in moderation on special occasions. That way they will really be "treats."
Eat well for healthy teeth.
It's safer for children's teeth for them to eat sweets with a meal, not as a snack. In this way, the cavity-causing deposits of the foods are more readily cleared from the teeth. Limit between-meal snacks to more healthful foods.
Model good eating habits.
Most important, make healthful snacks part of your own healthy diet. Let your children learn by example that fresh vegetables, fruits, dairy foods, nuts, and whole grains are excellent between-meal snacks.
Resources: