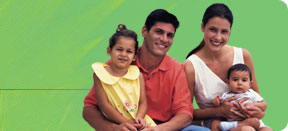 Family Fitness
The statistics on childhood obesity are frightening. Children between the ages of 2 and 5 have become twice as likely to be obese compared to 10 years ago, according to the Institute of Medicine's Committee on Prevention of Obesity in Children and Youth.
Preparing healthy meals and snacks and watching portion size are two steps toward preventing childhood obesity. The next important step is staying fit through physical activity. Try these ideas from the President's Council on Fitness and Sports to help your family reap the benefits of exercise.
Make physical fitness part of your daily routine.
Take a 10-minute activity break while you watch TV. Climb the stairs instead of taking the escalator or elevator. If possible, walk instead of drive to the park or store or to see friends.
Sweat.
Working hard and getting sweaty help your heart pump better and give you more energy. Play tag or hopscotch, jump rope, or dance for some fun aerobic exercises.
Play with friends and family.
Plan at least one special physical activity for the family each week—such as a bike ride, a walk in the park, or a game of soccer or basketball.
Make sure your school includes physical education.
Find out what types of physical activities your child's school provides. How often do children go outside? What types of games do they play? What kind of equipment do they use?
Parents need to make sure they and their families engage in plenty of physical activity to stay healthy.
Resources: