Tobacco Products
-
Guidance, Regulations & Compliance
Find resources on the legal, regulatory, and policy issues related to tobacco products. For regulatory questions regarding sections 904 and 905 of the act, email TobaccoIndustryQuestions@fda.hhs.gov.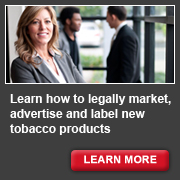 Other Important Guidance, Regulations & Compliance Information
Use the Searchable Tobacco Control Act to help you easily find and access specific information from the law.
Download Infographic Timeline with key deliverables, images, and the act's public health rationale.
Search the inspection database to find lists of retailer Warning Letters and Civil Money Penalty Complaints issued by FDA and a list of inspected establishments where no violations were observed in states with FDA tobacco enforcement contracts.
-