Healthy Vision Program
Healthy Vision Program Websites
The following Healthy Vision Program Websites are available to assist you in promoting eye health in your community:

---
Healthy Eyes
The Healthy Eyes website provides the public with information about general eye health, eye diseases and conditions, comprehensive dilated eye exams and more.
---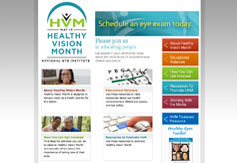 Healthy Vision Month
May is Healthy Vision Month, a national eye health observance sponsored by NEI and the National Eye Health Education Program Partnership. Healthy Vision Month is devoted to elevating vision as a public health priority and promotes the importance of eye exams.
---
Healthy Eyes Toolkit
This toolkit to help you educate the public about the role of regular eye exams in maintaining good eye health. It includes a variety of resources such as web links, e-cards, print and radio public service announcements (PSAs), sample text messages, drop-in articles, fact sheets, and downloadable posters, bookmarks, and stickers that can be used to promote the importance of eye exams.