Keep Food Safe Blog
Posted February 04, 2013
Howard Seltzer, Howard Seltzer, FDA Center for Food Safety and Applied Nutrition

Ever check out the label on food packages when you're at the store? Perhaps you do it because for you food safety means, at least in part, limiting calories or sodium or fat.  Or maybe you do it because you want to make healthy food choices for your family.  Whatever the reason, you are able to do it thanks to the Nutrition Facts label regulation of 1993.
For the last 20 years, the FDA rules for the Nutrition Facts label have made it easier for consumers to compare products and make better informed choices.  And the number of consumers who say they utilize the labels continues to grow, with an increase from 44 to 54 percent between 2002 and 2008.  If you're one of them, here are a few tips to help you use the labels more effectively.
Check the serving size and number of servings. All Nutrition Facts labels are based on one serving but many packages contain more. So, if you eat two servings, the calories, fat and nutrients are doubled.
Calories count, so pay attention to the amount. Low-fat or fat-free doesn't necessarily mean calorie-free.
Know your fats and reduce sodium for your health.  Foods low in saturated fat, trans fat and cholesterol help reduce the risk of heart disease.  Limiting sodium helps reduce the risk of high blood pressure.
Learn which carbohydrates can be healthy. Healthy sources like fruit, vegetables, beans, and whole grains can reduce the risk of heart disease and improve digestive functioning. Not so healthy sources, like sugars, add calories but not health-promoting nutrients.
Know your nutrients. Foods rich in nutrients like potassium, calcium, iron, and vitamins A and C help promote good health and may help protect against disease.
Use the Percent Daily Values (%DV). The %DV at the bottom of the label helps achieve a balanced diet.  The %DV is based on a 2000-calorie diet, so if you are especially active physically or your physical activity is limited you may need more or less.
For more information:
Nutrition Facts Label: 20 and Evolving
Eating Healthier and Feeling Better Using the Nutrition Facts Label
Using the Nutrition Facts Label: A How-To Guide for Older Adults 
As always, If you have food safety questions, please feel free to contact us at the USDA Meat and Poultry Hotline (1-888-674-6854 toll-free) or online at AskKaren.gov (English or Spanish)
Please continue the discussion on our Facebook page.
---
Posted January 28, 2013
Tina Hanes and Kathy Bernard, Information Specialists, USDA, Food Safety and Inspection Service

Super Bowl Sunday is a great American tradition, and a great way to bring together the three Fs: football, friends, and food. Super Bowl Sunday is also the second biggest day to consume food in the United States, only after Thanksgiving.
One of the most popular ways to celebrate is by inviting family and friends to enjoy a buffet. But if cold foods are left out of refrigeration and hot foods sit cooling for too long, you may be leaving the door open for some other, unwanted, guests – bacteria that can cause food poisoning.
Certain foods left at room temperature for more than two hours enter the so called "Danger Zone," between 40°F and 140°F. The "Danger Zone" is the perfect environment for harmful bacteria to grow and multiply. Because the game itself takes about four hours and Super Bowl parties can last for several hours longer it's important to pay special attention to this on game day.
A lot of food combined with a lot of people who are focused on the big game creates a significant risk of food poisoning – so there's no better time to pullout the food safety playbook and Check Your Steps.
Always wash your hands before and after handling food. (clean)
Your jersey may have grass stains from the impromptu game in the backyard, but be sure to keep your kitchen, dishes and utensils clean by washing them with hot, soapy water.
Keep raw meat and poultry apart from cooked foods.  (separate)
Avoid an offsides penalty. Always serve food on clean plates — not any that previously held raw meat and poultry. Bacteria which may have been present in raw meat juices can cross- contaminate the cooked food to be served.
Use a food thermometer to make sure that meat and poultry are safely cooked.
Divide cooked foods into shallow containers to store in the refrigerator or freezer until serving. This encourages rapid, even cooling. Reheat hot foods to 165 °F after halftime.
Arrange and serve food on several small platters rather than on one large platter. Keep the rest of the food hot in the oven (set at 200-250 °F) or cold in the refrigerator until serving time. This way, foods will be held at a safe temperature for a longer period of time.
Replace empty platters rather than adding fresh food to a dish that already had food in it. Many people's hands may have been taking food from the dish, which has also been sitting out at room temperature.
Keep cold foods at 40 °F or colder. (chill)
Keep foods cold by nesting dishes in bowls of ice. Otherwise, use small serving trays and replace them. Remember to refrigerate leftovers within 2 hours.
For more information, view our Parties and Large Groups general information page.
If you have other food safety questions, please feel free to contact us at the USDA Meat and Poultry Hotline (1-888-674-6854 toll-free) or online at AskKaren.gov (English or Spanish)
Please continue the discussion on our Facebook page.
Enjoy the game!
---
Posted January 10, 2013
Howard Seltzer, FDA Center for Food Safety and Applied Nutrition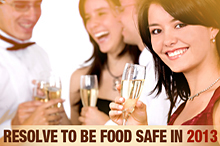 One in six Americans is affected by food poisoning each year, resulting in an estimated 128,000 hospitalizations and 3,000 preventable deaths.
In most people the symptoms of food poisoning, or foodborne illness, usually aren't long-lasting and typically go away without medical treatment. But foodborne illness can be severe, even life-threatening, especially for those most at risk such as older adults, infants, pregnant women, and those with weakened their immune systems.
It is up to all of us to do our part to make food safety a priority, and help prevent forborne illness – for ourselves and for our loved ones. So this year as you are making plans and setting goals for the New Year, remember to Resolve to Be Food Safe in 2013.
Here are four easy-to-stick-to New Year's resolutions to get you started
Resolve to wash your hands before, during and after handling food. (clean)
Handwashing has the potential to save more lives than any single medical intervention. Wet your hands with clean running water, apply soap, lather and scrub your hands well for at least 20 seconds, and air dry or use a clean paper towel.
Resolve to use two cutting boards to help avoid cross-contamination. (separate)
Use one for foods that will be cooked, such as meat, poultry, and seafood, and the other for foods like fruits and vegetables that will be eaten raw. That avoids contamination of the raw foods by the juices from the ones to be cooked.
Resolve to get a food thermometer, if you don't have one. (cook)
Only a food thermometer can make sure meat, poultry, fish, and casseroles are cooked to a safe internal temperature—hot enough to kill any germs that may be present.
Resolve to use an appliance thermometer to be sure your refrigerator is at or below 40ºF. (chill)
Bacteria multiply rapidly between 40ºF and 140ºF. The more bacteria, the more likely someone will get sick.  Most refrigerators have just a colder/warmer adjustment, so the only way to know the temperature is to put a thermometer inside.  And it's a good idea to put one in the freezer to be sure the temperature is 0ºF or below.
For more information on how to keep food safe in the New Year, check out these resources:
If you have any questions, feel free to contact us at the Hotline (1-888-674-6854 toll-free) or online at AskKaren.gov.
---