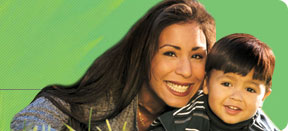 Coping With Sadness
Stressful or sad situations can cause worry or anxiety in children. It's important to be aware of your children's feelings after a loss, separation, or a major event that changes your lives. Talking and, more importantly, listening can help calm childhood fears.
The National Institute of Mental Health has some tips on ways to help children understand their feelings when dealing with sadness.
Let sad children cry.
Crying is part of the grieving process and can help young children heal. Don't expect children to be brave and tough.


Allow children to be sad.
Everyone needs time to express grief. Don't be upset if children show strong emotions.


Let children talk about, write about, and draw pictures about their feelings.
It's important for children to have outlets to help them explore how they feel.


Understand that children's normal behaviors may change.
Don't get upset if children go back to behaviors they had outgrown—bedwetting, acting out, or thumbsucking.
It is important for children to understand that it is okay to feel sad and express their emotions. But it is even more important to help them understand that there are things they can do to help themselves feel better. According to Robin H. Gurwitch, a child psychologist who helped families cope with disaster after the Oklahoma City bombing in 1995; the terrorist attacks of September 11, 2001; and Hurricane Katrina in 2005, parents can help children understand that it is acceptable to feel better as you enjoy friends, family, and activities after a sad event. (Masters of Disaster®: Facing Fear, The American Red Cross, 2001).
Building Blocks has more important tips on helping children cope with change and stress.
Also, help children understand different feelings by singing along with the Building Blocks family: "I Feel Many Different Ways"
Resources: