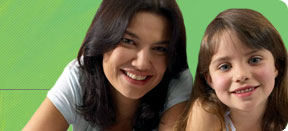 Emergency Preparedness for the Family
Emergencies can make anyone feel insecure. One of the best ways to help children feel safe in an emergency situation is to show them that the family is prepared. Setting up a Family Emergency Supplies Kit is a preparedness priority. According to the American Red Cross, six basic items need to be in everyone's kit.
1. Water
Store water in plastic containers-1 gallon of water per person per day. It's important to have at least a 3-day supply for the whole family.
2. Food
Store at least a 3-day supply of food that doesn't need refrigeration, preparation or cooking, and little or no water. Use ready-to-eat canned meats, fruits, and vegetables; canned juices; energy bars and vitamins; fun foods-cookies, hard candy, and other family favorites.
3. First Aid Supplies
Store bandages and gauze pads; antiseptic; anti-bacterial ointment; cold pack; small, personal scissors and tweezers; and, non-prescription drugs-pain relievers, anti-diarrhea medication, antacids, laxative.
4. Clothing and Bedding
Include at least one change of clothing and sturdy shoes per person. Blankets and sleeping bags are important, especially if you have to evacuate.
5. Tools and Emergency Supplies
Disposable cups, plates and utensils; battery-operated radio; flashlight; can opener; simple tools; storage bags; paper and pencil; needles and thread; hand wipes or waterless hand sanitizer; personal hygiene items-toothbrush, toothpaste, etc.
6. Special Needs Items
Prescription drugs; extra contacts, eyeglasses, or hearing aid batteries. If there's an infant in the family-formula, bottles, disposable diapers, etc. Or, if there's a pet in the family, its special needs-extra food, carrier, etc.
Knowing that the family has emergency supplies and a plan helps children feel safer and less frightened when they hear about disasters, whether they happen close to home or far away.
Resources: