About Us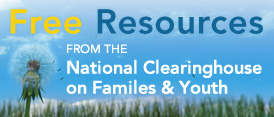 The National Clearinghouse on Families & Youth is a free information service of the Family and Youth Services Bureau. Its purpose is to educate the family and youth work field—including FYSB grantees and aspiring grantees—about the research and effective practices that can improve the long-term social and emotional wellbeing of families and youth. From sustainability to evidence-based practice to trauma-informed care, NCFY publishes more than 250 articles, podcasts and videos a year about interesting and innovative work going on in the field.
You can get help from NCFY by contacting us, accessing our research library, or subscribing to our e-newsletters. If you're looking for advice on how to get your own ideas off the ground, try our Guide to Starting and Managing a Youth Program.
Are you a young person in need of a place to stay? Call the National Runaway Safeline at 1-800-RUNAWAY.