Cyber Crimes Center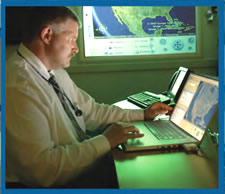 One of HSI's top priorities is to combat criminal activity conducted on or facilitated by the Internet. HSI's Cyber Crimes Center (C3) delivers computer-based technical services to support domestic and international investigations into cross-border crime.
C3 is made up of the Cyber Crimes Unit, the Child Exploitation Investigations Unit and the Computer Forensics Unit. This state-of-the-art center offers cyber-crime support and training to federal, state, local and international law enforcement agencies. C3 also operates a fully equipped computer forensics laboratory, which specializes in digital evidence recovery, and offers training in computer investigative and forensic skills.
Cyber Crimes Unit
C3's Cyber Crimes Unit provides the management and oversight of the agency's cyber related investigations by focusing on the transnational criminal organizations that use cyber capabilities to further their criminal enterprise.
This unit provides training, investigative support and guidance to HSI field offices in emerging cyber technologies as well as subject matter expertise in cyber related investigations related to the following areas:
Identity and benefit document fraud;
Money laundering;
Financial fraud (including e-payment fraud and Internet gambling);
Commercial fraud;
Counter-proliferation investigations;
Narcotics trafficking; and
Illegal exports.
The Cyber Crimes Unit is also involved in the investigation of national and international cyber criminals and coordinates the dissemination of investigative leads worldwide.
Child Exploitation Investigations Unit
C3's Child Exploitation Investigations Unit is a powerful tool in the fight against the sexual exploitation of children; the production, advertisement and distribution of child pornography; and child sex tourism.
This unit uses sophisticated investigative techniques to target violators who operate on the Internet, including the use of websites, email, chat rooms and file-sharing applications.
Major initiatives include the following:
Operation Predator: HSI's flagship investigative initiative for targeting sexual predators, child pornographers and child sex tourists.
The Virtual Global Taskforce (VGT): An international alliance of law enforcement agencies and private-sector partners working together to fight online child sexual exploitation and abuse. HSI is a founding member and current chair of the VGT.
The National Child Victim Identification System (NCVIS): This system was developed to assist law enforcement agencies in identifying victims of child sexual exploitation.
Victim Identification Program (VIP): The use of technological and investigative capabilities and resources to rescue child victims of sexual exploitation. The VIP focuses on identifying and rescuing children who have been depicted in child abuse material.
Psychological Suitability Assessment Program (PSAP): Coordinating written tests and psychological interviews of ICE federal employees who are exposed to child exploitation material during investigations.
In addition, ICE has partnered with other agencies (including the Internet Crimes Against Children Task Forces), foreign law enforcement agencies and non-governmental organizations (such as the National Center for Missing & Exploited Children). These partnerships have enabled C3 to successfully investigate leads and assist in identifying violators and associates all over the world.
Computer Forensics Unit
As the use of computers and digital devices has become widespread, C3's Computer Forensics Unit has grown to address the investigative challenges of a digital world. These devices have greatly increased the volume of data that HSI special agents must examine during the course of an investigation. In addition, HSI investigators now must manage digital evidence that is highly volatile, mobile and subject to encryption by any user. This makes recovery and stewardship of evidence challenging.
Computer forensics agents/analysts are HSI investigators or analysts trained to perform forensic examinations of seized digital storage devices, such as computer hard drives, flash drives, PDAs, mobile phones, DVDs, CDs and tape media. They use all available digital evidence recovery techniques to preserve an item's authenticity and integrity while maintaining a strict chain of custody.
Computer forensics agents are located in HSI field offices throughout the world to provide expertise on investigative strategies and to assist case agents in preparing search warrants targeting digital evidence. They are also called upon to furnish expert computer forensic testimony in criminal trials and to provide support to state and local law enforcement.