Therapeutics for Rare and Neglected Diseases
The (TRND) program in the NCATS Division of Pre-Clinical Innovation aims to encourage and speed the development of new drugs for rare and neglected diseases. TRND stimulates drug discovery and development research collaborations among NIH and academic scientists, nonprofit organizations, and pharmaceutical and biotechnology companies working on rare and neglected illnesses.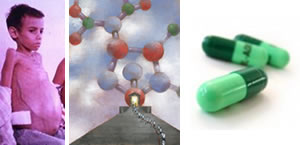 TRND collaborations offer an opportunity to partner with TRND researchers and gain access to rare and neglected disease drug development capabilities, expertise, and clinical/regulatory resources in a collaborative environment with the goal of moving promising therapeutics into human clinical trials. To foster collaborations, TRND uses an application and evaluation process to select collaborators. Selected investigators provide the drug project starting points and ongoing biological/disease expertise throughout the project.
The drug development process is complicated and expensive. Innovations in drug discovery and development and management of development programs can substantially reduce the risks, time delays and costs of advancing basic research breakthroughs into treatments. Thus, in addition developing new candidate drugs for rare and neglected diseases, the TRND program is designed to advance the entire field of drug development by encouraging scientific and technological innovations aimed at improving success rates in the crucial preclinical stage of development.
TRND bridges the gap that often exists between a basic research discovery and the testing of new drugs in humans. To close the gap, the work of TRND includes the discovery, optimization and preclinical testing of therapies, with the goal to generate sufficient quality data to support successful Investigational New Drug (IND) applications to the U.S. Food and Drug Administration (FDA) and first-in-human studies as necessary. Therapeutic clinical candidates that reach this stage should be attractive to biotechnology and pharmaceutical companies to take into clinical development.
TRND expands upon the successes of the Molecular Libraries Program and the NIH Chemical Genomics Center. The Molecular Libraries Probe Production Centers Network initiative has produced high-quality assay screening facilities across the United States that develops probes for exploring biology and disease. However, there is often a gap between fundamental exploration of biological processes and the point at which biotechnology and pharmaceutical companies adopt these research discoveries to develop therapeutic programs. Adoption of drug development programs for rare and neglected disease therapeutics is that much more difficult due to the limited market for such drugs. Through collaborative projects, TRND leverages both public- and private-sector investments to develop new drugs for patients with rare and neglected diseases.
TRND collaborates with researchers from a broad and diverse range of scientific disciplines and disease areas. TRND encourages investigators from both within and outside the NIH to submit projects for work within its intramural facility. These ongoing collaborations benefit researchers, and more importantly, patients with rare and neglected diseases.
TRND Active Projects Portfolio
| Therapeutic Area/Disease | Organization Name(s) | Partner Type(s) |
| --- | --- | --- |
| Niemann-Pick C | Ara Parseghian Medical Research Foundation, Niemann-Pick Type C Support of Accelerated Research (NPC-SOAR), Einstein College of Medicine, University of Pennsylvania, Washington University, Eunice Kennedy Shriver National Institute of Child Health and Human Development (NICHD) and National Human Genome Research Institute (NHGRI) | Disease foundation, academic, NIH intramural labs |
| Hereditary inclusion body myopathy | New Zealand Pharmaceuticals, NHGRI | Biotech, NIH intramural labs |
| Sickle cell disease | Aes-Rx, National Heart, Lung and Blood Institute | Biotech, NIH intramural labs |
| Chronic lymphocytic leukemia | Leukemia & Lymphoma Society, University of Kansas Cancer Center | Disease foundation, academic |
| Duchenne muscular dystrophy | ReveraGen BioPharma | Biotech |
| Cryptococcal meningitis | Viamet Pharmaceuticals, Inc. | Biotech |
| Core binding factor leukemia | NHGRI | NIH intramural labs |
| Neonatal herpes simplex | University of Alabama at Birmingham | Academic |
| Autoimmune pulmonary alveolar proteinosis | Cincinnati Children's Hospital | Academic |
| Fibrodysplasia ossificans progressiva | Massachusetts General Hospital | Academic |
| Schistosomiasis | CoNCERT Pharmaceuticals | Biotech |
| Creatine transporter defect | Lumos Pharma | Biotech |
| Duchenne muscular dystrophy | AVI BioPharma, Inc. | Biotech |
TRND Staff
John McKew, Ph.D., Acting Director, Division of Pre-Clinical Innovation
Asaf Alimardanov, Ph.D., Process Chemistry Lead
Mark Behnke, Chemistry Lead
Nuria Carrillo, M.D., Staff Clinician
Catherine Chen, Ph.D., Research Scientist
Jim Cradock, Pharmaceutical Scientist
Seameen Dehdashti, Biologist
Gurmit Grewal, Chemistry Lead
Wenwei Huang, Ph.D., Chemistry Lead
Edward Kerns, Ph.D., ADME Lead
Arthur Lee, Chemist
Kimloan Nguyen, ADME Scientist
Katherine Noveras, Administrative Assistant
Elizabeth Ottinger, Ph.D., Project Manager
John Shen, Ph.D., M.B.A., Project Manager
Andre Pilon, Ph.D., Program Analyst
Gurusingham Sittampalam, Ph.D., Senior Scientist
Pramod Terse, Ph.D., Toxicology and Pharmacology Lead
Natasha Thorne, Ph.D., Biologist
Xin Xu, Ph.D., Non-Clinical PK/TK Lead
Nora Yang, Ph.D., M.B.A., Director, Portfolio Management and Program Operations
Wei Zheng, Ph.D., Biology Lead
Related Links
Contact
TRND News
NIH announces start of clinical trial using cyclodextrin as a potential treatment for Niemann-Pick disease, type C1 — a rare, fatal neurological disorder. The collaborative phase I trial, which stems from pilot work pursued by NCATS' Therapeutics for Rare and Neglected Diseases program, will test the drug in nine patients.
TRND Road Show Presentations
TRND staff make presentations at Road Shows and meet with potential TRND applicants to provide tips and information on how to apply.