Neurobiology Neurodegeneration & Repair Laboratory (N-NRL)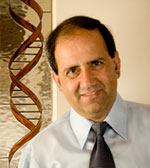 Anand Swaroop, Ph.D.
Lab Chief: Anand Swaroop, Ph.D.
Building 6, Room 338
6 Center Drive
Bethesda, Maryland 20892-0610
Phone: (301) 435-5754
Phone: (301) 435-6149
Fax: (301) 480-9917
Mission Statement
Neurobiology Neurodegeneration & Repair Laboratory (N-NRL) was established recently with a goal to develop novel treatment modalities for blinding retinal diseases based on fundamental understanding of genetic defects and/or biological pathways underlying differentiation, homeostasis, aging and disease pathogenesis.
Research Overview
The process of vision begins in the retina. In humans, retina supplies almost 30% of the sensory input to the brain. Any damage to retinal neurons can lead to devastating consequences, including the loss of vision. Retinal and macular diseases are a major cause of visual impairment and affect the quality of life for millions worldwide. The basic premise guiding the research of this laboratory is that clinical manifestations of disease result from perturbations in normal cellular behavior and adaptive changes to genetic variants/mutations interacting with environmental factors. With a focus on the retina, this laboratory wishes to significantly advance our understanding of several fundamentally important and interrelated biological processes and help pursue clinical interventions that utilize these advances. In particular, we seek to understand: (1) how neurons differentiate from neuroepithelial progenitors (or stem cells); (2) how these neurons form functional synaptic circuits; (3) how neuronal function is accomplished in the normal retina and how it is compromised during aging and in disease conditions; and (4) how can we repair the damage or treat the degenerative disease.
We have specifically identified the following focus areas of research:
Differentiation of Retinal Neurons from Progenitors or Stem Cells
Synaptogenesis in the Retina
Gene Regulatory Networks in Retinal Differentiation and Disease
Intracellular Trafficking and Ciliopathies
Genes and Pathways underlying Retinal Degenerative Diseases
Genetic Variations and Functional Consequences in Retinal Aging, Age-related Macular Degeneration, and Diabetic Retinopathy
Novel Treatment Paradigms that originate from these Investigations
The basic and clinical research environment at NIH provides unique opportunities to carry out innovative multi-disciplinary research that is critical for solving complex problems in biology and medicine. Our approach will be to build on strong and creative individual-specific projects yet tackle complex questions in retinal neurobiology and degeneration, which should lead to new cell, gene or small molecule based therapeutic paradigms. As retina is a relatively less complex and perhaps the most approachable part of the central nervous system, our research will complement the existing neuroscience programs at NIH.
Open Positions
Tenure-track positions: A round of recruitments was recently completed. No more applications are currently being considered.
Post-docs: Current openings for junior Post-docs are in all research areas of interest to N-NRL. Outstanding candidates with published experience and solid training are encouraged to apply.
Internships: In general, we are ONLY considering IRTA fellows with long-term commitments (at least 6 months). The section on Retinal Development and Genetics (Dr. Swaroop) is NOT accepting summer interns for 2013, except in the area of computational biology. All inquiries should be addressed to Dr. Tiziana Cogliati at cogliatitp@nei.nih.gov. If you are interested in other potential internships within NEI, please contact Cesar Perez-Gonzalez, Ph.D., at cesarp@nei.nih.gov.
Structure
NNRL Structure
Office of the Chief
Journal Covers
Selected Publications
2011
2010
Parapuram SK, Cojocaru RI, Chang JR, Khanna R, Brooks M, Othman M, Zareparsi S, Khan NW, Gotoh N, Cogliati T, Swaroop A. Distinct signature of altered homeostasis in aging rod photoreceptors: implications for retinal diseases. PLoS One. 2010 Nov 8;5(11):e13885. PubMed
Hurd T, Zhou W, Jenkins P, Liu CJ, Swaroop A, Khanna H, Martens J, Hildebrandt F, Margolis B. The retinitis pigmentosa protein RP2 interacts with polycystin 2 and regulates cilia-mediated vertebrate development. Hum Mol Genet. 2010 Nov 15;19(22):4330-44. Epub 2010 Aug 20. PubMed
Hugosson T, Friedman JS, Ponjavic V, Abrahamson M, Swaroop A, Andréasson S. Phenotype associated with mutation in the recently identified autosomal dominant retinitis pigmentosa KLHL7 gene. Arch Ophthalmol. 2010 Jun;128(6):772-8.
Nichols LL 2nd, Alur RP, Boobalan E, Sergeev YV, Caruso RC, Stone EM, Swaroop A, Johnson MA, Brooks BP. Two novel CRX mutant proteins causing autosomal dominant Leber congenital amaurosis interact differently with NRL. Hum Mutat. 2010 Jun;31(6):E1472-83.
Permanyer J, Navarro R, Friedman J, Pomares E, Castro-Navarro J, Marfany G, Swaroop A, Gonzàlez-Duarte R. Autosomal recessive retinitis pigmentosa with early macular affectation caused by premature truncation in PROM1. Invest Ophthalmol Vis Sci. 2010 May;51(5):2656-63. Epub 2009 Dec 30. PubMed
Hackler L Jr, Wan J, Swaroop A, Qian J, Zack DJ. MicroRNA profile of the developing mouse retina. Invest Ophthalmol Vis Sci. 2010 Apr;51(4):1823-31. Epub 2009 Nov 20. PubMed
Wu DM, Khanna H, Atmaca-Sonmez P, Sieving PA, Branham K, Othman M, Swaroop A, Daiger SP, Heckenlively JR. Long-term follow-up of a family with dominant X-linked retinitis pigmentosa. Eye (Lond). 2010 May;24(5):764-74. Epub 2009 Nov 6.
Swaroop A, Kim D, Forrest D: Transcriptional regulation of photoreceptor development and homeostasis in the mammalian retina. Nature Reviews Neuroscience. 11:563-576, 2010. [PubMed]
Friedman JS, Chang B, Krauth DS, …………  Swaroop A: Loss of lysophosphatidylcholine acyltransferase 1 leads to photoreceptor degeneration in rd11 mice. Proc Natl Acad Sci U S A. 2010 Aug 31;107(35):15523-8. Epub 2010 Aug 16 [PubMed]
Roger JE, Nellissery J, Kim DS, Swaroop A: Sumoylation of bZIP transcription factor NRL modulates target gene expression during photoreceptor differentiation. J Biol Chem. 2010 Jun 15. [PubMed]
Chen W, Stambolian D, Edwards AO, ………, Swaroop A: Genetic variants near TIMP3 and high-density lipoprotein-associated loci influence susceptibility to age-related macular degeneration. Proc Natl Acad Sci U S A. 2010 20;107(16):7401-6. Epub 2010 Apr 12 [PubMed]
Kanda A, Stambolian D, Chen W, Curcio CA, Abecasis GR, Swaroop A: Age-related macular degeneration-associated variants at chromosome 10q26 do not significantly affect ARMS2 and HTRA1 transcript levels in human retina. Mol Vis. 16:1317-1323, 2010. [PubMed]
Nasonkin IO, Cogliati T, Swaroop A (2010) Photoreceptor development: Early steps/fate, in Encyclopedia of the Eye. Dartt D, Dana R, Besharse J, Battelle B, Beebe D, Bex P, Bishop P, Bok D, D'Amore P, Edelhauser H, Mcloon L, Niederkorn J, Reh T, Tamm E, eds, Academic Press (Oxford, UK) Volume 3, pp. 332-339.

BOOK

Raychaudhuri S, Ripke S, Li M, ……. Swaroop A, Abecasis G, Seddon JM, Daly MJ: Associations of CFHR1-CFHR3 deletion and a CFH SNP to age related macular degeneration are not independent. Nat Genet. 42:553-555, 2010. [PubMed]
Strunnikova NV, Maminishkis A, ……………. Abecasis G, Swaroop A, Munson PJ, Miller SS: Transcriptome Analysis And Molecular Signature Of Human Retinal Pigment Epithelium. Hum Mol Genet. 2010 Apr 1. [Epub ahead of print] [PubMed]
Baratz KH, Tosakulwong N, Ryu E, Brown WL, Branham K, Chen W, Tran KD, Schmid-Kubista KE, Heckenlively JR, Swaroop A, Abecasis G, Bailey KR, Edwards AO: E2-2 protein and Fuchs's corneal dystrophy. N Engl J Med. 2010 Sep 9;363(11):1016-24. [PubMed]
Murga-Zamalloa CA, Atkins SJ, Peranen J, Swaroop A, Khanna H: Interaction of retinitis pigmentosa GTPase regulator (RPGR) with RAB8A GTPase: implications for cilia dysfunction and photoreceptor degeneration. Hum Mol Genet. 2010 Sep 15;19(18):3591-8. Epub 2010 Jul 14. [PubMed]
Jayasundera T, Branham KE, …….. Khanna H, Swaroop A, Heckenlively JR: RP2 phenotype and pathogenetic correlations in X-linked retinitis pigmentosa.  Arch Ophthalmol. 128:915-923, 2010. [PubMed]
Ghosh AK, Murga-Zamalloa CA, Chan L, Hitchcock PF, Swaroop A, Khanna H: Human retinopathy-associated ciliary protein retinitis pigmentosa GTPase regulator mediates cilia-dependent vertebrate development. Hum Mol Genet. 2010 Jan 1;19(1):90-8. Epub [PubMed]
2009
2008
Iannaccone A, Othman MI, Cantrell AD, Jennings BJ, Branham K, Swaroop A: Retinal phenotype of an X-linked pseudo-Usher syndrome in association with the G173R mutation in the RPGR gene. Adv Exp Med Biol. 613:221-227, 2008. [PubMed]
He S, Parapuram SK, Hurd TW, Behnam B, Margolis B, Swaroop A, Khanna H: Retinitis Pigmentosa GTPase Regulator (RPGR) protein isoforms in mammalian retina: insights into X-linked Retinitis Pigmentosa and associated ciliopathies. Vision Res. 48:366-376, 2008. [PubMed]
Oh E, Cheng H, Hao H, Jia L, Khan NW, Swaroop A: Rod differentiation factor NRL activates the expression of nuclear receptor NR2E3 to suppress the development of cone photoreceptors. Brain Res. 1236:16-29, 2008. [PubMed]
Parapuram S, Swaroop A: Mouse models, microarrays and genetic networks in retinal development and degenerative disease. In Eye, Retina, and Visual System of the Mouse (Chalupa LM and Williams RW, eds), MIT Press, Cambridge, MA. pp. 675-683, 2008.

BOOK

Kanda A, Abecasis G, Swaroop A: Inflammation in the pathogenesis of age-related macular degeneration. (Editorial) Br J Ophthalmol. 92:448-450, 2008. [PubMed]
Siffroi-Fernandez S, Felder-Schmittbuhl M, Khanna H, Swaroop A, Hicks D. FGF19 exhibits neuroprotective effects on adult mammalian photoreceptors in vitro. Invest Ophthalmol Vis Sci. 49:1694-1704, 2008. [PubMed]
Tsang WY, Bossard C, Khanna H, Peranen J, Swaroop A, Malhotra V, Dynlacht BD. CP110 suppresses primary cilia formation through its interaction with CEP290, a protein deficient in human ciliary disease. Dev Cell 15:187-197, 2008. [PubMed]
2007