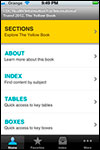 For decades, health care professionals and travelers alike have relied on the Centers for Disease Control and Prevention's user-friendly Health Information for International Travel (commonly referred to as The Yellow Book) as a trusted reference for the most up-to-date health recommendations for international travel. For the first time, Oxford University Press and CDC are releasing a mobile app version of The Yellow Book, available on iPhone and for purchase in the App Store. Now you can access this information anytime, anywhere, directly from your mobile device.
The Yellow Book helps travelers and their doctors prepare for international trips by providing key health information and recommendations for staying safe and healthy while abroad. Updated biennially by a team of experts, this app addresses infectious disease risks, other health concerns such as injuries and safety, and hot topics in the field of travel medicine. The app offers the full range of Yellow Book information, and enhanced features for your mobile device:
Authoritative and complete information on precautions that the traveler should take for nearly all foreseeable risks.
Disease risk maps, detailed country-specific tables, and photographs digitally enhanced for your device.
Ability to mark your favorites and search by disease, medication, or destination with a few taps and swipes.
Richly illustrated Select Destinations chapter that provides insider knowledge of popular tourist destinations.
The Yellow Book app is built by MARTEAU, Inc. and Oxford University Press. Available on iTunes.