Traveling Overseas? Consider Getting Insurance.
Trip Cancellation Insurance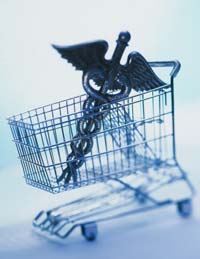 Trip cancellation insurance covers your financial investment in your trip, such as flights, cruises, or train tickets. Carefully examine the policy to make sure that it covers what you need it to cover, including cancellation if you or a close family member gets sick. Depending on the policy, trip cancellation insurance might not cover any medical care you need overseas, so you may need a separate travel health insurance policy.
Travel Health Insurance
If you need to go to a hospital or clinic overseas, you will probably be asked to pay out-of-pocket for any services, which could be very expensive. Even if a country has nationalized health care, it may not cover people who are not citizens. Before you go, you should consider your insurance options in case you need care while you're abroad, especially if you have existing health conditions, will be away from home for a long time, or will be engaging in adventure activities such as scuba diving or hang gliding.
If you have health insurance in the United States, find out if it will cover emergencies that happen abroad. Ask if your policy has any exclusions, such as for preexisting conditions or adventure activities. If your health insurance coverage is not adequate, consider buying a short-term supplemental policy. Look for a policy that will make payments to hospitals directly.
Medical Evacuation Insurance
If you are traveling to a remote destination or to a place where care is not likely to be up to US standards, consider buying medical evacuation insurance. This can be purchased separately or as part of your travel health insurance policy. This insurance will pay for emergency transportation from a remote or poor area to a high-quality hospital. Make sure that the policy provides a 24-hour physician support center.
More Information
This list is not all-inclusive, but these resources provide information about purchasing travel health and medical evacuation insurance: