Mass-Marketing Fraud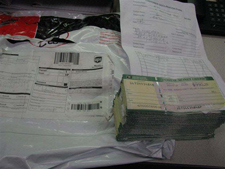 One of ICE's leading priorities in its law enforcement mission is combating financial crime, including financial fraud and mass-marketing fraud.
Mass-marketing fraud has become more widespread in recent years, thanks in part to the spread of low-cost communication technology that makes it easier to defraud victims on a global scale. For example, telemarketing or identity theft scams are frequently coordinated from overseas locations.
As part of its commitment to combat mass-marketing fraud, ICE is a participant in the multi-agency International Mass-Marketing Fraud Working Group, which was established in 2007.
The working group brings together law enforcement, regulatory and consumer protection agencies from seven countries to:
Exchange information and intelligence on mass-marketing fraud;
Coordinate cross-border operations to detect and disrupt mass-marketing fraud operations and apprehend their perpetrators; and
Drive public awareness and public education measures concerning international mass-marketing fraud schemes.