Inside this Chapter
Historically, the Federal Communication Commission (FCC)'s approach to allocating spectrum has been to formulate policy on a band-by-band, service-by-service basis, typically in response to specific requests for service allocations or station assignments. This approach has been criticized for being ad hoc, overly prescriptive and unresponsive to changing market needs.1 Wireless broadband is poised to become a key platform for innovation in the U.S. over the next decade. As a result, U.S. spectrum policy requires reform to accommodate the new ways that industry is delivering wireless services. These reforms include making more spectrum available on a flexible basis, including for unlicensed and opportunistic uses. Given the length of the spectrum reallocation process, these reforms should reflect expectations of how the wireless world will look 10 years from now. These reforms should ensure that there is sufficient, flexible spectrum that accommodates growing demand and evolving technologies.
Spectrum policy must be a key pillar of U.S. economic policy. The contribution of wireless services to overall gross domestic product grew over 16% annually from 1992-2007 compared with less than 3% annual growth for the remainder of the economy.2 Given these growth rates, wireless communications—and mobile broadband in particular—promises to continue to be a significant contributor to U.S. economic growth in the coming decade. Some analysts predict that within five years more users will connect to the Internet via mobile devices than desktop personal computers (PCs).3
Disruptive technology transformations happen once every 10 to 15 years. Mobile broadband represents the convergence of the last two great disruptive technologies—Internet computing and mobile communications—and may be more transformative than either of these previous breakthroughs. Mobile broadband is scaling faster and presents a bigger opportunity. This revolution is being led not only by domestic wireless carriers, who are investing billions in network upgrades, but also by American companies such as Amazon, Apple, Intel, Google, Qualcomm and numerous entrepreneurial enterprises that export innovation globally.4
RECOMMENDATIONS
Ensure greater transparency concerning spectrum allocation and utilization
Expand incentives and mechanisms to reallocate or repurpose spectrum
Make more spectrum available for broadband within the next 10 years
Increase the flexibility, capacity and cost-effectiveness of spectrum for point-to-point wireless backhaul services
Expand opportunities for innovative spectrum access models
Take additional steps to make U.S. spectrum policy more comprehensive
5.1 THE GROWTH OF WIRELESS BROADBAND
The use of wireless broadband is growing rapidly, primarily in the area of mobile connectivity, but also in fixed broadband applications. Key drivers of this growth include the maturation of third-generation (3G) wireless network services, the development of smartphones and other mobile computing devices, the emergence of broad new classes of connected devices and the rollout of fourth-generation (4G) wireless technologies such as Long Term Evolution (LTE) and WiMAX.
3G network services are in full bloom. Data traffic on AT&T's mobile network, driven in part by iPhone usage, is up 5,000% over the past 3 years,5 a compound annual growth rate of 268%. Verizon Wireless says it, too, has recently experienced substantial data growth in its network.6 According to Cisco, North American wireless networks carried approximately 17 petabytes per month in 2009,7 an amount of data equivalent to 1,700 Libraries of Congress. By 2014, Cisco projects wireless networks in North America will carry some 740 petabytes per month, a greater than 40-fold increase. Other industry analysts forecast large proportional increases (see Exhibit 5-A).8
Exhibit 5-A: Forecasted Mobile Data Traffic in North America
This growth in aggregate traffic is due to increased adoption of Internet-connected mobile computing devices and increased data consumption per device. A recent survey of 7,000 U.S. adults found that smartphone penetration is now at 33% of mobile subscribers across the four largest wireless operators. Penetration rose steadily over the past several quarters.9 These new devices drive higher data usage per subscriber, as users engage with data-intensive social networking applications and user-generated video content. Advanced smartphones, such as the iPhone, and devices using the Android operating system consume hundreds of megabytes of data per user per month.10 Laptops using aircards consume more than a gigabyte per user per month.11 To put these numbers in perspective, Cisco estimates that smartphones such as the iPhone can generate 30 times more data traffic than a basic feature phone, and that a laptop can generate many times the traffic of a smartphone.12
Additionally, experts expect a huge increase in machine-based wireless broadband communications over the next several years, as "smart" devices take advantage of the ubiquitous connectivity afforded by high-speed, low-latency, wireless packet data networks.13 While many of these devices, like smart meters, are expected to consume relatively small amounts of bandwidth, others, such as wireless-enabled cameras, may make use of embedded video and other media that could substantially increase demand for wireless bandwidth. Analysts predict a shift from one device per person to a world where "smart" connected devices greatly outnumber human beings.14 The aggregate impact of these devices on demand for wireless broadband networks could be enormous.
The rollout of advanced 4G networks using new versions of LTE and WiMAX technologies will also intensify the impact on mobile broadband networks. The next generation of mobile broadband networks will support higher data throughput rates, lower latencies and more consistent network performance throughout a cell site. This will increase the range of applications and devices that can benefit from mobile broadband connectivity, generating a corresponding increase in demand for mobile broadband service from consumers, businesses, public safety, health care, education, energy and other public sector users. Most of the major wireless carriers are building or planning upgrades to 4G technologies (see Exhibit 5-B).
Exhibit 5-B: Selected Announced Upgrades to the U.S. Mobile Broadband Network (Persons Covered)15 
Technology

Companies

2009

2010

2011

By 2013

LTE

Verizon

AT&T

MetroPCS

Cox

Verizon (100 million people)

AT&T (trials)

AT&T (start of deployment)

Cox (start of deployment)

MetroPCS (start of deployment)

Verizon (entire network)

WiMAX

Clearwire/ Sprint

Open Range

Small wireless Internet service providers (WISPs)

Clearwire (30 million people)

WISPs (2 million people)

Clearwire (120 million people)

Open Range (6 million people)
An increase in mobile broadband use raises demand for other wireless services, such as point-to-point microwave backhaul and unlicensed networks, to enhance the overall delivery of broadband. Wireless backhaul transports large quantities of data to and from cell sites, especially in rural areas. Unlicensed services such as Wi-Fi and Bluetooth are important complements to licensed mobile networks and to fixed wireline networks. Most smartphones available today feature Wi-Fi, and users increasingly take advantage of this capability inside homes or businesses where high-speed broadband connectivity is available. According to a November 2008 report from AdMob, 42% of all iPhone traffic was transported over Wi-Fi networks rather than carriers' own networks.16 Other carriers report similar trends in how their customers use Wi-Fi to complement cellular service.
Growing Spectrum Needs
The growth of wireless broadband will be constrained if government does not make spectrum available to enable network expansion and technology upgrades. In the absence of sufficient spectrum, network providers must turn to costly alternatives, such as cell splitting, often with diminishing returns. If the U.S. does not address this situation promptly, scarcity of mobile broadband could mean higher prices, poor service quality, an inability for the U.S. to compete internationally, depressed demand and, ultimately, a drag on innovation.
The progression to 4G technologies may require appropriately sized bands, including larger blocks to accommodate wider channel sizes. That said, innovative technologies are emerging that take advantage of narrower slices of spectrum, and such complementary approaches provide new opportunities for investment and further technological innovation.
Unlocking the full potential of 4G will require more than a "re-farming" of existing mobile spectrum and deployment using recently released spectrum in the 700 MHz, Advanced Wireless Services (AWS) and 2.5 GHz bands. It cannot focus solely on "last mile" mobile connectivity, but also needs to address other potential network bottlenecks that inhibit speed, including backhaul and other point-to-point applications.
Additional spectrum is also required to accommodate multiple providers in a competitive marketplace, including new entrants and small businesses, as well as to enable wireless services to compete with wireline services. The U.S. Department of Justice (DOJ) aptly summarized: "Given the potential of wireless services to reach underserved areas and to provide an alternative to wireline broadband providers in other areas, the Commission's primary tool for promoting broadband competition should be freeing up spectrum."17
Spectrum: The Great Enabler
Each of the past three decades has seen a new tranche of mobile spectrum create successive waves of innovation and investment.
In 1983, the FCC allocated the spectrum used to build out the first cellular networks. This spectrum was originally allocated to television channels 70 to 83. Reallocation of the band effectively gave birth to the mobile industry. The spectrum was initially used for analog cellular telephone systems. It constituted the entire spectrum allocation for the cellular industry for a dozen years.
From 1994 to 2000, the FCC auctioned the Personal Communications Service (PCS) spectrum, which made mobile voice communications a mass-market reality and unleashed a tidal wave of innovation and investment. These auctions more than tripled the stock of spectrum for commercial mobile radio services. With spectrum as the catalyst, the mobile industry profoundly changed during this period:
The number of wireless providers increased significantly in most markets.18
That same period saw a rapid uptick in the pace of industry innovation, from the deployment of new wireless technologies, to the introduction of new services such as Short Message Service, to the launch of the first nationwide service plans. As the DOJ explains, "mobile wireless users saw a substantial increase in the variety of pricing plans, lower per-minute prices, the introduction of newer generations of technology, and new features and functionality."24
The past decade has seen new spectrum come online in the 700 MHz, AWS and 2.5 GHz bands, providing a foundation for the nation's 4G wireless networks. The history of the 700 MHz band in particular demonstrates the importance of taking active steps to modernize spectrum policies in anticipation of future needs. In 2008, the FCC auctioned spectrum in the 700 MHz band, which was reallocated from the ultra high frequency (UHF) television band as part of America's transition to digital television (DTV). In 1997, the FCC established a ten year transition to digital broadcasting. Congress then modified that to mandate the transition would end when 85% of households owned digital receivers, a milestone that was difficult to measure and did not establish a specific deadline. At that time, this policy did not anticipate the explosion in mobile data that would begin a decade later; but in an effort to ensure a timely transition, Congress eventually accelerated the transition to 2009. In hindsight, setting a definitive transition date unlocked tremendous value for consumers and service providers. The auction garnered over $19 billion, and the spectrum is likely to provide a launch pad for two of the largest 4G network deployments in the coming years.
The Importance of Spectrum Flexibility
The current spectrum policy framework sometimes impedes the free flow of spectrum to its most highly valued uses. The federal government, on behalf of the American people and under the auspices of the FCC and NTIA, retains all property rights to spectrum.25 In several instances, both agencies assign large quantities of spectrum to specific uses, sometimes tied to specific technologies. In some cases, this approach is appropriate to serve particular public interests that flexible use licenses and market-based allocations alone would not otherwise support. However, because mission needs and technologies evolve, there must be a public review process to ensure that decisions about federal and non-federal use that may have worked in the past can be revisited over time. In general, where there is no overriding public interest in maintaining a specific use, flexibility should be the norm.
In the case of commercial spectrum, the failure to revisit historical allocations can leave spectrum handcuffed to particular use cases and outmoded services, and less valuable and less transferable to innovators who seek to use it for new services. The market for commercial, licensed spectrum does not always behave like a typical commodities market. Commercially licensed spectrum does not always move efficiently to the use valued most highly by markets and consumers. For example, a megahertz-pop may be worth a penny in one industry context and a dollar in another. Legacy "command and control" rules, high transaction costs and highly fragmented license regimes sometimes preserve outmoded band plans and prevent the aggregation (or disaggregation) of spectrum into more valuable license configurations.
Flexibility of use enables markets in spectrum, allowing innovation and capital formation to occur with greater efficiency. More flexible spectrum rights will help ensure that spectrum moves to more productive uses, including mobile broadband, through voluntary market mechanisms.
Spectrum flexibility, both for service rules and license transfers, has created enormous value. For example, the combined book value of flexible-use licenses held by the four national wireless providers, reflecting the prices paid at auction as well as in mergers and other corporate transactions, is over $150 billion.26 Some economists estimate that the consumer welfare gains from spectrum may be 10 times the private value to the spectrum holder.27 If this rule of thumb is true, it suggests that the social value of licensed mobile radio spectrum alone in the U.S. is at least $1.5 trillion.
The process of revisiting or revising spectrum allocations has historically taken 6-13 years, as described in Exhibit 5-C. Deploying networks adds still more time. Therefore, the FCC must maintain a forward-looking perspective as it evaluates reallocations or other rule changes that will make more spectrum available for broadband. In general, a voluntary approach that minimizes delays is preferable to an antagonistic process that stretches on for years. However, the government's ability to reclaim, clear and re-auction spectrum (with flexible use rights) is the ultimate backstop against market failure and is an appropriate tool when a voluntary process stalls entirely.
Exhibit 5-C: Time Historically Required To Reallocate Spectrum
Band

First Step

Available for Use

Approximate
Lag Time

Cellular (Advanced Mobile Phone System)

1970

1981

11 years

PCS

1989

1995

6 years

Educational Broadband Service (EBS)/Broadband Radio Service (BRS)

1996

2006

10 years

700 MHz

1996

2009

13 years

AWS-1

2000

2006

6 years
While flexibility in spectrum use is valuable, flexibility in access to spectrum can be just as important. Creating ways to access spectrum under a variety of new models, including unlicensed uses, shared uses and opportunistic uses, increases opportunity for entrepreneurs and other new market entrants to develop wireless innovations that may not have otherwise been possible under licensed spectrum models. In particular, unlicensed uses—which are technically not allocations per se—have enabled innovation in devices at the "edge" of the network. The spectrum novelties of today may become the predominant network technologies of tomorrow. Therefore, allowing technologically flexible access to spectrum is an essential innovation policy that the FCC should continue to develop.
With all of these considerations in mind, the U.S. government should take several actions to address urgent broadband spectrum needs.
5.2 ENSURING GREATER TRANSPARENCY CONCERNING SPECTRUM ALLOCATION AND UTILIZATION
Spectrum policy starts with transparency—disclosure about spectrum allocations, licensing and utilization. Transparency further increases the quality of policymaking by allowing outside parties—including citizens, companies, other government agencies and investors—to engage in the allocation process on an ongoing basis. The FCC and NTIA should create a system for greater transparency on spectrum allocation and utilization.
In the 1990s, the FCC began keeping electronic records of radio licenses and making this information available online. For example, the Universal Licensing System contains data on approximately two million licenses for over 30 different radio services. Nonetheless it is difficult for stakeholders and the public to access and use these data. Much of the currently available information on spectrum resides in multiple "silos" requiring expert knowledge and interpretation. The complexity of the system and the resulting lack of transparency and usability create impediments to public policy and limit the emergence of new technologies that could employ such data to optimize use of the spectrum automatically.
Recommendation 5.1: The FCC should launch and continue to improve a spectrum dashboard.
Concurrent with the National Broadband Plan, the FCC is launching a beta release of a spectrum dashboard.28 This Internet-based software enables user-friendly access to information regarding spectrum bands and licenses, including those that may be suitable for wireless broadband deployment. The initial version includes general information about non-federal use of spectrum bands in the range of 225 MHz to 3.7 GHz as well as more detailed information about bands of particular relevance to broadband.29
The spectrum dashboard will allow users to browse spectrum bands more easily, search for spectrum licenses, produce maps and download raw data for further analysis. For the first time, through a single FCC portal, users may access basic information on licenses (e.g., licensee name, contact information, frequency bands) as well as descriptions of allocations. Further, the dashboard includes information not previously available through the FCC website, such as the capability to search for licenses based on commonly recognizable names of companies (e.g., AT&T, T-Mobile, Verizon, etc.) and the amount of spectrum held by licensees on a county-by-county basis for many types of licenses. The screen shot below is illustrative of the spectrum dashboard user interface (see Exhibit 5-D).
Exhibit 5-D: The Spectrum Dashboard: An Interactive Tool for Browsing Spectrum Bands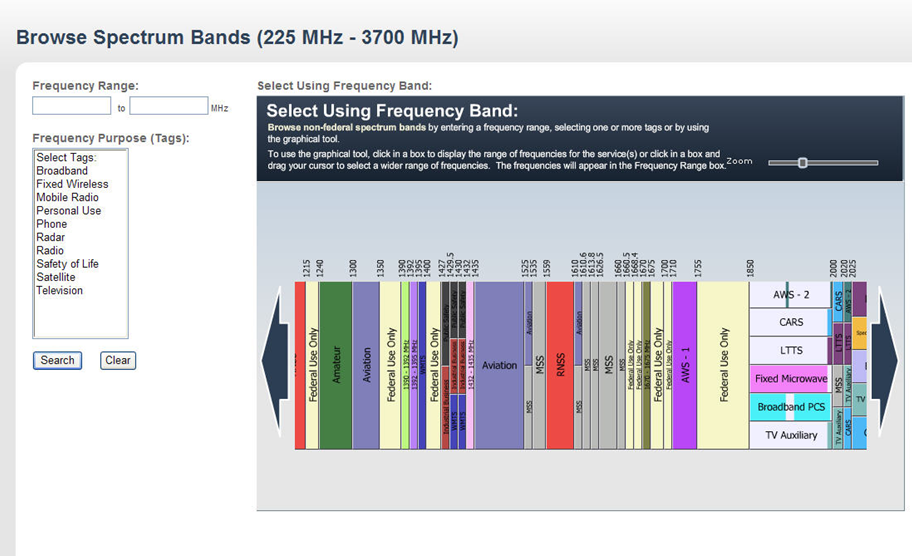 The FCC should continue to improve and augment this spectrum dashboard over time, adding more comprehensive data on all bands, including commercial, state and local allocations within one year of the initial launch.30 The FCC should also implement ongoing improvements to the database that will assist in spectrum policy planning and decision making, promote a robust secondary market in spectrum and improve communications services in all areas of the U.S., including rural, underserved and Tribal areas. Simultaneously, NTIA should develop similar information on federal spectrum operations.31 This information should be made accessible through common links, with the intent of providing users a comprehensive view of combined FCC and NTIA information.
Recommendation 5.2: The FCC and the National Telecommunications and Information Administration (NTIA) should create methods for ongoing measurement of spectrum utilization.
To assist in understanding how, where and when spectrum resources are being used, the FCC and NTIA should develop scientific, statistically valid methods to measure and report the utilization of spectrum bands between 225 MHz and 3.7 GHz.32 Some studies of spectrum utilization suggest that spectrum goes unused in many places much of the time, although critics assert that larger-scale studies are needed to draw more definitive conclusions.33 More systematic measurement methods would help to provide a fact base that can inform policymaking, when combined with other forms of analysis.34
In the United Kingdom, the independent regulator Ofcom commissioned a study that provided a wealth of insights about spectrum utilization and demonstrated the practicality of large-scale spectrum measurement.35 An equivalent study, scaled to the larger scope of U.S. geography, would cost approximately $10–$15 million, and would provide insight into the utilization of spectrum resources with trillions of dollars of social value. Spectrum measurement for this study could use inexpensive frequency scanners installed on postal trucks or other fleet vehicles.
Information on spectrum utilization should be updated annually to provide an accurate snapshot of current use. Results should be made available to the public as an additional layer in the spectrum dashboard.
Recommendation 5.3: The FCC should maintain an ongoing strategic spectrum plan including a triennial assessment of spectrum allocations.
The recommendations in this chapter form the nucleus of a plan to ensure that spectrum is allocated to support the growth of broadband services and to accommodate new technologies that deliver it. Of course, every plan must evolve to accommodate new circumstances. Therefore, the FCC should maintain and continually update a strategic spectrum plan. Furthermore, the FCC should regularly refresh its analysis of the spectrum market with an assessment of the supply, usage and demand for spectrum, including potential sources of new spectrum. This assessment will draw on data collected from the spectrum dashboard and from spectrum measurement and utilization efforts, as described above in Recommendations 5.1 and 5.2, respectively. The spectrum assessment should be published every three years and should include an assessment of available spectrum and metrics by which to measure potential reallocation to alternative uses.
5.3 EXPANDING INCENTIVES AND MECHANISMS TO REALLOCATE OR REPURPOSE SPECTRUM
The FCC has a variety of methods to manage spectrum pursuant to its authority under the Communications Act. In recent years, Congress has enhanced the FCC's spectrum management abilities by providing additional tools to promote more effective use of spectrum.
For instance, Congress enabled the FCC to develop procedures for assigning hundreds of megahertz more quickly and efficiently by providing the FCC with auction authority in 1993.36 In 2004, with passage of the CSEA, Congress gave the FCC a powerful mechanism to encourage incumbent federal users to clear spectrum bands so that reallocated spectrum can be made available for commercial use.37
While these tools have served their purpose, they may prove insufficient for the spectrum policy challenges ahead. The broadband spectrum needs of the U.S. are growing as it is becoming more difficult to identify large swaths of spectrum—both federal and commercial—that can be reclaimed for auction. In many cases, the traditional auction model is likely to remain the preferred approach. Increasingly, however, the FCC will find itself looking for new ways to move spectrum to more productive uses. Given the practical challenges of reallocation, the FCC needs to create new incentives for incumbent licensees to yield to next-generation users.
Recommendation 5.4: Congress should consider expressly expanding the FCC's authority to enable it to conduct incentive auctions in which incumbent licensees may relinquish rights in spectrum assignments to other parties or to the FCC.
FCC spectrum licensees often possess certain rights and expectations that can make it difficult, in practice, for the FCC to reclaim and re-license that spectrum for another purpose. Contentious spectrum proceedings can be time-consuming, sometimes taking many years to resolve, and incurring significant opportunity costs. One way to address this challenge is by motivating existing licensees to voluntarily clear spectrum through incentive auctions. Congress should grant the FCC authority to conduct incentive auctions to accelerate productive use of encumbered spectrum.
Incentive auctions can provide a practical, market-based way to reassign spectrum, shifting a contentious process to a cooperative one. In an incentive auction, incumbents receive a portion of the proceeds realized by the auction of their spectrum licenses. This sharing of proceeds creates appropriate incentives for incumbents to cooperate with the FCC in reallocating their licensed spectrum to services that the market values more highly. A market-based mechanism—an auction—determines the value of the spectrum; market-based incentives, such as a share of the revenue received, encourage existing licensees to participate, accelerating the repurposing of spectrum and reducing the cost. Incentive auctions can be especially useful where fragmentation of spectrum licenses makes it difficult for private parties to aggregate spectrum in marketable quantities.
Incentive auctions can come in different forms. For example, in a "two-sided" auction, the FCC could act as a third-party auctioneer for the private exchange of spectrum between willing sellers and buyers, similar to a fine art auction. Alternatively, the FCC could offer a revenue-sharing enhancement to the existing spectrum auction system, in which some portion of revenues generated by an auction are shared between the U.S. Treasury and incumbent licensees who agree to relinquish their licenses.38
Incentive auctions present a more efficient alternative to the FCC's overlay auction authority, in which the FCC auctions encumbered overlay licenses and lets the new overlay licensees negotiate with incumbents to clear spectrum. These piecemeal voluntary negotiations between new licensees and incumbents introduce delays as well as high transaction costs as new licensees contend with holdouts and other bargaining problems. Anticipating these delays and negotiating costs, bidders typically pay significantly less for encumbered spectrum. The value of spectrum that must be cleared through such a voluntary process is reduced even more by uncertainty about the final cost of clearing.
Although sharing auction proceeds through incentive auctions means that some funds paid for spectrum will not go to the U.S. Treasury, incentive auctions should have a net-positive revenue impact for a variety of reasons: accelerated clearing, more certainty about costs, and the ability to auction adjacent spectrum that, due to technical rules, is not currently licensed.39
Recommendation 5.5: Congress should consider building upon the success of the Commercial Spectrum Enhancement Act (CSEA) to fund additional approaches to facilitate incumbent relocation.
The CSEA encourages federal incumbents to clear spectrum not being put to its most productive use and facilitates the updating of agency networks for enhanced broadband capabilities.40 The CSEA establishes a Spectrum Relocation Fund to reimburse federal agencies operating on certain frequencies that have been reallocated to non-federal use.41 With certain revisions, CSEA could become an even more effective tool for relocating federal incumbents from reallocated spectrum and for developing technological advances that will enable future reallocations of federal spectrum for wireless broadband.
The CSEA funding mechanism was first utilized in connection with the auction of former federal spectrum in the AWS-1 auction, which concluded in September 2006. The auction proceeds attributable to the former federal spectrum amounted to $6.85 billion, or half of the total net winning bids of $13.7 billion. The relocation costs totaled approximately $1 billion.42 The auction's proceeds thus surpassed relocation costs by nearly $6 billion. At the same time, federal incumbents received modernized systems in other frequency bands. The experience of AWS-1 and CSEA proves that relocation can be a win-win-win: for incumbents, for the U.S. Treasury, and, most importantly, for the American public, which benefits from increased access to the airwaves.
Congress should consider improving the CSEA to ensure that a full range of costs are covered to provide federal agencies adequate incentives and assistance, including up-front planning, technology development and staffing to support the relocation effort. Further, agencies should be compensated for using commercial services and non-spectrum-based operations, in addition to dedicated spectrum-based system deployments. In particular, Congress should revise the CSEA to provide for payments of relocation funds to federal users that vacate spectrum and make use of commercial networks instead of alternative dedicated federal spectrum. Expanding the definition of reimbursable costs to include a federal incumbent's costs incurred to obtain telecommunications services from another existing network will promote agency use of shared commercial infrastructure, thereby freeing federal spectrum to be licensed for broadband deployment.
Recommendation 5.6: Congress should consider granting authority to the FCC to impose spectrum fees on license holders and to NTIA to impose spectrum fees on users of government spectrum.
In many spectrum bands, the government issues exclusive flexible use licenses that allow licensees to choose what services to offer and to transfer, lease, or subdivide their spectrum rights.43 Many spectrum licensees, however, have inflexible licenses that limit the spectrum to specific uses. These licensees do not incur opportunity costs for use of their spectrum; therefore, they are not apt to receive market signals about new uses with potentially higher value than current uses. The result can be inadequate consideration of alternative uses, artificial constraints on spectrum supply and a generally inefficient allocation of spectrum resources.
One way to address these inefficiencies is to impose a fee on spectrum, so that licensees take the value of spectrum into account.44 Congress should grant the FCC and NTIA authority to impose spectrum fees, but only on spectrum that is not licensed for exclusive flexible use.45
Fees may help to free spectrum for new uses such as broadband, since licensees who use spectrum inefficiently may reduce their holdings once they bear the opportunity cost of spectrum. As the Government Accountability Office noted in a 2006 report to Congress, administrative fees "promote the efficient use of spectrum by compelling spectrum users to recognize the value to society of the spectrum that they use. In other words, these fees mimic the functions of a market."46 However, it is not clear that the FCC and NTIA at present have authority to impose such fees.47
How best to set spectrum fees is a complex question. To be fully effective, fees should reflect the value of the spectrum in its best feasible alternative use, i.e., the opportunity cost. The prices observed from the auction of licenses for comparable spectrum are one indicator, but are imprecise due to differences in the technical characteristics, rules, interference environment and temporal variations in the supply and demand of the spectrum being compared. Recognizing these uncertainties, Ofcom has followed a practice of first setting low fees and then raising them gradually over time in response to observed changes in usage patterns (see Box 5-1). This is a prudent approach that gives users time to adjust to administrative pricing levels.
In addition, a different approach to setting fees may be appropriate for different spectrum users. A fee system must avoid disrupting public safety, national defense and other essential government services that protect human life, safety and property and must account for the need to adjust funding through what can be lengthy budgetary cycles.
This year, the Obama Administration requested that Congress grant the FCC authority to impose spectrum fees. The Bush Administration made similar requests from 2001 to 2008.51 Congress should grant this authority to the FCC and to NTIA.
Recommendation 5.7: The FCC should evaluate the effectiveness of its secondary markets policies and rules to promote access to unused and underutilized spectrum.
Secondary markets provide a way for some network providers to obtain access to needed spectrum for broadband deployment. While the FCC currently has rules that enable secondary markets, the record is mixed. Some public comments maintain that market-based policies have enabled a wide variety of entities, including non-nationwide providers, to obtain access to spectrum.52 Others contend that unused or underutilized spectrum is not being made available to smaller providers, especially in rural areas where spectrum goes unused.53 To ensure that secondary markets are functioning effectively, the FCC should identify and address barriers to more productive allocation and use of spectrum through secondary markets. The FCC should complete its assessment of potential barriers by the end of 2010.
The goal of the FCC's current secondary market policies is to eliminate regulatory barriers that might hinder access to, and permit more efficient use of, valuable spectrum resources.54 The FCC has expressed concern that existing licensees may not fully utilize or plan to utilize the entire spectrum assigned to them; as a result, a substantial amount of spectrum may be underused, especially in rural areas.55
The FCC's policies and rules permit a variety of secondary market transactions: license transfers and assignments, partitioning and disaggregation of licenses, and spectrum leasing.56 The FCC significantly streamlined the processing of lease transactions in 2003 and 2004.57 The spectrum leasing policies also permit dynamic leasing arrangements that enable licensees and spectrum lessees to share use of the same spectrum. These arrangements take advantage of more sharing technologies that are possible as a result of innovations and advanced technologies such as cognitive radios.58
Preliminary analyses establish that there have been thousands of secondary-market transactions involving mobile broadband licenses over the last several years. These have included license transfers, including partitioning and disaggregation, and spectrum leases,59 thus providing some evidence that the FCC's policies have enabled "spectrum to flow more freely among users and uses," as envisioned in the Commission's Secondary Markets Policy Statement.60
Despite this activity, the pressing spectrum requirements of broadband necessitate the need for a second look. In particular, the FCC should examine additional positive incentives that may assist in the development of secondary markets, such as reducing secondary market transaction costs like lease filing costs, and encouraging and facilitating the use of dynamic spectrum leasing arrangements that harness emerging technologies. The FCC should also consider a more systematic set of incentives, both positive and negative, to ensure productive use of spectrum to address broadband gaps in underserved areas.
5.4 MAKING MORE SPECTRUM AVAILABLE WITHIN THE NEXT 10 YEARS
Recommendation 5.8: The FCC should make 500 megahertz newly available for broadband use within the next 10 years, of which 300 megahertz between 225 MHz and 3.7 GHz should be made newly available for mobile use within five years.
In order to meet growing demand for wireless broadband services, and to ensure that America keeps pace with the global wireless revolution, 500 megahertz should be made newly available for mobile, fixed and unlicensed broadband use over the next 10 years. This spectrum would be made available for a variety of licensed and unlicensed flexible commercial uses, as well as to meet the broadband needs of specialized users such as public safety, energy, educational and other important users. Of this amount, 300 megahertz between 225 MHz and 3.7 GHz should be made available for mobile flexible use within five years. The timeline in Exhibit 5-E illustrates a schedule of actions that would fulfill this latter goal.
Exhibit 5-E: Actions and Timeline to Fulfill 300 Megahertz Goal by 2015
Band

Key Actions and Timing

Megahertz Made Available for Terrestrial Broadband

WCS

2010—Order

20

AWS 2/361

2010—Order

2011—Auction

60

D Block

2010—Order

2011—Auction

10

Mobile Satellite Services (MSS)

2010—L-Band and Big LEO Orders

2011—S-Band Order

90

Broadcast TV62

2011—Order

2012/13—Auction

2015—Band transition/clearing

120

Total

300
In the bands below 3.7 GHz, 547 megahertz is currently licensed as flexible use spectrum that can be used for mobile broadband.63 Of this amount, the Cellular and PCS bands compose 170 megahertz and represent the most intensively used spectrum today. The majority of the remaining 377 megahertz was auctioned or rebanded within the past six years and is just now coming online for mobile broadband deployment. This latter portion brought more than a 3-fold increase in total spectrum for mobile services and provides a "runway" for the launch of next-generation mobile broadband services.
Exhibit 5-F: Spectrum Baseline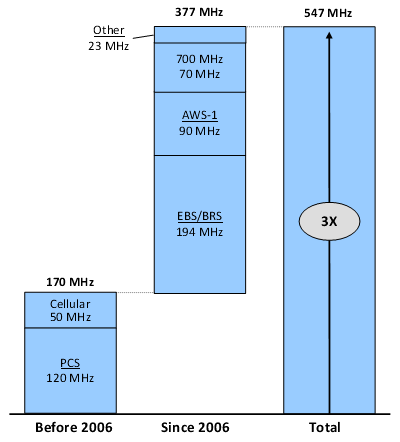 Looking ahead, operators, regulators and others have attempted to forecast the amount of spectrum that will be needed. Given current trends and future uncertainty, virtually all the major players in the wireless industry have stated on the record that more spectrum is needed.64 Estimates range from 40 to 150 megahertz per operator.65 In a recent public filing, CTIA summed up the industry-wide need to be approximately 800 megahertz.66
Several international organizations have also issued estimates, which vary widely. The ITU released an analysis in 2006 predicting that the total amount of spectrum needed to support mobile broadband in developed countries like the U.S. would be 1,300 megahertz by 2015 and up to 1,720 megahertz by 2020.67 In the U.K., Ofcom commissioned an analysis of potential spectrum shortages. In the longer term, Ofcom believes that "improvements in spectral efficiency and the move to higher density network architectures will provide sufficient capacity to handle most high-end predictions of future demand." Still, Ofcom warns that "there could still be some limitations due to pressure on spectrum in the 2020 timeframe."68
Spectrum forecasts all incorporate a range of assumptions about future network capacity.  Demand is difficult to predict due to uncertainties about future devices and user behavior.  Supply is also difficult to predict since new technologies can change underlying operating costs, and access to key inputs like backhaul and tower sites can be limited by regulatory and other barriers (see Chapter 6).
In addition, bandwidth supply and demand are co-dependent. More bandwidth begets more data-intensive applications which begets a need for more bandwidth. Indeed, it is this virtuous cycle that has made broadband an innovation growth engine over the past decade—but also makes forecasting difficult.
The forecast of a need to make 300 megahertz available by 2015 reflects a set of reasonable assumptions about the evolution of supply and demand for mobile bandwidth and the resulting cost impact to service providers and their customers. On the demand side, the forecast considers the impact of smartphones, wireless substitution in broadband, and traffic forecasts by industry experts, all of which incorporate the impact of new applications such as streaming video and cloud computing. On the supply side, the forecast considers expected increases in spectral efficiency from new technologies and increased spatial reuse of spectrum. The forecast also considers the inherent fragmentation in usable channels that is a byproduct of prior spectrum allocations and assignments to competing providers. The forecast suggests that demand growth is likely to outpace advances in technology and network deployment.
Although increased spectrum demands are primarily an urban phenomenon, several factors point to the need to make spectrum available nationwide. A national footprint improves carriers' cost structure, particularly in rural areas, by allowing the use of the same network equipment on a nationwide basis. Additionally, especially for highly propagating lower bands, increased availability of spectrum provides sufficient capacity to serve very large rural areas with a single cell, thereby further reducing the cost of rural deployments.
Three considerations further support the 300 megahertz goal. First, the accelerating nature of industry analyst demand forecasts makes clear that it is not a question of if the U.S. will require 300 megahertz of spectrum for mobile broadband, but when. Second, the use of flexible mechanisms such as incentive auctions to meet the need for more spectrum ensures that the market will self-correct if the forecast proves to be inaccurate.  If the U.S. needs more than 300 additional megahertz for mobile broadband, prices for spectrum will go up and market mechanisms will help move spectrum to mobile broadband use. On the other hand, if the market demands less than that amount, prices may fall and less bandwidth will be made available for mobile broadband. Third, because there are ways to free up spectrum by delivering existing services more efficiently (rather than eliminating them altogether), the risk of overestimating spectrum needs is much lower than the risk of underestimating them.
This discussion focuses on availability of spectrum for mobile broadband. The FCC has a number of tools at its disposal to make spectrum usable for broadband, including changing allocations and modifying service, technical and auction rules. For some bands, reallocation may be the appropriate action. However, for others, reallocation may not be practical given international agreements and other constraints. In these situations, making spectrum available for broadband means taking steps appropriate to the specific circumstances of individual bands. It means working within the authority of the FCC or NTIA to remove legacy constraints that limit the usefulness of a band for appropriate broadband services and applications.
Increasing spectrum availability does not necessarily imply a traditional spectrum auction. In instances where the government is able to reclaim spectrum, a traditional auction will be the most appropriate and efficient method of reallocation. In other cases, the most expedient path to repurposing spectrum to broadband may be to use incentive auctions or to take other steps to energize the secondary markets for a particular band.
Ultimately, the cost of not securing enough spectrum may be higher prices, poorer service, lost productivity, loss of competitive advantage and untapped innovation. It would not be wise for America to bet its mobile future on a strategy of "demand reduction." As noted above, it can take many years to make spectrum available for new uses. With only 50 megahertz currently in the FCC pipeline, now is the time to act. Specifically, the following spectrum bands should be prioritized for reallocation or other rule changes in order to make progress toward the 5-year, 300-megahertz goal.
Recommendation 5.8.1: The FCC should make 20 megahertz available for mobile broadband use in the 2.3 GHz Wireless Communications Service (WCS) band, while protecting neighboring federal, non-federal Aeronautical Mobile Telemetry (AMT) and satellite radio operations.
The FCC established the 2.3 GHz WCS band in 1997.69 At that time, the FCC adopted strict operating parameters to protect operations in the adjacent Satellite Digital Audio Radio (SDARS) band. Certain WCS technical rules, particularly the out-of-band emission (OOBE) limits, largely preclude the provision of mobile broadband services in the spectrum. Based on an extensive record,70 the FCC should revise certain technical rules, including the WCS OOBE limits, to enable robust mobile broadband use of the 2.3 GHz WCS spectrum, while protecting federal, non-federal AMT and satellite radio operations in the neighboring SDARS band.
Since the FCC first auctioned the WCS spectrum in 1997, a number of new and robust wireless telecommunications technologies have been successfully introduced, including Time Division Duplex and Orthogonal Frequency Division Multiplexing71 technologies. Such dynamic technologies, coupled with the exploding demand for broadband services, suggest that the WCS spectrum may provide fertile ground for the provision of high-value mobile broadband services to the public. The same frequency band is currently being used in South Korea and other countries to deploy mobile WiMAX service today. Accordingly, the FCC should accelerate efforts to ensure that the WCS spectrum is used productively for the benefit of all Americans.
Recommendation 5.8.2: The FCC should auction the 10 megahertz Upper 700 MHz D Block for commercial use that is technically compatible with public safety broadband services.
The FCC should auction the Upper 700 MHz D Block for commercial use with limited technical requirements that would ensure technical compatibility between the D Block and the adjacent public safety broadband spectrum block and would enable, but not obligate, the licensee to enter into a spectrum-sharing partnership with the neighboring Public Safety Broadband Licensee (PSBL). Due to its favorable propagation characteristics and the emergence of a 4G technology ecosystem in the 700 MHz band, the D Block is likely to have high value for the delivery of commercial mobile broadband services. Our recommendation is intended to unlock this value while supporting the simultaneous development of public safety broadband capability through equipment development, roaming and priority access, pursuant to the recommendations described in Chapter 16.
The D Block consists of 10 megahertz (2x5 megahertz) that did not receive a winning bid in the 700 MHz auction held in 2008. The original rules required the D Block licensee to enter into a public-private partnership with the PSBL to build a public safety broadband network. The absence of meaningful bidding activity indicated that the public safety obligations as designed were not commercially viable. The approach recommended in Chapter 16 would allow for a voluntary partnership between public safety broadband spectrum holders and commercial partners, including the D Block licensee(s). Limited technical requirements on the D Block can help maximize the number of partners available to public safety, while also maximizing the commercial potential of the spectrum.
Specifically, the D Block should be auctioned with the following rules:
The D Block licensee(s) must use a nationally standardized air interface. The emerging consensus in the public safety community is that the LTE family of standards is most appropriate.72 A standardized air interface will ensure that the D block will be technically capable of supporting roaming and priority access by public safety users of the neighboring public safety broadband block.
The FCC should initiate a proceeding to enable authorized state, local and federal public safety users to have rights to roaming and priority access for broadband service on commercial networks subject to compensation, as described in Chapter 16. Before the D Block is auctioned, it must be clear that D Block licensee(s) are required to provide such roaming and priority access to public safety users.
D Block licensee(s) must develop and offer devices that operate both on the D Block and the neighboring public safety broadband block, with a path toward scale production of components and devices that can utilize both blocks, in order to stimulate the public safety broadband equipment "ecosystem."73
The D Block license should be subject to commercially reasonable buildout requirements. The FCC should also consider the use of incentives to promote additional deployment by the D Block licensee(s) for the benefit of rural citizens and for public safety agencies.
The FCC should promptly take steps needed to implement these recommendations.
Recommendation 5.8.3: The FCC should make up to 60 megahertz available by auctioning Advanced Wireless Services (AWS) bands, including, if possible, 20 megahertz from federal allocations.
The FCC should move expeditiously to resolve the future of the spectrum already allocated for AWS. The AWS-2 and AWS-3 allocations consist of the following bands:
AWS-2 "H" Block. Total of 10 megahertz at 1915–1920 MHz paired with 1995-2000 MHz.
AWS-2 "J" Block. Total of 10 megahertz at 2020–2025 MHz paired with 2175-2180 MHz.
AWS-3 Band. Twenty megahertz unpaired at 2155–2175 MHz.
The FCC proposed rules for AWS-2 spectrum in 2004 and sought comment on AWS-3 spectrum in 2007. Potential synergies exist between the AWS-3 band and spectrum currently allocated to federal use at 1.7 GHz. There are a number of countries that have allocated spectrum in the 1710-1780 MHz band for commercial use74 and devices already exist in the international market for that spectrum. Consequently, pairing the AWS-3 band with spectrum from the 1755-1780 MHz band has the potential to bring benefits of a global equipment ecosystem to this band.
NTIA, in consultation with the FCC, should conduct an analysis, to be completed by October 1, 2010, of the possibility of reallocating a portion of the 1755–1850 MHz band to pair with the AWS-3 band. NTIA has commented that, "the Administration supports exploring both commercial and government spectrum available for reallocation."75 If there is a strong possibility of reallocating federal spectrum to pair with the AWS-3 band, the FCC, in consultation with NTIA, should immediately commence reallocation proceedings for the combined band. If, at the end of this inquiry, there is not a strong possibility of reallocation of federal spectrum, the FCC should proceed promptly to adopt final rules in 2010 and auction the AWS-3 spectrum on a stand-alone basis in 2011.
The AWS-2 "J" block also has potential synergies with AWS-3 and with the adjacent MSS S-Band. If developments in those other bands warrant, the FCC should integrate the J Block into one or the other of the band plans in order to maximize the broadband potential of the spectrum. For example, it may make sense to group the J Block with contiguous S-Band spectrum if the AWS-3 band is paired with federal spectrum, or to group the J Block with the AWS-3 band if there is no reallocation of federal spectrum.
Recommendation 5.8.4: The FCC should take action to accelerate terrestrial deployment in 90 megahertz of Mobile Satellite Spectrum (MSS).
The FCC should build on past efforts to enable terrestrial deployment in MSS bands. The MSS allocation consists of a significant amount of bandwidth with propagation characteristics suitable for mobile broadband. The FCC should take actions that will optimize license flexibility sufficient to increase terrestrial broadband use of MSS spectrum, while preserving market-wide capability to provide unique mission-critical MSS services.
MSS is a radio communication service involving transmission between mobile earth stations and one or more space stations. MSS can provide mobile communications, from a handheld device such as a smartphone, in areas where it is difficult or impossible to provide coverage using terrestrial base stations, such as in remote or rural areas and non-coastal maritime regions, and at times when coverage may be unavailable from terrestrial-based networks, such as during hurricanes and other natural disasters. For this reason, MSS has a unique role in our communications infrastructure, and the preservation of sufficient spectrum for MSS incumbent users is important for ensuring continuity of mission-critical communications services.
The FCC first allocated spectrum for MSS in 1986. Since then, the FCC has allocated spectrum in four bands to MSS: the Little LEO Band, the L-Band, the S-Band, and the Big LEO band. The latter three MSS bands are capable of supporting broadband service, and several public comments have identified MSS as a potential focal point for a broadband spectrum strategy.76 Exhibit 5-G provides a snapshot of the current broadband-capable MSS bands.
Exhibit 5-G: Broadband-Capable MSS Bands
MSS Band

Allocated Bandwidth

Bandwidth Usable for Terrestrial Broadband

Licensees

Subscribers77

L-band

Two 34-megahertz blocks at 1525–1559 MHz, 1626.5–1660.5 MHz78

40 megahertz

SkyTerra

18,235

Inmarsat

254,000

S-band

Two 20-megahertz blocks at 2000–2020 MHz, 2180–2200 MHz

40 megahertz

DBSD (ICO)

 -

TerreStar

 -

Big LEO

Two 16.5-megahertz blocks at 1610–1626.5 MHz, 2483.5–2500 MHz.

10 megahertz

Globalstar

382,313

Iridium

359,000
The FCC adopted rules in February 2003 that allow MSS operators to construct and operate Ancillary Terrestrial Components (ATCs) in their licensed spectrum. Although satellites permit nationwide coverage, satellite links are limited without line-of-sight transmission, particularly in urban areas and inside buildings. The ATC rules allow MSS providers to deploy terrestrial networks to enhance coverage in areas where the satellite signal is attenuated or unavailable.
When it enacted the ATC rules, the FCC stated that it would "authorize MSS ATC subject to conditions that ensure that the added terrestrial component remains ancillary to the principal MSS offering."79 In this regard, the FCC adopted gating criteria that require MSS operators to satisfy certain requirements prior to using ATC. Specifically, the FCC requires MSS licensees to provide substantial satellite service, including satisfying geographic and temporal coverage requirements, maintaining spare satellites, and offering commercial service to the public for a fee. In addition, MSS licensees must integrate MSS and ATC services, including, notably, a requirement that all ATC handsets must have a satellite communications capability.
No licensee is operating a live commercial ATC network at this time, although Globalstar, SkyTerra, DBSD, and recently Terrestar have been authorized to provide ATC services. So far, the ATC gating criteria have made it difficult for MSS providers to deploy ancillary terrestrial networks, as well as to establish partnerships with wireless providers or other well-capitalized potential entrants. Requiring full satellite coverage prior to initiation of ATC forces MSS licensees to incur substantial costs and obligations to provide satellite services before integrated ATC can be deployed. Several MSS licensees have sought waivers of the ATC requirements in an effort to create a more cost-effective framework for terrestrial deployment.80 Some critics of the ATC rules consider the added costs to be appropriate, given the fact that the terrestrial rights were never assigned through competitive bidding.
Looking forward, commercial and technological developments suggest that the potential exists for increased deployment of ATC networks and possible inclusion in consumer devices. In recent months, multiple providers have unveiled business partnerships with terrestrial-based providers and equipment manufacturers, indicating that the MSS industry might be ready to deploy ATC networks with updated business plans that appeal to mass-market consumers.81 In addition, satellite technology continues to advance, with the development of larger satellite antennas designed to work with smaller terrestrial mobile handsets that more closely resemble mass-market mobile devices. However, until these technical advances are market-tested, it is premature to conclude that the current ATC regime will succeed in deploying terrestrial broadband networks and attracting commercial interest.
From the standpoint of promoting broadband through increased use of the MSS spectrum, the FCC can take action to accelerate terrestrial deployments in the MSS bands. At the same time, the FCC must seek to ensure that the MSS market continues to provide public safety and government users with mission-critical satellite capabilities. To this end, the FCC should take care to ensure that these actions to introduce greater flexibility in the MSS spectrum do not interfere with non-ATC MSS operations, or with the ability of MSS providers to supply emergency "surge capacity" when authorized by the FCC, especially in light of the important role these licensees play in ensuring public safety.
Specifically, the FCC should take the following actions to promote more productive use of MSS spectrum:
The FCC and other government agencies should work closely with L-Band licensees and foreign governments to accelerate efforts to rationalize ATC-authorized L-Band spectrum to make it usable for broadband ATC service.
The FCC should add a primary "mobile" (terrestrial) allocation to the S-Band, consistent with the international table of allocations, which will provide the option of flexibility to licensees to provide stand-alone terrestrial services using the spectrum. Exercise of this option should be conditioned on construction benchmarks, participation in an incentive auction, or other conditions designed to ensure timely utilization of the spectrum for broadband and appropriate consideration for the step-up in the value of the affected spectrum.
The FCC should grant licensees flexibility under the ATC regime in the 2.4 GHz Big LEO band, already being used for terrestrial broadband deployments, to make this spectrum permanently suitable for terrestrial broadband service, subject to appropriate safeguards to promote the public interest.
The FCC should initiate proceedings on these recommendations immediately.
Recommendation 5.8.5: The FCC should initiate a rule-making proceeding to reallocate 120 megahertz from the broadcast television (TV) bands, including:82
Update rules on TV service areas and distance separations and revise the Table of Allotments to ensure the most efficient allotment of six-megahertz channel assignments as a starting point.
Establish a licensing framework to permit two or more stations to share a six-megahertz channel.
Determine rules for auctions of broadcast spectrum reclaimed through repacking and voluntary channel sharing.
Explore alternatives—including changes in broadcast technical architecture, an overlay license auction or more extensive channel sharing—in the event the preceding recommendations do not yield a significant amount of spectrum.
Take additional measures to increase efficiency of spectrum use in the broadcast TV bands.
The spectrum occupied by broadcast television stations has excellent propagation characteristics that make it well-suited to the provision of mobile broadband services, in both urban and rural areas. Enabling the reallocation of a portion of this spectrum to broadband use in a way that would not harm consumers overall has the potential to create new economic growth and investment opportunities with limited potential impact on broadcast business models. Consumers would retain access to free, over-the-air television. Reallocation would focus primarily on major markets where the broadcast TV bands are most congested and the need for additional spectrum for broadband use will be greatest.83 Moreover, the FCC should study and develop policies to ensure that its longstanding goals of competition, diversity and localism are achieved. Changes to the TV broadcast spectrum need to be carefully considered to weigh the impact on consumers, the public interest and the various services that share this spectrum, including low-power TV, wireless microphones and prospective TV white space devices. While the FCC has performed initial analyses to consider the viability of various options, further work will be required and all options must be examined through rulemaking.
Over-the-air television continues to serve important functions in our society. It delivers free access to news, entertainment and local programming, and provides consumers an alternative video service to cable or satellite television.84 It is the only such service to a segment of the population that either cannot afford paid television or broadband services or cannot receive those services at their homes currently. Over-the-air television also serves numerous public interests, including children's educational programming, coverage of community news and events, reasonable access for federal political candidates, closed captioning and emergency broadcast information. Through broadcast television, the FCC has pursued longstanding policy goals in support of the Communications Act, such as localism and diversity of views. Finally, emerging broadcast applications, such as mobile DTV and data casting, may provide an opportunity to take advantage of the relative efficiencies of point-to-multipoint and point-to-point architectures in order to deliver various types of content in the most spectrum-efficient ways.
Because of the continued importance of over-the-air television, the recommendations in the plan seek to preserve it as a healthy, viable medium going forward, in a way that would not harm consumers overall, while establishing mechanisms to make available additional spectrum for flexible broadband uses.
 The need for such mechanisms is illustrated by the relative market values of spectrum for alternative uses. For example, the market value for spectrum used for over-the-air broadcast TV and the market value for spectrum used for mobile broadband currently reveal a substantial gap.85 In 2008, the FCC held an auction of broadcast TV spectrum in the 700 MHz band recovered as part of the DTV Transition. That auction resulted in an average spectrum valuation for mobile broadband use of $1.28 per megahertz-pop.86 The TV bands have propagation characteristics similar to those of the 700 MHz band. However, the market value of these bands in their current use ranges from $0.11 to $0.15 per megahertz-pop.87 Other attempts to size the current economic value of spectrum for over-the-air television using alternative methods have resulted in comparable megahertz-pop valuations.88 While there are other possible valuation methods that could result in further variations, this analysis illustrates the order of magnitude of the gap.
This gap in economic value between spectrum used for wireless broadband and spectrum used for over-the-air broadcast television reflects in part the long-term market trends in both industries. Demand for mobile broadband services is growing rapidly with the introduction of new devices (e.g., smartphones, netbooks) and with 3G and 4G upgrades of mobile networks. The mobile broadband industry is expected to continue to drive innovation, job growth and investment through the next decade.
Over-the-air broadcast television, on the other hand, faces challenging long-term trends. The percentage of households viewing television solely through over-the-air broadcasts steadily declined over the last decade, from 24% in 1999 to 10% in 2010.89 Since 2005, broadcast TV station revenues have declined 26%,90 and overall industry employment has declined as well.91
The gap in economic value also reflects two characteristics of broadcast TV licensing constraints. First, since broadcast TV requires channel interference protections, only a fraction of the total spectrum allocated to broadcast TV is currently being used directly by stations.92 Second, as a universally available, free over-the-air medium, television broadcasting has long been required to fulfill certain public interest and technical requirements. It is important to allow television broadcasting to continue to fulfill these obligations to local communities, while at the same time utilizing less spectrum, thus freeing up additional airwaves for mobile broadband. This could yield more service to local communities overall—broadcast television that consumers have always received along with more and better mobile broadband connectivity.
The FCC should initiate a rulemaking proceeding to reallocate 120 megahertz from the broadcast TV bands. The proceeding should pursue four sets of actions in parallel to achieve this objective. In addition, the FCC should take a fifth set of actions to increase efficiency of spectrum use in the broadcast TV bands.
1. Update rules on TV service areas and distance separations and revise the Table of Allotments to ensure the most efficient allotment of six-megahertz channel assignments as a starting point.
Changes to the current broadcast TV technical rules and channel assignments could reduce the amount of spectrum allocated to its use without impacting the bandwidth of any individual station. First, updating the technical rules defining TV service areas and required distance separations between stations may enable stations to operate at currently prohibited spacing on the same or adjacent channels without increasing interference to unacceptable levels.93 Second, the FCC may be able to "repack" channel assignments more efficiently to fit current stations with existing six-megahertz licenses into fewer total channels, thus freeing spectrum for reallocation to broadband use.
Repacking alone could potentially free up to 36 megahertz of spectrum from the broadcast TV bands.94 If the repacking takes place in conjunction with updated technical rules and some or all of the additional recommendations below, the amount of spectrum recovered could be substantially greater.95
2. Establish a licensing framework to permit two or more stations to share a six-megahertz channel.
With the appropriate regulatory structure in place, broadcasters could combine multiple TV stations onto single six-megahertz channels. The current broadcast TV rules provide each licensee a six-megahertz channel that is capable of transmitting data at a rate of 19.4 Mbps. Television stations broadcast their primary video signal either in high definition (HD), requiring approximately 6–17 Mbps, or in standard definition (SD), requiring approximately 1.5–6 Mbps.96
Two stations could generally broadcast one primary HD video stream each over a shared six-megahertz channel.97 Some stations are already broadcasting multiple HD streams simultaneously today and claim to deliver "spectacular" signal quality that "consistently satisfies [their] discerning viewers."98 Alternatively, more than two stations broadcasting in SD (not HD) could share a six-megahertz channel. Numerous permutations are possible, including dynamic arrangements whereby broadcasters sharing a channel reach agreements to exchange capacity to enable higher or lower transmission bit rates depending on market-driven choices.99The FCC should ensure that the framework it adopts retains carriage rights for the primary signal of each station with a modified license to share a six-megahertz channel.100 The FCC also should address any potential concerns regarding anti-competitive behavior or media ownership consolidation arising from such arrangements.
To date, although there are examples of individual stations employing these techniques to broadcast multiple HD streams or signals from two major broadcast networks, there are no examples of two or more stations combining transmissions to share a single channel. Television stations will need to consider their desire to multicast additional video streams, such as digital side channels and mobile DTV streams, relative to the possible sharing of channels. Multicasting mobile DTV streams and digital side channels requires additional bandwidth to ensure reception quality. Stations are just now beginning to deploy such services, and it is not yet clear whether they will be widely accepted or how they might affect the ability of stations to share channels.
3. Determine rules for auctions of broadcast spectrum reclaimed through repacking and voluntary channel sharing.
The FCC should conduct an auction of some or all of the nationwide, contiguous spectrum recovered through the repacking described above and through decisions by stations to voluntarily relinquish some or all of their bandwidth. Stations would receive a share of the proceeds from the spectrum they directly contribute to the auction.101 By this time, Congress would need to have authorized the FCC to conduct such an incentive auction and share proceeds. Stations could choose to share channels voluntarily under the regulatory framework established for channel sharing described above in order to participate in the incentive auction. Following the auction, stations continuing to broadcast over the air would receive channel assignments according to a new Table of Allotments, modified licenses if they are sharing a channel with other stations, and reimbursement from auction winners for any expenses incurred as a result of repacking.
The preference is to establish a voluntary, market-based mechanism to effect a reallocation, such as the incentive auctions described previously in this chapter. To date, markets have only operated within the broadcast TV allocation and license regime—e.g., ownership of TV stations changing hands, stations going out of business and returning licenses for reissue, or stations leasing bandwidth for other broadcast uses. Additional market mechanisms could broaden choices for both incumbent and would-be licensees and facilitate movement of spectrum to flexible broadband use. Market trends and legal and regulatory developments could affect the outcome of these auctions, including the demand trajectory for mobile broadband services, the financial condition of broadcast TV stations, the resolution of Cablevision's must-carry challenge in the Supreme Court102 and the outcome of the FCC's quadrennial review of broadcast ownership rules.
The voluntary, market-based reallocation should be implemented in a way that will have limited long-term impact on consumers overall, broadcast business models and the public interest, including the FCC's goals with respect to competition, diversity and localism. Moreover, the substantial benefits of more widespread and robust broadband services would outweigh any impact from reallocation of spectrum from broadcast TV.
Consumers would continue to receive over-the-air television. Some over-the-air consumers would lose reception from one or more stations as a result of stations voluntarily going off the air, choosing to share channels with other stations (and thus change their service area), or experiencing loss in service area due to increased interference following a repacking. Others might gain reception from one or more stations as a result of changes to service areas. In addition, over-the-air consumers would need to reorient antennas or rescan their TVs, as they did following the DTV Transition in June 2009.
There are several actions the FCC should take to mitigate the impact on over-the-air consumers. First, as a matter of policy, the FCC should ensure that consumers in rural areas and smaller markets retain service and are not significantly impacted by these changes. The reallocation mechanisms are most likely to be in the country's largest, most densely populated markets, where the greatest demand for spectrum and the greatest congestion within the broadcast TV bands coincide. Consumers in these markets tend to have a relatively large number of alternatives to view television content—a median of 16 over-the-air full-power television stations, over-the-air low-power stations and digital multicast channels, at least three to four multichannel video programming distributors (MVPDs), and a growing amount of broadband Internet video content, increasingly delivered to the TV (see Chapter 3).
Second, in all markets the FCC should seek to ensure that longstanding policy goals under the Communications Act are met, such as localism, viewpoint diversity, competition and opportunities for new entrants to participate in the industry, including women and members of minority groups.
Finally, the FCC should explore through rulemaking proceedings appropriate compensation mechanisms and levels to retain free television service for those consumers who meet the criteria established. For example, these consumers could become eligible for a "lifeline" video service from MVPDs, consisting of all over-the-air television signals in their market. These mechanisms could be coordinated with the provision of broadband service for unserved and underserved populations. Congress would determine the criteria and compensation mechanisms, if necessary, and allocate the funding (e.g., from auction proceeds). In all areas, the incentives provided by the incentive auction, the focus of reallocation mechanisms only where needed, and ongoing FCC vigilance would ensure that decisions made by broadcasters and the FCC itself do not adversely affect particular communities of American consumers.103
Under the recommended voluntary approach, some broadcasters moving channel assignments would need to replace transmission equipment (with reimbursement) and adjust transmission parameters to match previous coverage areas. Any impact on a broadcast TV station's revenue or business model would result from a decision that station chose to make regarding participation in the incentive auction. Broadcast TV stations derive their revenue primarily based on "eyeballs," or the size and composition of viewership on their primary video signal.104 Stations gain viewers through distribution reach and the appeal of their programming.105 The reallocation mechanisms described above could have a negative impact on reach for some stations, but would most likely affect reach in a neutral to positive way overall.106 The effect on programming appeal would depend on the choices broadcasters make as a result of an incentive auction and on the importance of and impact on picture quality to viewers. Based on analyses of programming and signal throughput, as well as case examples, two stations could each broadcast a primary video stream in HD simultaneously over the same channel without causing material changes in the current consumer viewing experience.107 As a result of neutral impacts on both reach and programming appeal of stations' primary signals, the impact of a voluntary, market-based reallocation on current revenue streams for stations that continue broadcasting over-the-air could be minimal.
The voluntary incentive auction would give stations another variable to consider in choosing the type of primary video signal to broadcast over-the-air, HD or SD, and in pursuing new business models enabled by the DTV Transition: multicasting and mobile DTV. Stations could balance these choices, based on projected market demand for these services, against the market value of bandwidth for other uses, such as wireless broadband.
Multicasting additional digital sub-channels can generate advertising, leasing or subscription revenue. To date, stations have launched approximately 1,400 multicast channels, or fewer than one per station on average.108 The revenue generated by such services has been modest thus far and is forecast to remain so in the near term—0.9% of revenue for broadcast TV stations in 2010, projected to rise to 1.5% of revenue in 2011.109
The second newly emerging business model, mobile DTV, could serve as a potential evolution path for broadcasters to fixed/mobile and broadcast/broadband convergence. In particular, broadcasting popular video content to mobile devices may help offload growing video streaming traffic from mobile point-to-point broadband networks.110 As of July 2009, approximately 70 broadcast stations serving 28 markets had announced plans to begin mobile broadcasting through the Open Mobile Video Coalition. The business model for mobile DTV is uncertain, with forecasts and comparisons to domestic and international examples representing varying points of view.111 Many entities are pursuing the delivery of television content to mobile devices, but the method of delivery that will be favored by consumers and be successful in the market has yet to be determined.
By preserving over-the-air television as a healthy, viable medium, while reallocating spectrum from broadcast TV bands to flexible mobile broadband use, the recommendations in this plan seek to protect longstanding policy goals and public interests served by over-the-air television and further support those served by broadband use. In particular, all stations that broadcast a primary video signal would continue to serve existing public interest requirements.
Depending on the particular mechanisms pursued and on the individual choices of TV stations, the reallocation mechanisms could impact the number and diversity of broadcast "voices" in a community or market. As noted above, these effects would primarily take place in major markets, where the number and diversity of local community voices are the highest. The FCC should implement these mechanisms consistently with its policies supporting competition, localism and diversity, and with the outcome of the current quadrennial review of broadcast ownership rules. In particular, the FCC should study the potential impact on minority and women ownership of TV stations. Recommendations in the plan to create a public interest media trust fund (see Chapter 15) will fortify public media across platforms, further bolstering viewpoint diversity and localism in communities throughout the country.
4. Explore alternatives—including changes in broadcast technical architecture, an overlay license auction or more extensive channel sharing—in the event the preceding recommendations do not yield a significant amount of spectrum.
If the FCC does not receive authorization to conduct incentive auctions, or if the incentive auctions do not yield a significant amount of spectrum, the FCC should pursue other mechanisms.112 Through a rule-making proceeding, it should consider other approaches, potentially including:
Transition to a cellular architecture on a voluntary or involuntary basis. With a cellular architecture, stations would broadcast television service over many low-powered transmitters that collectively provide similar coverage to the current architecture with one high-powered transmitter. Cellularizing the architecture could reduce or eliminate the need for channel interference protections that result in only a fraction of the total spectrum allocated to broadcast TV being used directly by stations.113 A cellular architecture could also facilitate broadcasters' offerings of converged broadcast/broadband services. The FCC has approved Distributed Transmission Systems/Single Frequency Networks (DTS/SFN), using multiple transmitters operating on a single channel, as one alternative for a cellular architecture.114 Other alternatives are possible, such as a Multi-Frequency Network (MFN).115 Moving to a cellular architecture would be expensive, take a long period of time and potentially introduce substantial operational challenges for broadcasters. The potential spectrum dividend is unknown at this point, but could be very high.116 Though stations could voluntarily move to a cellular architecture on individual bases, such moves would achieve greater overall spectrum efficiency if they are conducted in a coordinated manner by all stations in major markets. DTS/SFN and MFN are cutting-edge technologies that need to be developed further to evaluate their viability and the various trade-offs. The FCC should encourage and closely monitor their development.
Auction of overlay licenses. Under its current authority, 117 the FCC could auction overlay, flexible-use licenses with secondary rights in the broadcast TV bands. Overlay auction winners would negotiate with broadcast TV stations and other licensed users to clear their respective bands.118 Proceeds from the overlay auction would go to the U.S. Treasury but could be significantly lower than the proceeds of an incentive auction, primarily due to greater uncertainty over the amount and timing of spectrum recovered.119
More extensive channel sharing of two or more broadcast TV stations on a single six-megahertz channel. Under this alternative, the FCC would modify licenses to require channel sharing where necessary.
Other innovative solutions that may emerge.
Stations would not share in auction proceeds under these alternatives, but they should receive reimbursement from auction winners for any relocation or other transition expenses incurred.
5. Take additional measures to increase efficiency of spectrum use in the broadcast TV bands.
In addition to the above, the following recommendations would enable more efficient use of the broadcast TV spectrum:
Full-power TV spectrum fees. If authorized by Congress, the FCC should consider assessing spectrum fees on commercial, full-power broadcast TV licensees as part of a broader review of broadcast ownership rules and public interest obligations.120
Low power DTV transition. The FCC should establish a deadline to achieve the DTV transition of low-power TV (LPTV) stations by the end of 2015 or after the reallocation of spectrum from the broadcast TV bands is complete.121 In addition, the FCC should grant similar license flexibility to LPTV stations post-DTV transition as full-power stations have, allow LPTV stations to use certain technologies (such as mask filters) to enable more efficient channel allotments and authorize LPTV stations to participate in incentive auctions.
Very high frequency (VHF) reception issues. The FCC should pursue additional options to address VHF reception issues, such as increased power limits or adoption of enhanced antenna and receiver standards.122 Without these measures, VHF stations may continue to request channel reassignments to the UHF band, complicating efforts to reallocate spectrum from that band to mobile broadband use.
Trust fund for public media. Congress should consider legislation to establish an endowment to fund public interest media from auction proceeds or spectrum fees (see Chapter 15).
The recommendations in this section, depending on the extent to which they are implemented, might not significantly affect other current or future occupants of the broadcast TV bands, notably land mobile radio system (LMRS) operators, wireless microphone users and TV white spaces devices. LMRS operators would continue to operate under existing licenses in channels 14–20 in certain major metropolitan areas. The FCC should complete rulemaking proceedings on the above steps for which it currently has authority as soon as practicable, but no later than 2011, and should conduct an auction of some or all of the reallocated spectrum in 2012. If Congress grants the FCC authority to conduct incentive auctions prior to the auction in 2012, then the FCC should delay any auction of reallocated broadcast TV spectrum until 2013. This delay would allow time to complete rulemaking proceedings on a voluntary incentive auction. All reallocated spectrum should be cleared by 2015. Though aggressive by historical standards, this timeline would bring additional mobile broadband capacity to market when it may be most needed.
5.5 INCREASING THE FLEXIBILITY, CAPACITY AND COST-EFFECTIVENESS OF SPECTRUM FOR POINT-TO-POINT WIRELESS BACKHAUL SERVICES
Many wireless providers increasingly rely on microwave for backhaul, especially in rural areas. Therefore, the FCC should take steps to ensure that sufficient microwave spectrum is available to meet current and future demand for wireless backhaul, especially in the prime bands below 12 GHz. As a starting point, the FCC is considering revisions to its Part 101 rules permitting operation of wider channels in the Upper 6 GHz Band, and faster activation of links on additional channel pairs in the 23 GHz Band. The FCC should take further actions to enhance the flexibility and speed with which companies can obtain access to spectrum for use as wireless backhaul, which is critical to the deployment of wireless broadband and other wireless services.
Backhaul costs currently constitute a significant portion of a cellular operator's network operating expense. With 4G deployments, this burden will become more acute as the demand for backhaul capacity increases. When fiber is not proximate to a cell site, microwave backhaul can often provide a cost-effective substitute for data rates up to 600 Mbps. Further, in certain remote geographies, microwave is the only practical high-capacity backhaul solution available. Policies that facilitate microwave usage for backhaul will lower the cost of 4G deployment and increase 4G availability in rural America. As with all wireless communications, operators' ability to use microwave depends on availability of spectrum and the distance of the link itself. In general, spectrum below 12 GHz is preferred for long-link backhaul because of rain-fading effects at higher frequencies.123
Although microwave backhaul is a point-to-point service, interference with other systems may occur in the beam contour as well as in side lobes near the radiating antenna. Therefore, frequency coordination is required to ensure sufficient spectral and geographic reuse to maintain a high level of service reliability.124 In practice, this can create a scarcity of useful backhaul spectrum in high-traffic locations. This scarcity will only be exacerbated as the increase in broadband traffic drives greater use of microwave services.
Recommendation 5.9: The FCC should revise Parts 74, 78 and 101 of its rules to allow for increased spectrum sharing among compatible point-to-point microwave services.
The FCC should commence a proceeding to examine Parts 74, 78 and 101 of its rules and opportunities to increase sharing of spectrum bands currently used for Mobile Broadcast Auxiliary Service (BAS) and Mobile Cable TV Relay Service (CARS) with microwave services. Such sharing appears feasible as BAS and CARS have started to migrate to Internet protocol (IP)-based communications, making the traffic that is carried on these links fundamentally the same as that on common carrier microwave links. Increased sharing would have the practical effect of increasing the supply of backhaul-suitable spectrum in the prime frequencies below 12 GHz.125 In the course of this review, the FCC should consider making below-1 GHz "white spaces" spectrum available for backhaul in very rural areas where it otherwise may go unused, to the extent that such use is consistent with Recommendation 5.8.5 above and the ongoing white spaces proceeding.
Recommendation 5.10: The FCC should revise its rules to allow for greater flexibility and cost-effectiveness in deploying wireless backhaul.
The FCC's Part 101 microwave rules are intended to enable a high level of service reliability, but they may also limit deployment flexibility in coverage- or capacity-limited situations. Therefore, the FCC should commence a proceeding to update these rules to reduce the cost of backhaul in capacity-limited urban areas and range-limited rural areas. In particular, the proceeding should revise rules consistent with the following:
Greater spatial reuse of microwave frequencies, particularly in urban areas. Public comment has raised the possibility that rule changes could enable more efficient use of spectrum, particularly in the area immediately surrounding a microwave station.126 Such changes, it is claimed, could dramatically increase the ability to use spectrum for backhaul in high-congestion areas, especially urban areas. The FCC, in the context of a larger Part 101 proceeding, should expeditiously consider whether the proposal merits changes to the existing rules.
Modification of minimum throughput rules, particularly in rural areas. The FCC should consider modifying rules on minimum data throughput for each authorized microwave channel when the benefits are clear. Several parties have noted the potential benefits of using adaptive modulation in rural areas to expand the range of backhaul systems.127 Adaptive modulation is a technique whereby the data rate is dynamically adjusted based on channel conditions at any moment in time. All of these changes could potentially reduce operational costs, particularly in rural areas where microwave backhaul is essential to providing broadband service.
Restrictions on antenna size. The tower lease costs for mounting antennas can constitute up to 40% of the total cost of microwave ownership.128 These lease costs are directly related to the size of the antenna. Smaller antennas may also "cost less to manufacture and distribute, are less expensive to install because they weigh less and need less structural support, and cost less to maintain because they are less subject to wind load and other destructive forces."129 Current rules on antenna sizes are designed to maximize the use of microwave spectrum while avoiding interference between operators. It is important to ensure these standards are up-to-date in order to maximize the cost-effectiveness of microwave services.
Use of higher frequencies. Technology has historically been the most important factor limiting the use of higher frequencies. Every successive decade has seen that limit pushed higher. This does not mean that differences in propagation factors at higher frequencies can be ignored. Systems using higher frequencies will need to adopt new architectures and technologies, appropriate to the frequency and the application, as has every past innovative radio application. It must be emphasized that the use of higher frequencies is "compatible and synergistic" with the new wireless paradigms, rather than the new paradigms evolving as forced responses to the necessity of using higher frequencies. Simultaneously, it is important to be mindful of the implications for network engineering of systems operating at higher frequencies, and the impact of those implications on the economic viability of those systems. This Part 101 proceeding should commence in 2010.
5.6 EXPANDING OPPORTUNITIES FOR INNOVATIVE SPECTRUM ACCESS MODELS
Advances in technology hold much promise for enabling new modes of efficient spectrum access. Many of these advances have led to the development of innovative uses and, ultimately, can complement more conventional licensed approaches. It is important to create a spectrum environment that provides plenty of room for experimentation and growth of new technologies to ensure that the next great idea in broadband spectrum access is first developed and deployed in the U.S.
The FCC and NTIA have made progress in making spectrum available and open to the development and evolution of new technologies. The FCC's decision not to dictate a technological standard for PCS licenses ultimately contributed to the development and widespread commercialization of the CDMA technology now widely in use by 3G networks. Similarly, the creation of the flexible Part 15 rules allowed for the growth and proliferation of unlicensed devices, particularly in the 2.4 GHz Industrial, Scientific and Medical (ISM) band. More recently, the FCC has taken steps to allow innovative spectrum access models in the white spaces of the digital television spectrum bands and in the 3.65 GHz band. Notably, and not coincidentally, innovation sometimes occurs in bands that conventional wisdom had at one time considered to be "junk" spectrum.
In June 2006, the FCC concluded a rulemaking allowing commercial users to employ opportunistic sharing techniques to share 355 MHz of radio spectrum with incumbent federal government radar system operators. Using Dynamic Frequency Selection detect-and-avoid algorithms, commercial interests are now able to operate Wireless Access Systems in the radio spectrum occupied by preexisting radar systems. Opportunistic sharing arrangements offer great potential to meet an increasing market demand for wireless services by promoting more efficient use of radio spectrum.130
The FCC and NTIA can take significant steps toward ensuring that the next generation of spectrum access technology can take root in the next few years.
Recommendation 5.11: The FCC, within the next 10 years, should free up a new, contiguous nationwide band for unlicensed use.
As the FCC seeks to free up additional spectrum for broadband, it should make a sufficient portion available for use exclusively or predominantly by unlicensed devices. This would enable innovators to try new ideas to increase spectrum access and efficiency through unlicensed means, and should enable new unlicensed providers to serve rural and unserved communities. Such an approach would represent a departure from the way the FCC has treated most unlicensed operations in the past. Unlicensed operations are typically overlays to licensed bands, with intensive unlicensed use emerging in some bands (e.g., the 2.4 GHz band) over a long period of time. However, targeting bands for unlicensed use could yield important benefits.
The FCC's Part 15 rules131 permit unlicensed devices to operate on any spectrum except spectrum specifically designated as restricted.132 This widespread access to spectrum comes with a trade-off—unlicensed devices must generally operate at very low power levels and on a sufferance basis with respect to any allocated service. In particular, they are subject to the conditions that they cause no harmful interference and must accept interference that may be caused by other operations in the band, including licensed operations.133 Ever since such unlicensed operation under these rules has been allowed, developers have found ways to provide for a wide variety of devices that perform an assortment of applications that serve consumers. These innovations continue to evolve and proliferate, and include not only garage-door openers, key fobs to open car doors, and Bluetooth headsets, but also the increasingly important deployment of Wi-Fi access points.
The innovations spurred by unlicensed device usage have occurred because of benefits associated with such usage, including low barriers to entry and faster time to market, that have reduced costs of entry, spurred innovation and enabled very efficient spectrum usage. Taken together, these benefits have allowed many communities, entrepreneurs and small businesses to rapidly deploy broadband systems. Often, as has been the case for many WISPs, this has occurred in rural or previously underserved communities.

As mentioned previously, unlicensed and licensed broadband networks can complement one another in important ways. For instance, with the availability of Wi-Fi networks in many locations that enable users to take much of their data off of a licensed network, users benefit by obtaining much faster service while licensed providers have less congestion and can deliver a better overall quality of service. Near-field communications devices operating under the unlicensed provisions are being integrated into cell phones to facilitate electronic transactions. ZigBee and other unlicensed devices are being integrated with Smart Grid applications on licensed wireless systems. Providing additional spectrum for unlicensed use will only amplify these and other complementary benefits by allowing carriers to optimize their networks for mobile use in areas where Wi-Fi is not available or not practical.
Recommendation 5.12: The FCC should move expeditiously to conclude the TV white spaces proceeding.
The FCC should move expeditiously to resolve pending petitions for reconsideration in the TV white spaces proceeding (ET Docket No. 04-186). This proceeding has introduced a new approach to gaining access to spectrum through use of a database and cognitive radio techniques. The approach to spectrum access used in this proceeding could conceivably be expanded and extended to other spectrum on either a licensed or unlicensed basis. 
Industry has demonstrated the promise of and potential for use of the TV white space spectrum. For example, TV white space devices have been used to provide broadband service to a school in rural Virginia and are currently being used for demonstration of a wireless broadband network in Wilmington, North Carolina. 
The development of rules for TV white space devices has taken several years. Industry has invested heavily in this process by offering prototype devices that were submitted to the FCC for testing in an open process that included laboratory and field tests. The FCC should complete the final rules for TV white space devices in order to accelerate the introduction of new innovative products and services. As the FCC considers other changes to the TV broadcast spectrum, it should also evaluate the impact on the viability of use of TV white spaces.
Recommendation 5.13: The FCC should spur further development and deployment of opportunistic uses across more radio spectrum.
Using existing allocations more intelligently is another way to provide for growth in data services. Public comment has suggested that "opportunistic" or "cognitive" technologies can significantly increase the efficiency of spectrum utilization by enabling radios to access and share available spectrum dynamically.134 These technologies could allow access to many different frequencies across the spectrum chart that may not be in use at a specific place and time and could do so without harming other users' operations or interests. Given the upside potential of these technologies, the FCC and NTIA should take steps to expand the environment in which new, opportunistic technologies can be developed and improved.135
Opportunistic spectrum use involves a spectrum-agile radio that can operate on spectrum determined to be unused and available at any moment in time over a given transmission path. That determination can be made through devices that effectively sense available spectrum or consult a database containing that information. Thus, the radio would be able to access available spectrum on a dynamic basis as the opportunity presents itself.136 Many entities are conducting research or taking part in standardization efforts aimed at continued development. Much of this research is still in its early stages and some barriers must be overcome before the technology gains wide acceptance.137 The FCC should take two actions to accelerate the development of opportunistic use technologies and expand access to additional spectrum.
First, the FCC should allow opportunistic radios to operate on spectrum currently held by the FCC (such as in certain license areas where spectrum was not successfully auctioned). The availability of such unauctioned spectrum in multiple bands could provide a technical "sandbox" for the creation of, and innovation in, cognitive technologies (including frequency hopping) that take advantage of the ability to operate in different frequency bands dispersed throughout the radio spectrum. Use of a geo-location database that enables opportunistic devices to identify this available spectrum, as discussed below, could be helpful in the development and future deployment of such technologically sophisticated devices.
Second, the FCC should initiate a proceeding that examines ways to extend the geo-location database concept, currently being implemented in the TV bands, to additional spectrum bands that are made available for access by opportunistic radios.138 As described above, the FCC adopted rules which permit unlicensed devices to access TV white spaces after checking a database to determine which channels are available for use. In the TV bands, the development of an effective database is possible because TV stations, as well as other facilities that must be protected, generally are fixed and known, so that locating the specific protection zone around these facilities is relatively straightforward. It is possible to extend this concept for opportunistic use to other frequency bands where the behavior of stations is well understood and predictable.139 In addition, devices that operate under this database approach may serve effectively as "listening posts" to measure and report usage of the spectrum back to the database. These reports could improve the opportunistic use of the selected frequencies without causing harmful interference.
The FCC should determine which particular frequency bands should be identified for opportunistic use and what specific information may need to be included in the relevant database. Such determination should also include whether and to what extent the FCC should exclude LPTV band devices in the border areas with Mexico and Canada, including the Tribal lands in those areas, and whether to allow higher power fixed operations in rural areas, which often include Tribal lands. For example, some frequency bands are used for satellite and fixed microwave operations. Similar to TV, microwave stations are fixed and can be protected fairly easily. Protecting satellite use is more complicated, but it is possible if earth station locations can be found through a database search. Moreover, the spectrum dashboard could eventually provide a data resource to enable a more generalized geo-location system, particularly if supplemented with data on spectrum construction and usage (see Recommendations 5.1 and 5.2).
Recommendation 5.14: The FCC should initiate proceedings to enhance research and development that will advance the science of spectrum access.
A robust research and development pipeline is essential to ensuring that spectrum access technologies continue to evolve and improve. As described in Chapter 7, the FCC should start a rule-making process to establish more flexible experimental licensing rules. Additionally, the National Science Foundation, in consultation with the FCC and NTIA, should fund wireless research and development that will advance the science of spectrum access.
5.7 TAKING ADDITIONAL STEPS TO MAKE U.S. SPECTRUM POLICY MORE COMPREHENSIVE
Recommendation 5.15: The FCC and NTIA should develop a joint road map to identify additional candidate federal and non-federal spectrum that can be made accessible for both mobile and fixed wireless broadband use, on an exclusive, shared, licensed and/or unlicensed basis.
As noted elsewhere in this plan, additional spectrum is needed for wireless broadband use. While the plan identifies specific bands that can partially meet this need, access to additional spectrum will still be required in the future. NTIA and the FCC, as co-managers of the spectrum, should develop a plan by October 1, 2010, to identify additional federal and non-federal spectrum that can be made accessible for wireless broadband use.
In developing a national spectrum policy, this plan makes recommendations for reallocating or repurposing several non-federal spectrum bands for wireless broadband use. This plan also recommends that the FCC should coordinate with NTIA on the possible reallocation of certain federal spectrum in the 1755–1850 MHz band. Certain recommendations apply to both non-federal and federal spectrum, such as providing for increasing opportunistic use of the spectrum. However, these steps alone are insufficient. All of the non-federal and federal spectrum, not just certain bands, must be closely examined for possible reallocation.
NTIA and FCC staff have held initial discussions to identify additional candidate federal spectrum bands that might be considered for reallocation, sharing or opportunistic use to help meet the spectrum needs for wireless broadband. These discussions are not sufficiently advanced to identify specific bands at this time. However, this process should continue and be accelerated.
Any reallocation or repurposing of federal spectrum is a complex process. Federal spectrum is used to support national security and public safety applications that must be protected and preserved. Many federal systems have unique capabilities that cannot be easily replaced with off-the-shelf equipment operating in other spectrum, which means it may not be possible to gain access to the spectrum for many years. As in the case of the reallocation of the federal spectrum at 1710–1755 MHz to AWS-1, federal users may require access to non-federal spectrum to accommodate displaced systems.
Given these complexities and timing considerations, it is vital to develop a well-defined and ongoing process to ensure that all spectrum is examined for additional opportunities.
Recommendation 5.16: The FCC should promote within the International Telecommunication Union (ITU) innovative and flexible approaches to global spectrum allocation that take into consideration convergence of various radio communication services and enable global development of broadband services.
As the FCC participates in international organizations like the ITU and regional organizations such as the Inter-American Telecommunication Commission of the Organization of American States, it should promote innovative approaches to spectrum allocation to ensure maximum flexibility for advanced communications services that will enable global broadband services.
In addition to multilateral and regional organizations, the FCC also participates with other U.S. government agencies, such as the U.S. Department of State and NTIA, in bilateral meetings where spectrum issues and approaches to broadband deployment are discussed. In all of these fora, the FCC should ensure that innovative approaches to spectrum allocation are considered and supported.
For example, an item on the agenda for consideration at the ITU's World Radiocommunication Conference in 2012 (WRC-12) calls for taking appropriate action with a view to enhancing the international regulatory framework and the international spectrum regulatory framework (Agenda Item 1.2). The primary objective of this agenda item is to examine international radio allocation and associated regulatory procedures to meet the demands of current, emerging and future radio technologies, while also taking into account existing services and spectrum usage.
The introduction of many new wireless technologies and applications, especially in consumer products, has spurred growing interest in reviewing spectrum management practices. Consumers want to use many applications offered on wireline and fixed radio communication systems on mobile terminals. The next generation of mobile terminals encompasses multiple radio communication services functions (e.g., fixed, mobile, broadcasting and even radio determination) that provide for voice, data and video as well as positioning (i.e., convergence).
The ITU's Radio Regulations, however, may not be sufficiently flexible to accommodate these technological changes. Therefore, the FCC and the U.S. government should consider whether alternatives are necessary to accommodate advancements in technologies, particularly those that allow many radio communication services to be implemented in the same terminal or handset.
Recommendation 5.17: The FCC should take into account the unique spectrum needs of U.S. Tribal communities 140 when implementing the recommendations in this chapter.
Some Tribes have successfully used wireless infrastructure to deliver broadband connectivity to their communities. Increasing Tribal access to and use of spectrum would create additional opportunities for Tribal communities to obtain broadband access. Through the following actions, the FCC should evaluate its policies and rules to address obstacles to greater use of spectrum on Tribal lands, including access to spectrum by Tribal communities:
Spectrum dashboard. Facilitating access to the FCC's spectrum dashboard described in Recommendation 5.1 will be critical to helping Tribal communities use spectrum or identify non-Tribal parties that hold licenses to serve Tribal lands.141 To enhance Tribal access to such information, future iterations of the spectrum dashboard should include information identifying spectrum allocated and assigned in Tribal lands. If the FCC conducts spectrum utilization studies in the future, those studies should identify Tribal lands as distinct entities.
Tribal Land Bidding Credit. Since 2000, the FCC has administered a Tribal Land Bidding Credit (TLBC) program to provide incentives to wireless telecommunications carriers to serve Tribal lands.142 The FCC should revisit the TLBC program to determine whether it can be modified to facilitate Tribal access to spectrum in Tribal lands and better promote deployment of communications services to Tribal communities.
Tribal priority. The FCC has established a Tribal priority in the threshold analysis stage of the FM radio allotment and AM radio licensing processes.143 Recognizing that the statutory and regulatory procedures for licensing wireless services are different in some respects from those applicable to broadcast stations, the FCC should consider expanding any Tribal priority policy to include the process for licensing fixed and mobile wireless licenses covering Tribal lands, potentially considering geographic carve-out license areas for Tribal lands.
Build-out. The FCC should consider providing additional flexibility and incentives for the build-out of facilities serving Tribal lands. For example, if a licensee has fulfilled its construction requirement but has failed to provide service to Tribal lands, the FCC should consider alternative mechanisms to facilitate Tribal access to such unused spectrum. These mechanisms might include developing rules for re-licensing the unused spectrum to the Tribal community for the provision of services, mandating partitioning or disaggregation of the spectrum, and encouraging the use of secondary market mechanisms for the purpose of deploying services to Tribal areas.144
White spaces. The FCC should move expeditiously to resolve pending petitions for reconsideration in the TV white spaces proceeding. Among other issues, this proceeding should determine whether and to what extent the FCC should exclude LPTV band devices in the border areas with Mexico and Canada, including the Tribal lands in those areas. Further, the FCC should proceed to consider higher-power fixed operations in rural areas, which often include Tribal lands.