Inside this Chapter
Everyone in the United States today should have access to broadband services supporting a basic set of applications that include sending and receiving e-mail, downloading Web pages, photos and video, and using simple video conferencing.1
Box 8-1: National Broadband Availability Target
Every household and business location in America should have access to affordable broadband service with the following characteristics:
Actual download speeds of at least 4 Mbps and actual upload speeds of at least 1 Mbps
An acceptable quality of service for the most common interactive applications
The FCC should review and reset this target every four years.
Ensuring all people have access to broadband requires the Federal Communications Commission (FCC) to set a national broadband availability target to guide public funding. An initial universalization target of 4 Mbps of actual download speed and 1 Mbps of actual upload speed, with an acceptable quality of service for interactive applications, would ensure universal access.2
This represents a speed comparable to what the typical broadband subscriber recieves today, and what many consumers are likely to use in the future, given past growth rates.3 While the nation aspires to higher speeds as described in Chapter 2, it should direct public investment toward meeting this initial target.
A universalization target of 4 Mbps download and 1 Mbps upload is aggressive. It is one of the highest universalization targets of any country in the world. Many nations, such as South Korea and Finland, have already adopted short-term download targets around 1 Mbps (see Exhibit 8-A). Over time, these targets, both in the United States and abroad, will continue to rise.
Exhibit 8-A: Universalization Goals in Selected Countries4
| | | | |
| --- | --- | --- | --- |
| Country | "Universal" availability target (download) | Type of speed | Date |
| United States |  4 Mbps |  Actual | 2020 |
| South Korea |  1 Mbps (99%) |  Actual | 2008 |
| Finland |  1 Mbps |  Actual | 2009 |
| Australia |  0.5 Mbps |  Unspecified | 2010 |
| Denmark |  0.5 Mbps |  Unspecified | 2010 |
| Ireland |  1 Mbps |  Unspecified | 2010 |
| France |  0.5 Mbps |  Unspecified | 2010 |
| Germany |  1 Mbps |  Unspecified | 2010 |
| United Kingdom |  2 Mbps |  Unspecified | 2012 |
| Australia |  12 Mbps |  Unspecified | 2018 |
It is possible the speed requirements for the most common applications will grow faster than they have historically. But it is also possible compression technology or shifts in customer usage patterns will slow the growth of bandwidth needs. To account for this uncertainty, the FCC should review and reset this target for public investment every four years.5
RECOMMENDATIONS
The FCC should conduct a comprehensive reform of universal service and intercarrier compensation in three stages to close the broadband availability gap.
Stage One: Lay the foundation for reform (2010-2011)
Stage Two: Accelerate reform (2012-2016)
Stage Three: Complete the transition (2017-2020)
Accelerating broadband deployment
Congress should consider providing other grants, loans and loan guarantees
Government should facilitate Tribal, state, regional and local broadband initiatives
SECTION 8.1: THE BROADBAND AVAILABILITY GAP
Setting a target clarifies where the United States should focus its resources to universalize broadband. At present, there are 14 million people living in 7 million housing units6 that do not have access to terrestrial broadband infrastructure capable of meeting the National Broadband Availability Target.7
This broadband availability gap is greatest in areas with low population density.8 Because service providers in these areas cannot earn enough revenue to cover the costs of deploying and operating broadband networks, including expected returns on capital, there is no business case to offer broadband services in these areas. As a result, it is unlikely that private investment alone will fill the broadband availability gap. The question, then, is how much public support will be required to fill the gap.
An FCC analysis finds that the level of additional funding required is approximately $24 billion (present value in 2010 dollars) as described in Exhibit 8-B.9
Exhibit 8-B: The Present Value (in 2010 Dollars) of the Broadband Availability Gap is Approximately $24 Billion10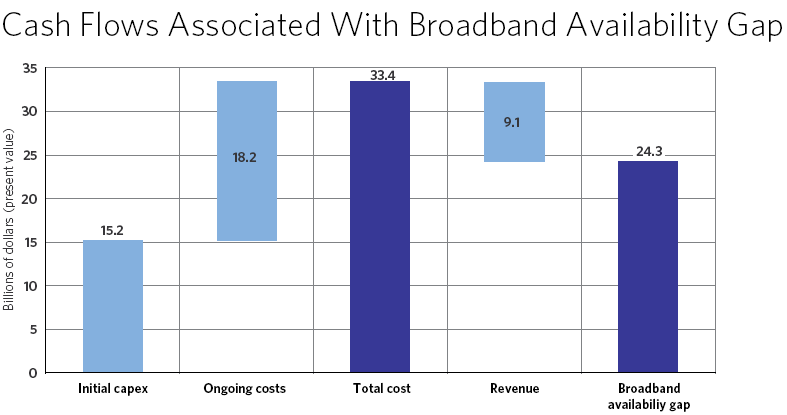 Exhibit 8-B presents the broadband availability gap in greater detail. Initial capital expenditures ("initial capex") are the incremental investments required to deploy networks that can deliver the targeted level of service to everyone in the United States; this covers new networks and upgrades of existing networks. "Ongoing costs" are the incremental costs that must be incurred to operate those networks. They include the cost of replacing old or outdated equipment, access to middle-mile transport and other continuing costs such as customer service, marketing and network operations.
"Revenue" includes all incremental revenue generated as a result of deploying the networks that meet the National Broadband Availability Target, whether the revenue comes from the sale of voice, data or, in limited cases, multichannel video services.
Adding initial capex and continuing costs and subtracting revenue yields a gap of approximately $24 billion.11
This estimate is based on a number of key assumptions:
First, the gap was calculated based on the economics of terrestrial technologies only, although a variety of technologies and architectures were considered. While satellite is capable of delivering speeds that meet the National Broadband Availability Target,12 satellite capacity can meet only a small portion of broadband demand in unserved areas for the foreseeable future.13 Satellite has the advantage of being both ubiquitous and having a geographically-independent cost structure, making it particularly well suited to serve high-cost, low-density areas. However, while satellite can serve any given household, satellite capacity does not appear sufficient to serve every unserved household. In addition, the exact role of satellite-based broadband and its impact on the total cost of universalizing access to broadband depends on the specific disbursement mechanism used to close the broadband availability gap.
Second, this calculation assumes that, whenever possible, a market-based mechanism will be used to select which providers receive support (as discussed in Section 8.3), and that there is competitive interest in receiving a subsidy to extend broadband to an unserved area. But it is impossible to know precisely how and whether this will occur until the details of the distribution mechanism are defined.
Third, the estimated gap does not assume that currently announced fourth-generation (4G) wireless buildouts will provide service that meets the target without investments incremental to the planned commercial builds. Fourth-generation technology holds great promise and will likely play a large role in closing the broadband availability gap if speed and consumer satisfaction are comparable to traditional wired service, such as that provided over Digital Subscriber Line (DSL) or cable modem. If buildouts occur as announced, about five million of the seven million unserved housing units will have 4G coverage.14 However, in order to provide actual download speeds of 4 Mbps or more, it may be necessary for providers to make investments that are incremental to their planned commercial builds. The FCC will revisit this issue as this new technology is implemented.
Fourth, the estimated gap does not include any amounts necessary to support companies that currently receive universal service support for voice and already offer broadband that meets the National Broadband Availability Target. Some federal USF amounts indirectly support broadband, and going forward will do so directly. Nor do the estimates take into account the impact on existing recipients of support if other providers receive support to build out broadband in an area where the current provider has a carrier of last resort obligation.
Fifth, there are a number of recommendations throughout this plan that may lower the cost of entering or operating in currently unserved areas, or that could increase or decrease potential revenues. The calculation does not include the impact of any of these recommendations.  To the extent these recommendations are implemented, they may change the overall gap.  The analysis also does not take into account any available federal, state, regional, Tribal, local or other funding sources that could help close the gap.
The support needs of different geographic areas are distinct and depend on many factors, including the existing network infrastructure and household density. In some areas, subsidizing all or part of the initial capex will allow a service provider to have a sustainable business. Elsewhere, subsidizing initial capex will not be enough; service providers will need support for continuing costs. Support for one-time deployment or upgrades will likely be enough to provide broadband to 46% of the seven million unserved housing units. Closing the gap for the remaining 54% of housing units will probably require support for both one-time and recurring costs.
Moreover, serving the 250,000 housing units with the highest gaps accounts for $14 billion of the broadband availability gap. As Exhibit 8-C depicts, this represents less than two-tenths of 1 % of all housing units in the United States. The average amount of funding per housing unit to close the gap for these units with terrestrial broadband is $56,000.15  
Exhibit 8-C: The Most Expensive Unserved Housing Units Represent a Disproportionate Share of the Total Gap16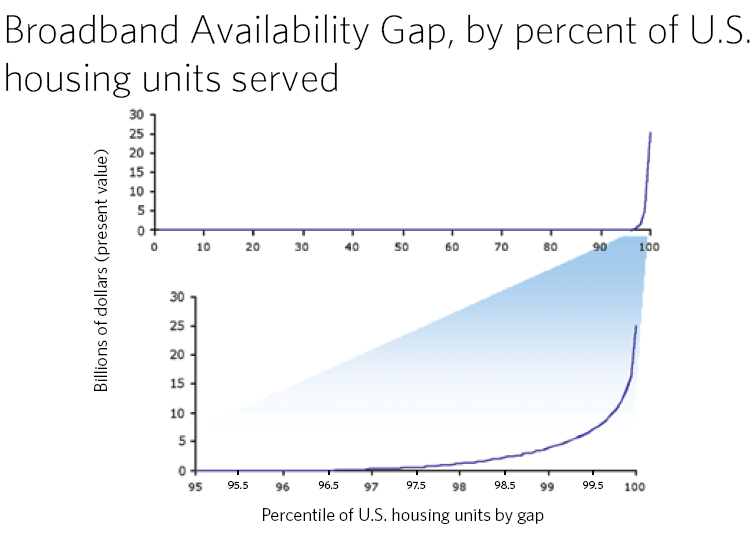 SECTION 8.2: CLOSING THE BROADBAND AVAILABILITY GAP
Closing the broadband availability gap requires financial support from federal, state and local governments. This section will discuss the current state of government support for infrastructure deployment and will make recommendations for targeting this support more directly to close the availability gap.
The federal government spends nearly $10 billion annually on grants, loans and other subsidy programs that support communications connectivity; in 2010, the American Recovery and Reinvestment Act (Recovery Act) provided an additional $7.2 billion in one-time funding (see shaded rows Exhibit 8-D). Historically, much of this funding has supported voice service in certain areas of the country, but more recently it also has been used to modernize networks to deliver broadband as well. While this funding has improved broadband infrastructure in the U.S., federal efforts have not been coordinated to meet the universal broadband goals of Congress.
Exhibit 8-D: Existing Sources of Federal Support for Communications Connectivity17  
| | | | |
| --- | --- | --- | --- |
| Agency | Program | Description | Annual funding amount |
| Federal Communications Commission | Universal Service Fund | Provides funding for companies serving high-cost areas, low-income consumers, rural health care providers, schools and libraries. | $8.7 billion (FY2010) |
| National Telecommunications and Information Administration | Broadband Technology Opportunities Program | Grant program to promote deployment and adoption of broadband throughout the country, particularly in unserved and underserved areas. Priority in the second Notice of Funding Availability (NOFA) will be given to middle-mile broadband infrastructure projects that offer new or substantially upgraded connections to community anchor institutions, especially community colleges. | $4.7 billion (one-time ARRA)--includes at least $2.5 billion for infrastructure, $250 million for adoption and $200 million for public computing centers |
| Rural Utilities Service | Broadband Initiatives Program | Loan, loan guarantee and grant program to increase broadband penetration and adoption, primarily in rural areas. Priority in the second NOFA will be given to last-mile projects, and middle-mile projects involving current RUS program participants. | $2.5 billion (one-time ARRA)-includes at least $2.2 billion for infrastructure |
| Rural Utilities Service | Telephone Loans and Loan Guarantees Program | Provides long-term, direct and guaranteed loans to qualified organizations, often telephone companies, to support investment in broadband-capable telephone networks. | $685 million |
| Rural Utilities Service | Rural Broadband Access Loans and Loan Guarantees Program | Provides loans and loan guarantees to eligible applicants--including telephone companies, municipalities, non-profits and Tribes--to deploy broadband in rural communities. | $298 million |
| Institute of Museum and Library Services | Library Services and Technology Act Grants | Provides funds for a wide range of library services including installation of fiber and wireless networks. | $164 million |
| Multiple agencies | Other programs18 | Multiple purposes | $49 million |
| Total | | | $17.1 billion |
Nearly half of the funding appropriated in 2010 to support greater connectivity comes from the Recovery Act, which Congress passed in February 2009. Congress appropriated $7.2 billion to create the Broadband Telecommunications Opportunities Program (BTOP) at the U.S. Department of Commerce and the Broadband Initiatives Program (BIP) at the U.S. Department of Agriculture. BTOP "makes available grants for deploying broadband infrastructure in unserved and underserved areas in the United States, enhancing broadband capabilities at public computer centers, and promoting sustainable broadband adoption projects."19 BIP "extend[s] loans, grants and loan/grant combinations to facilitate broadband deployment in rural areas."20
Awards under BTOP and BIP are ongoing, and many projects should help meet the goal of providing universal broadband access. For instance, the ION Rural Broadband Initiative will add middle-mile connectivity for 70 rural communities in upstate New York, and Project Connect South Dakota will provide a cash infusion to add 140 miles of backhaul service and 219 miles of middle-mile connections to an existing fiber optic network.21
Through the Broadband Data Improvement Act mapping process, the FCC may be able to improve its estimate of the gap. But it is impossible to know with precision how much the BTOP and BIP programs will contribute to closing the gap before all of the funds are awarded.
In any event, BTOP and BIP alone will not be sufficient to close the broadband availability gap. Other government support is required to complete the task of connecting the nation to ensure that broadband reaches the highest-cost areas of the country. Closing the broadband availability gap and connecting the nation will require a substantial commitment by states and the federal government alike. This commitment must include initial support to cover the capital costs of building new networks in areas that are unserved today, as well as ongoing support for the operation of newly built networks in areas where revenues will be insufficient to cover ongoing costs.
SECTION 8.3: UNIVERSAL SERVICE
Universal service has been a national objective since the Communications Act of 1934, in which Congress stated its intention to "make available, so far as possible, to all the people of the United States … a rapid, efficient, Nation-wide, and world-wide wire and radio communication service with adequate facilities at reasonable charges."22
The current federal universal service programs were created in the aftermath of the Telecommunications Act of 1996--at a time when only 23% of Americans had dial-up Internet access at home, and virtually no one had broadband.23 While the federal USF and earlier programs have played a critical role in the universalization of voice service in the last century, the current USF was not designed to support broadband directly, other than for schools, libraries and rural health care providers.24 
In 2010, the federal USF is projected to make total outlays of $8.7 billion through four programs (see Exhibit 8-E).25 The High-Cost program, which subsidizes telecommunications services in areas where costs would otherwise be prohibitively high, will spend $4.6 billion. E-rate, which supports voice and broadband connectivity for schools and libraries, will spend $2.7 billion.26 The Low Income program, which subsidizes the cost of telephone service for low-income people, will spend $1.2 billion, and the Rural Health Care program, which supports connectivity for health care providers, will spend $214 million.
Exhibit 8-E: The Federal Universal Service Fund27
| | | |
| --- | --- | --- |
| Program | Description | FY 2010 disbursements (projected) |
| High Cost | Ensures that consumers in all regions of the nation have access to and pay rates for telecommunications services that are reasonably comparable to those in urban areas. | $4.6 billion |
| Low Income (Lifeline and Link-Up) | Provides discounts that make basic, local telephone service affordable for low-income consumers. | $1.2 billion |
| Schools and Libraries (E-rate) | Subsidizes telecommunications services, Internet access and internal connections to enable schools and libraries to connect to the Internet. | $2.7 billion |
| Rural Health Care | Provides reduced rates to rural health care providers for telecommunications and Internet access services and, on a pilot basis, support for infrastructure. | $214 million |
| Total | | $8.7 billion |
At least 21 states have high-cost funds that collectively distribute over $1.5 billion.28 Thirty-three states have a state low-income program, nine states have a state subsidy program for schools and libraries, and at least 27 states support state telehealth networks.29 In addition, a number of states have established specific programs to fund broadband deployment.30 Some states provide tax credits for investment in broadband infrastructure.31
The remainder of this section will discuss how the current federal High-Cost program should be modernized to shift from supporting legacy telephone networks to directly supporting high-capacity broadband networks. The federal Low Income program provides critical support to low-income households and will be discussed in Chapter 9. The Rural Health Care and E-Rate programs provide important support for broadband to critical institutions like schools, libraries and health care facilities, and will be addressed in Chapters 10 and 11.
Accelerating the pace of investment in broadband networks in high-cost areas will also require consideration of related policy issues that affect the revenue streams of existing carriers. The ICC system provides a positive revenue stream for certain carriers, which in turn affects their ability to upgrade their networks during the transition from voice telephone service to broadband service. In rural America USF and ICC represent a significant portion of revenues for some of the smallest carriers–i.e., 60% or more of their regulated revenues.32 The rules governing special access services also affect the economics of deployment and investment, as middle-mile transmission often represents a significant cost for carriers that need to transport their traffic a significant distance to the Internet backbone. For that reason, the FCC needs to consider the middle mile in any discussion of government support to high-cost areas.33
USF and ICC regulations were designed for a telecommunications industry that provided voice service over circuit-switched networks. State and federal ratemaking created implicit subsidies at both the state and federal levels and were designed to shift costs from rural to urban areas, from residential to business customers, and from local to long distance service.
Unfortunately, the current regulatory framework will not close the broadband availability gap. A comprehensive reform program is required to shift from primarily supporting voice communications to supporting a broadband platform that enables many applications, including voice. This reform must be staged over time to realign these systems to support broadband and minimize regulatory uncertainty for investment.
The goal of reform is to provide everyone with affordable voice and broadband. The reforms must be achieved over time to manage the impact on consumers, who ultimately pay for universal service. The FCC should target areas that are currently unserved, while taking care to ensure that consumers continue to enjoy broadband and voice services that are available today. Given that USF is a finite resource, the FCC should work to maximize the number of households that can be served quickly, focusing first on those areas that require lower amounts of subsidy to achieve that goal, and over time addressing those areas that are the hardest to serve, recognizing that the subsidy required may decline in the future as technology advances and costs decline. Ongoing support should be provided where necessary.
Sudden changes in USF and ICC could have unintended consequences that slow progress. Success will come from a clear road map for reform, including guidance about the timing and pace of changes to existing regulations, so that the private sector can react and plan appropriately.
Stage One of this comprehensive reform program starts with building the institutional foundation for reform, identifying funding that can be shifted immediately to jump start broadband deployment in unserved areas, creating the framework for a new Connect America Fund and a Mobility Fund, establishing a long-term vision for ICC, and examining middle-mile costs and pricing (see Chapter 4). In Stage Two, the FCC will begin disbursements from the CAF and Mobility Fund, while implementing the first step in reducing intercarrier compensation rates and reforming USF contribution methodology. Stage Three completes the transformation of the legacy High-Cost program, ends support for voice-only networks and completes reforms of ICC.
Before going into the details of this plan, it is important to consider the unique characteristics of each system in more detail.
The High-Cost Program
The High-Cost program ensures that consumers in all parts of the country have access to voice service and pay rates for that service that are reasonably comparable to service in urban areas. The program currently provides funding to three groups of eligible telecommunications carriers (ETCs) (see Box 8-2). In 2009, approximately $2 billion went to 814 rate-of-return carriers, $1 billion to 17 price-cap carriers and $1.3 billion to 212 competitive eligible telecommunications carriers (competitive ETCs).34 
The current High-Cost program is not designed to universalize broadband. While some companies receiving High-Cost support have deployed broadband-capable infrastructure to serve most of their customers,35 others have not. Carriers receiving High-Cost support are not required to provide any households in their service area with some minimal level of broadband service, much less provide such service to all households in their service area.
Box 8-2: High-Cost Program Recipients
Rate-of-Return Carriers—Incumbent telephone companies that are given the opportunity to earn an 11.25% rate of return on their interstate services.
Prime-Cap Carriers—Incumbent telephone companies that may only raise interstate rates on the basis of a formula that considers expense growth and a productivity growth factor.
Competitive ETCs—Competitive wireline and wireless providers that are certified by a state utility regulator or the FCC to receive funds from the High-Cost program based on the level of support provided to the incumbent in a given area.
In addition, the High-Cost program only supports certain components of a network, such as local loops and switching equipment, but not other components necessary for broadband, like middle-mile infrastructure that transports voice and data traffic to an Internet point of presence. As a result, the amount of support provided is not appropriately sized for the provision of broadband in high-cost areas.
Because broadband is not a supported service, today there is no mechanism to ensure that support is targeted toward extending broadband service to unserved homes. Today, roughly half of the unserved housing units are located in the territories of the largest price-cap carriers, which include AT&T, Verizon and Qwest, while about 15% are located in the territories of mid-sized price-cap companies such as CenturyLink, Windstream and Frontier.36 While current funding supports phone service to lines served by price-cap carriers, the amounts do not provide an incentive for the costly upgrades that may be required to deliver broadband to these customers.37
In addition, current oversight of the specific uses of High-Cost support is limited. While some states require both incumbents and competitive ETCs to report on their use of funding for network infrastructure projects,38 many states do not.39 There is no uniform framework at the federal level to track the progress of any infrastructure deployment, broadband-capable or not, that is subsidized through the use of federal funds.
While the High-Cost program has made a material difference in enabling households in many high-cost areas of America to have access to affordable voice service, it will not do the same for broadband without reform of the current system.
Intercarrier Compensation
ICC is a system of regulated payments in which carriers compensate each other for the origination, transport and termination of telecommunications traffic. For example, when a family in Philadelphia calls Grandma in Florida, the family's carrier usually pays Grandma's carrier a per-minute charge, which may be a few cents a minute, for terminating the call. Estimates indicate that this system results in up to $14 billion in transfers between carriers every year.40
The current per-minute ICC system was never designed to promote deployment of broadband networks. Rather, ICC was implemented before the advent of the Internet when there were separate local and long distance phone companies. Local companies incurred a traffic-sensitive cost to "switch" or connect a call from the long distance company to the carrier's customer. The per-minute rates charged to the long distance carrier were set above cost and provided an implicit subsidy for local carriers to keep residential rates low and promote universal telephone service.41 ICC has not been reformed to reflect fundamental, ongoing shifts in technology and consumer behavior, and it continues to include above-cost rates. The current ICC system is not sustainable in an all-broadband Internet Protocol (IP) world where payments for the exchange of IP traffic are not based on per-minute charges, but instead are typically based on charges for the amount of bandwidth consumed per month.
The current ICC system also has fundamental problems that create inefficient incentives. First, terminating rates are not uniform despite the uniformity of the function of terminating a call, which leads to unproductive economic activity. Rates vary from zero to 35.9 cents per minute,42 depending on the jurisdiction of the call, the type of traffic43 and the regulatory status of the terminating carrier.44 Rate differences lead to arbitrage opportunities such as phantom traffic, in which traffic is masked to avoid paying the terminating carrier intercarrier compensation entirely, and/or redirected to make it appear that the call should be subject to a lower rate.45 Such behavior leads to disputes and underpayment to the terminating carrier.
Most ICC rates are above incremental cost, which creates opportunities for access stimulation, in which carriers artificially inflate the amount of minutes subject to ICC payments. For example, companies have established "free" conference calling services, which provide free services to consumers while the carrier and conference call company share the ICC revenues paid by interexchange carriers.46 Because the arbitrage opportunity exists, investment is directed to free conference calling and similar schemes for adult entertainment that ultimately cost consumers money, 47 rather than to other, more productive endeavors.
Broadband providers have begun migrating to more efficient IP interconnection and compensation arrangements for the transport and termination of IP traffic. Because providers' rates are above cost, the current system creates disincentives to migrate to all IP-based networks. For example, to retain ICC revenues, carriers may require an interconnecting carrier to convert Voice over Internet Protocol (VoIP) calls to time-division multiplexing in order to collect intercarrier compensation revenue. While this may be in the short-term interest of a carrier seeking to retain ICC revenues, it actually hinders the transformation of America's networks to broadband.48
ICC may be stalling the development of the broadband ecosystem in other ways as well. For example, there are allegations that regulatory uncertainty about whether or what intercarrier compensation payments are required for VoIP traffic,49 as well as a lack of uniform rates, may be hindering investment and the introduction of new IP-based services and products.50
Moreover, fewer terminating minutes ultimately mean a smaller revenue base for intercarrier compensation. According to FCC data, for example, total minutes of use of incumbent carriers decreased from 567 billion minutes in 2000 to 316 billion minutes in 2008, a drop of 56%.51 Price-cap carriers have no means of increasing per-minute rates to offset these declines. Even rate-of-return carriers, who are permitted to increase per-minute rates so they have the opportunity to earn their authorized rate of return, acknowledge that the current system is "not sustainable" and could lead to a "death spiral" as higher rates to offset declining minutes exacerbate arbitrage and non-payment.52 As the small carriers recognize, revenues are also decreasing due to arbitrage and disputes over payment for VoIP traffic.53
The continued decline in revenues and free cash flows at unpredictable levels could hamper carriers' ability to implement network upgrade investments or other capital improvements. Any consideration of how government should provide supplemental funding to companies to close the broadband availability gap should recognize that ICC revenue is an important part of the picture for some providers.
Special Access Policies
High-capacity dedicated circuits are critical input in the provision of fixed and mobile broadband services in rural America. Special access circuits connect wireless towers to the core network,54 provide fiber optic connectivity to hospitals and health centers,55 and are sometimes the critical broadband link that traverses up to 200 miles between a small town and the nearest Internet point of presence.56 The law requires that the rates, terms and conditions for these circuits be just and reasonable.57
The rates that firms pay for these critical middle- and second-mile connections have an impact on the business case for the provision of broadband in high-cost areas. Small local exchange carriers, wireless firms and small cable companies typically purchase these connections from other providers. It may well be the case that the cost of providing these circuits is so high that there is no private sector business case to offer broadband in some areas, even if the rates, terms and conditions are just and reasonable.
High-Cost funds today are generally distributed on the basis of loop and switching costs and not the cost of middle-mile transport of voice traffic. Because data traffic is aggregated on backhall facilities, per-customer middle-mile costs will increase significantly as consumers and businesses use their broadband connections more.58
It is not clear whether the high costs of middle-mile connectivity in rural areas are due solely to long distances and low population density,59 or also reflect excessively high special access prices as some parties have alleged.60 The FCC is currently examining its analytic framework for regulating special access services generally (see Chapter 4). Because of the link between middle- and second-mile costs and special access policies, the FCC's review of its special access policies should be completed in concert with other aspects of this reform plan.
Comprehensive Reform
As federal and state regulators have recognized, the federal USF must be modernized to support the advanced broadband networks and services of the future—and must be modernized quickly, in a way that will accelerate the availability of broadband to all Americans.61 Closing the broadband availability gap requires comprehensive reform of the USF High-Cost program, as well as consideration of ICC and an examination of special access costs and pricing. These actions should be consistent with a set of guiding principles:
These guiding principles will inform a long-term plan for reform that will unfold over a decade (see Exhibit 8-F). This plan balances the need to direct more capital to broadband networks, particularly in high-cost areas, while recognizing the significant role that the private sector plays in broadband deployment.
One variable that will impact the pace of broadband availability is the time it will take to implement various reforms. The proposed reforms on the timeline presented could enable the build-out of broadband infrastructure to more than 99% of American households by 2020. Any acceleration of this path would require more funding from Congress, deeper cuts in the existing USF program or higher USF assessments, which ultimately are borne by consumers. While this plan makes the best use of the assets the country currently has to advance the availability of broadband, a more aggressive path is available if Congress so chooses.
Exhibit 8-F: Road map for USF/ICC Reform
Before discussing the reforms in Stage One to advance broadband availability, we address administrative reforms to improve the management and oversight of USF.
Recommendation 8.1: The FCC should improve Universal Service Fund (USF) performance and accountability.
The Universal Service Administrative Company (USAC), a not-for-profit subsidiary of the National Exchange Carrier Association (NECA), serves as the day-to-day administrator of USF, working under FCC direction. As part of its overall effort to make the FCC more open and transparent, data-driven and a model of excellence in government, the FCC is reviewing its oversight of the funds it administers to determine whether changes are necessary to improve efficiency and effectiveness. USF is part of that review and includes oversight and management of USAC and all of the universal service programs. While there is no doubt that federal universal service programs have been successful in preserving and advancing universal service, it is vital to ensure that these public funds are administered appropriately.
To provide stronger management and oversight of the program, the FCC already has begun to implement a number of changes: 
The FCC has moved oversight of the audit program to the Office of Managing Director and has directed USAC to revise its audit approach.
The FCC has implemented a new Improper Payments Information Act (IPIA) assessment program that is tailored to cover all four USF disbursement programs, measure the accuracy of payments, evaluate the eligibility of applicants, test information obtained by participants, and ensure a reasonable cost while meeting IPIA requirements.
The FCC has implemented a new compliance audit program for all four USF disbursement mechanisms and contributors. This audit program takes into account such factors as program risk elements and size of disbursements. This audit program is also conducted at a reasonable cost in relation to program disbursements, and reduces unnecessary burdens on beneficiaries. 
These new assessment and audit programs will reduce the cost of USF-related audits going forward and will be more efficient. These changes will also help deter fraud, waste and abuse and identify levels of improper payments.
As the FCC reforms its USF support and disbursement mechanisms after the release of the National Broadband Plan, it should also ensure that any future enhancements to the USF program have accountability and oversight provisions built in from the outset. The FCC should also examine its Memorandum of Understanding with USAC to ensure that it reflects programmatic changes and evaluate whether any modifications to its existing relationship with USAC are necessary.66
Across the four USF programs, there is a lack of adequate data to make critical policy decisions regarding how to better utilize funding to promote universal service objectives. For instance, recipients of USF funding currently are not required to report the extent to which they use the funding they receive to extend broadband-capable networks. As the FCC moves forward on the reforms in the plan, it should enhance its data collection and reporting to ensure that the nation's funds are being used effectively to advance defined programmatic goals.
Stage One: Laying the Foundation for Reform (2010-2011)
The FCC should create a Connect America Fund to address the broadband availability gap in unserved areas and provide any ongoing support necessary to sustain service in areas that already have broadband because of previous support from federal USF. The FCC should create a fast-track program in CAF for providers to receive targeted funding for new broadband construction in unserved areas. In addition, the FCC should create a Mobility Fund to provide one-time support for deployment of 3G networks (used for both voice and data) to bring all states to a minimum level of 3G availability which will improve the business case for investment in the rollout of 4G in harder to serve areas.
In Stage One, a series of actions will identify initial funds to be shifted from the current High-Cost program to the CAF and Mobility Funds. The FCC also should establish a glide path to long-term ICC reform, while taking interim steps to address phantom traffic and access stimulation to provide the industry a greater degree of revenue stability and predictability. Because middle- and second-mile connectivity is a key cost component for broadband service providers in high-cost areas, the FCC should also examine the rates for high-capacity circuits to ensure they are just and reasonable.
Throughout the USF reform process, the FCC should solicit input from Tribal governments on USF matters that impact Tribal lands.67
Recommendation 8.2: The FCC should create the Connect America Fund (CAF).
The FCC's long-range goal should be to replace all of the legacy High-Cost programs with a new program that preserves the connectivity that Americans have today and advances universal broadband in the 21st century. CAF will enable all U.S. households to access a network that is capable of providing both high-quality voice-grade service and broadband that satisfies the National Broadband Availability Target. There are many issues that will need to be addressed in order to fully transition the legacy programs into the new fund. The FCC should create an expedited process,68 however, to fund broadband infrastructure buildout in unserved areas with the USF savings identified below.
As a general roadmap, CAF should adhere to the following principles:
Recommendation 8.3: The FCC should create the Mobility Fund.
As discussed in Chapter 3, both broadband and access to mobility are now essential needs, and America should have healthy fixed and mobile broadband ecosystems. Based on past experience with mobile wireless, it is not clear that government intervention will be necessary to enable a robust mobile broadband ecosystem in most parts of the country. According to American Roamer, 3G wireless networks, used for both voice and data, cover 98% of the population in the United States─more people than are passed by terrestrial broadband.83
However, some states have materially lower 3G deployment than the national average. For example, 77% of Alaska's population is covered by 3G networks, and a mere 71% of West Virginia's population is covered by 3G networks.84
This lack of coverage is even more significant if one considers that 3G infrastructure will be used in many cases to enable the rollout of 4G networks. U.S. companies will soon embark on 4G buildouts, expecting to reach at least 94% of the U.S. population by 2013.85 The 4G footprint is likely to mirror closely the 3G footprint, because providers will use their existing infrastructure as much as possible. But how much this build will ultimately cost, and exactly which parts of the country it will cover, or not cover, remains unclear.
Timely, limited government intervention to expand the availability of 3G networks would help states with 3G build-out below the national standard to catch up with the rest of the nation and improve the business case for 4G rollout in harder-to-serve areas. In addition, expanding 3G coverage would benefit public safety users to the extent that public safety agencies use commercial services. It would benefit public safety by establishing more cell sites that could be used for a 4G public-private broadband network, serving commercial as well as public safety users.
The FCC should create a Mobility Fund to provide one-time support for deployment of 3G networks, to bring all states to a minimum level of 3G (or better) mobile service availability.86 The FCC should select an efficient method, such as a market-basedmechanism, for supporting mobility in targeted areas.
Recommendation 8.4: The FCC should design new USF funds in a tax-efficient manner to minimize the size of the gap87
In certain circumstances, the Department of Treasury's Internal Revenue Service treats governmental payments to private parties for the purpose of making capital investments to advance public purposes as contributions to capital under section 118 of the U.S. Internal Revenue Code. Such treatment allows recipients to exclude the payments from income, but reduces depreciation deductions in future years. The Department of Treasury recently issued a ruling that BTOP grants to corporations that are restricted solely to the acquisition of capital assets to be used to expand the business and that meet a five-part test would be excluded from income as a nonshareholder contribution to capital under section 118(a).88 Ultimately, the impact of taxes incurred may depend on the specific details of how the support is distributed, as well as the profitability of the service providers that receive support.
Box 8-3: Tribal Input
The United States currently recognizes 564 American Indian Tribes and Alaska Native Villages (Tribes).89 Tribes are inherently sovereign governments that enjoy a special relationship with the U.S. predicated on the principle of government-to-government interaction. This government-to-government relationship warrants a tailored approach that takes into consideration the unique characteristics of Tribal lands in extending the benefits of broadband to everyone.
Any approach to increasing broadband availability and adoption should recognize Tribal sovereignty, autonomy and independence, the importance of consultation with Tribal leaders, the critical role of Tribal anchor institutions, and the community-oriented nature of demand aggregation on Tribal lands.90
Recommendation 8.5: Throughout the USF reform process, the FCC should solicit input from Tribal governments on USF matters that impact Tribal lands.
In recognition of Tribal sovereignty, the FCC should solicit input from Tribal governments on any proposed changes to USF that would impact Tribal lands. Tribal governments should play an integral role in the process for designating carriers who may receive support to serve Tribal lands.
91
The ETC designation process should require consultation with the relevant Tribal government after a carrier files an ETC application to serve a Tribal land. It should also require
that an ETC file a plan with both the FCC(or state, in those cases where a carrier is seeking ETC designation from a state) and the Tribe on proposed plans to serve the area.
Recommendation 8.6: The FCC should take action to shift up to $15.5 billion over the next decade from the current High-Cost program to broadband through common-sense reforms.92
In Stage One, the FCC should identify near-term opportunities to shift funding from existing programs to advance the universalization of broadband. These targeted changes are designed to create a pathway to a more efficient and targeted funding mechanism for government support for broadband investment, while creating greater certainty and stability for private sector investment.
While these shifts could move as much as $15.5 billion (present value in 2010 dollars) into new broadband programs, they are not risk-free. Shifting identified funds to support broadband could have transitional impacts that will need to be carefully considered. To the extent the FCC does not realize the full amount of savings described below, it will need to identify additional opportunities for savings in Stage Two in order to achieve the National Broadband Availability Target, unless Congress chooses to provide additional public funding for broadband to mitigate some of these risks.
First, the FCC should issue an order to implement the voluntary commitments of Sprint and Verizon Wireless to reduce the High-Cost funding they receive as competitive ETCs to zero over a five-year period as a condition of earlier merger decisions.93 Sprint and Verizon Wireless received roughly $530 million in annual competitive ETC funding at the time of their respective transactions with Clearwire and Alltel in 2008. Their recaptured competitive ETC funding should be used to implement the recommendations set forth in this plan. This represents up to $3.9 billion (present value in 2010 dollars) over a decade.
Second, the FCC should require rate-of-return carriers to move to incentive regulation. As USF migrates from supporting voice telephone service to supporting broadband platforms that can support voice as well as other applications, and as recipients of support increasingly face competition in some portion of their service areas,94 how USF compensates carriers needs to change as well.
Rate-of-return regulation was implemented in the 1960s, when there was a single provider of voice services in a given geographic area that had a legal obligation to serve all customers in the area and when the network only provided voice service. Rate-of-return regulation was not designed to promote efficiency or innovation; indeed, when the FCC adopted price-cap regulation in 1990, it recognized that "rate of return does not provide sufficient incentives for broad innovations in the way firms do business."95 In an increasingly competitive marketplace with unsubsidized competitors operating in a portion of incumbents' territories, permitting carriers to be made whole through USF support lessens their incentives to become more efficient and offer innovative new services to retain and attract customers.
Conversion to price-cap regulation would be revenue neutral in the initial year of implementation, assuming that amounts per line for access replacement funding known as Interstate Common Line Support (ICLS) would be frozen (consistent with existing FCC precedent).96 Over time, however, freezing ICLS would limit growth in the legacy High-Cost program on an interim basis, while the FCC develops a new methodology for providing appropriate levels of CAF support to sustain service in areas that already have broadband.97 This step could yield up to $1.8 billion (present value in 2010 dollars) in savings over a decade.
The amount of interim savings achieved by freezing ICLS support during the CAF transition is dependent on the timing of the conversion to price caps and carrier behavior before the conversion. There is some chance that rate-of-return carriers could accelerate their investment before conversion to price caps to lock in higher support per line. Depending on the details of implementation, such a spike in investment activity could result in further broadband deployment that would narrow the broadband availability gap, but could increase the overall size of the fund.
Third, the FCC should redirect access replacement funding known as Interstate Access Support (IAS) toward broadband deployment.98 Incumbent carriers received roughly $457 million in IAS in 2009.99 When the FCC created IAS in 2000, it said it would revisit this funding mechanism in five years "to ensure that such funding is sufficient, yet not excessive."100 That re-examination never occurred. Now, in order to advance the deployment of broadband platforms that can deliver high-quality voice service as well as other applications and services, the FCC should take immediate steps to eliminate this legacy program and re-target its dollars toward broadband. This could yield up to $4 billion (present value in 2010 dollars) in savings over a decade.
Freezing ICLS and refocusing IAS could have distributional consequences for existing recipients; individual companies would not necessarily receive the same amount of funding from the CAF as they might otherwise receive under the legacy programs. As the FCC considers this policy shift, it should take into account the impact of potential changes in free cash flows on providers' ability to continue to provide voice service and on future broadband network deployment strategies.
Fourth, the FCC should phase out the remaining legacy High-Cost support for competitive ETCs.101 In 2008, the FCC adopted on an interim basis an overall competitive ETC cap of approximately $1.4 billion, pending comprehensive USF reform.102 As the FCC reforms USF to support broadband, it is time to eliminate ongoing competitive ETC support for voice service in the legacy High-Cost program.
In some areas today, the USF supports more than a dozen competitive ETCs that provide voice service,103 and in many instances, companies receive support for multiple handsets on a single family plan. Given the national imperative to advance broadband, subsidizing this many competitive ETCs for voice service is clearly inefficient.104 The FCC should establish a schedule to reduce competitive ETC support to zero over five years, which will be completed in Stage Two. In order to accelerate the phase-down of legacy support, the FCC could immediately adopt a rule that any wireless family plan should be treated as a single line for purposes of universal service funding.105 As competitive ETC support levels are reduced, this funding should be redirected toward broadband. This could yield up to $5.8 billion (present value in 2010 dollars) in savings over a decade.
Depending on the details and timing of implementation, these actions collectively will free up to $15.5 billion (present value in 2010 dollars) in funding from the legacy High-Cost program between now and 2020. In addition to funding the CAF, the savings identified should be used to implement a number of USF and ICC recommendations in this plan. Approximately $4 billion (present value in 2010 dollars) will go to a combination of activities including the new Mobility Fund, potential revenue replacement resulting from intercarrier compensation reform, expanding USF support for health care institutions up to the existing cap, enabling E-rate funding to maintain its purchasing power over time, and conducting pilots for a broadband Lifeline program. The remaining amount, up to $11.5 billion (present value in 2010 dollars),can be expressly targeted to supporting broadband through the CAF so that no one is left behind.
Recommendation 8.7: The FCC should adopt a framework for long-term intercarrier compensation (ICC) reform that creates a glide path to eliminate per-minute charges while providing carriers an opportunity for adequate cost recovery, and establish interim solutions to address arbitrage.
During Stage One, the FCC should establish a framework for phased reform of ICC to eliminate current distortions that are created by recovering fixed network costs through per-minute rates for the origination and termination of traffic. The FCC also should provide carriers the opportunity for adequate cost recovery.
The first step of the staged reform should move carriers' intrastate terminating switched access rates to interstate terminating switched access rate levels in equal increments over a period of two to four years.106 The FCC has authority to establish a new methodology for ICC, but Congress could make explicit the FCC's authority to reform intrastate intercarrier rates by amending the Communications Act in order to reduce litigation and expedite reform. Following the intrastate rate reductions, the framework should set forth a glide path to phase out per-minute charges by 2020.
To offset the impact of decreasing ICC revenues, the FCC should permit gradual increases in the subscriber line charges (SLC) and consider deregulating the SLC in areas where states have deregulated local rates.107
The FCC should also encourage states to complete rebalancing of local rates to offset the impact of lost access revenues. Even with SLC increases and rate rebalancing, some carriers may also need support from the reformed Universal Service Fund to ensure adequate cost recovery. When calculating support levels under the new CAF, the FCC could impute residential local rates that meet an established benchmark.108 Doing so would encourage carriers and states to "rebalance" rates to move away from artificially low $8-$12 residential rates that represent old implicit subsidies to levels that are more consistent with costs.109
As part of comprehensive ICC reform, the FCC should adopt interim rules to reduce ICC arbitrage. The FCC should, for example, prohibit carriers from eliminating information necessary for a terminating carrier to bill an originating carrier for a call. Similarly, the FCC should adopt rules to reduce access stimulation and to curtail business models that make a profit by artificially inflating the numberof terminating minutes. The FCC also should address the treatment of VoIP traffic for purposes of ICC.
Recommendation 8.8: The FCC should examine middle-mile costs and pricing.
As discussed above, the cost of second- and middle-mile connectivity has a direct impact on the cost of providing broadband service in unserved areas of the country. As a result, there is a direct link between whether the FCC's policies regarding the rates, terms and conditions of special access services are effective and the funding demands that will be placed on the new CAF. It may be the case that the cost of providing these circuits in areas supported by CAF is so high that there is no private sector business case to offer broadband services, even if the rates, terms and conditions are just and reasonable. An examination of middle-mile costs and pricing should occur in concert with the comprehensive USF/ICC reform program.
Stage Two: Accelerating Reform (2012-2016)
In Stage Two, the FCC will need to take further steps and answer a number of questions in order to accelerate reform of the High-Cost program and ICC. Some have proposed other ways that current High-Cost funding could be shifted toward broadband without having a deleterious effect on existing network deployment or operations.110 The FCC should examine the potential costs and benefits of additional ways to shift funding from the legacy High-Cost program to the CAF.
Implementation decisions in Stage Two will impact the speed with which broadband service is available throughout the United States and the overall cost of filling the broadband availability gap. Two critical issues will be to determine what ongoing support is necessary to sustain areas that already meet the National Broadband Availability Target due to current USF subsidies, and how rights and responsibilites should be modified when the incumbent is not the broadband provider-of-last-resort for a particular geographic area.111
During this phase, the FCC will begin distributing support from CAF, with an initial focus on extending broadband to unserved areas. Intrastate rates for ICC will be lowered over several years to interstate levels, and competitive ETC support will be phased out. The FCC should also stabilize USFfor the future by expanding the USF contribution base.
Recommendation 8.9: The FCC should begin making disbursements from the CAF.
Once the FCC completes rulemakings to establish the parameters of the new CAF, it should begin to distribute CAF funding to discrete geographic areas that contain unserved households. The FCC potentially could focus first on those states that have a higher absolute number or percentage of unserved housing units per capita, or thosestates that provide matching funds for broadband construction.
Recommendation 8.10: The FCC should broaden the universal service contribution base.
Today, federal universal service funding comes from assessments on interstate and international end-user revenues from telecommunications services and interconnected VoIP services. Service providers typically pass the cost of these assessments on to their customers.
The revenue base for universal service contributions–telecommunications services–has remained flat over the last decade, even though total revenues reported to the FCC by communications firms grew from $335 billion in 2000 to more than $430 billion in 2008.112 Broadband-related revenues are projected to grow steadily over time.113
Service providers are increasingly offering packages that "bundle" voice and broadband and deliver them over the same infrastructure. Assessing only telecommunications services revenues provides incentives for companies to characterize their offerings as "information services" to reduce contributions to the fund.
There is an emerging consensus that the current contribution base should be broadened, though with differing views on how to proceed. Some parties urge the FCC to expand the contribution base to include broadband revenues,114 while others urge the FCC to assess broadband connections through a hybrid numbers- and connections-based approach.115 Some parties suggest that the FCC should explore some method of assessing entities that use large amounts of bandwidth.116 Some suggest that broadband should not be assessed because that would lessen broadband adoption, or that residential broadband should be exempted.117
As the FCC establishes the CAF, it also should adopt revised contribution methodology rules to ensure that USF remains sustainable over time. Whichever path the FCC ultimately takes, it should take steps to minimize opportunities for arbitrage as new products and services are developed and remove the need to continuously updateregulation to catch up with technology and the market.
Recommendation 8.11: The FCC should begin a staged transition of reducing per-minute rates for intercarrier compensation.
The comprehensive ICC reforms adopted in Stage One should be implemented in Stage Two.  The FCC should begin by reducing intrastate rates to interstate rate levels in equal increments over a period of time. The FCC should also implement interim solutions to address arbitrage, which will help offset revenue losses from the reduction in intrastate rates.
The FCC should continue the staged reduction of per-minute rates adopted as part of the comprehensive ICC reform. After reducing intrastate rates, the FCC could, for example, reduce interstate rates to reciprocal compensation rate levels for those carriers whose interstate rates exceed their reciprocal compensation rates, and reduce originating access rates in equal increments. Doing so would transition all ICC terminating rates to a uniform rate per carrier, which is an important step to eliminate inefficient economic behavior. The rate reduction in a staged approach will give carriers adequate time to prepare and make adjustments to offset the lost revenues.
Stage Three: Completing the Transition (2017-2020)
In Stage Three, the FCC should complete the transition with an emphasis on measurement and adjustment. To the extent there remain a small number of households that still do not have service meeting the National Broadband Availability Target, the FCC should consider alternative approaches toextend service to those areas.
Recommendation 8.12: The FCC should manage the total size of the USF to remain close to its current size (in 2010 dollars) in order to minimize the burden of increasing universal service contributions on consumers.
Unrestrained growth of the USF, regardless of reason, could jeopardize public support for the goals of universal service.118 The USF has grown from approximately $4.5 billion in 2000 to a projected $8.7 billion in 2010.119 Portions of the USF are already capped, and with the implementation of the interim competitive ETC cap for the High-Cost program in 2008, the only significant parts of the fund that remains uncapped are the Low Income program and a part of the High-Cost program that provides access replacement funding (ICLS) to small, rate-of-return carriers.
The FCC's Low Income program has grown significantly in the last year,119 in large part due to the efforts of companies to create targeted offerings for Lifeline recipients. Since Low Income support comes from an uncapped fund for which eligibility is determined by need, future demand for Low Income support will likely depend on many factors, including the state of the economy, the efficacy of outreach efforts, the level of subsidy provided, the price elasticity of demand among low-income households, the number and type of eligible service offerings and the evolution of consumer demand.
The FCC needs to proceed with measured steps to assure that as it advances the nation's broadband goals, it does not increase the USF contribution factor, which is already at an historic high. Unless Congress chooses to provide additional public funding to accelerate broadband deployment, the FCC should aim to keep the overall size of the fund close to its current size (in 2010 dollars), while recognizing that the uncapped parts of USF may continue to grow due to factors outside the scope of this plan.120 As the FCC implements the recommendations of the plan, it should evaluate innovative strategies to leverage the reach of existing governmental support programs and evaluate whether to adjust the relative proportion of supply-side versus demand-side subsidies over time.
Recommendation 8.13: The FCC should eliminate the legacy High-Cost program, with all federal government funding to support broadband availability provided through the CAF.
By 2020, the "old" High-Cost program will cease operations, and service providers will only receive support for deployment and provision of supported services (i.e., broadband that offers high-quality voice) through the CAF.
The FCC should set a deadline for recipients of USF to offer supported services. As noted above, based on current terrestial technology, providing broadband to the 250,000 housing units with the highest gaps accounts for approximately $14 billion of the total investment gap, which represents an average cost of $56,000 per housing unit to serve the last two-tenths of 1% of all housing units.
The FCC should consider alternative approaches, such as satellite broadband, for addressing the most costly areas of the country to minimize the contribution burden on consumers across America. The FCC could consider means-tested consumer subsidies for satellite services. Another approach would be to provide a limited waiver of the requirement to offer broadband to providers that demonstrate that it is economically or technically infeasible to upgrade a line to offer broadband service,121 while ensuring that consumers are able to continue to receive the high-quality voice service that they enjoy today.
Recommendation 8.14: The FCC should continue reducing ICC rates by phasing out per-minute rates for the origination and termination of telecommunications traffic.
The elimination of per-minute above-cost charges should encourage carriers to negotiate alternative compensation arrangements for the transport and termination of voice and data traffic. Given that there may be market power for terminating traffic, the FCC should carefully monitor compensation arrangements for IP traffic as the industry transitions away from per-minute rates, particularly in areas where there is little or no competition, to ensure that such arrangements do not harm the public interest.122
In summary, this road map for comprehensive universal service and ICC reform over the next decade represents a critical first step to ensure that all people in the United States have access to affordable broadband. To begin turning this road map into reality, the FCC will embark on a series of rulemakings to seek public comment and adopt rules to implement this reform. Although these proceedings will need to make specific decisions on implementation details, this plan sets forth a clear vision for the end-state we seek to achieve as a nation—preserving the connectivity that Americans have today and advancing universal broadband in the 21st century.
Achieving this vision will not happen automatically. Indeed, significant changes to the existing regulatory structure will need to be made, including adjustments to existing USF support mechanisms to redirect funding away from supporting single-purpose voice telephone networks and toward supporting integrated, multifunctional broadband platforms in a more efficient manner. Additional capital must be directed toward broadband infrastructure. The plan sets forth a pathway to shift up to $15.5 billion (present value in 2010 dollars) over the next decade from the existing USF High-Cost program to broadband, with up to $11.5 billion specifically focused on broadband deployment in unserved areas. By implementing this plan as written, broadband will be available to more than 99% of the people in the United States by 2020.
This plan is not without risk. The baseline estimates that form the foundation for this plan are subject to a number of assumptions, most notably relating to the timing and outcome of regulatory proceedings.123 The timing of some shifts such as implementation of the voluntary commitments from Sprint and Verizon Wireless to give up their competitive ETC funding is known, while the timing of other changes that could yield savings is not.
The FCC's ability to shift funds from existing programs to broadband assumes that shifting the identified money from voice service to broadband will not negatively impact company operations or future deployment strategies.
The gap estimates assume that the FCC implements an effective market-based mechanism to determine who should receive support and the level of that support, and that the market-based mechanism is designed in a way to target support first to those areas that require only support for new construction. The estimates also assume that the market mechanism will fund the areas requiring the least amount of support first, thus connecting the most housing units as quickly as possible. In some areas of the country, however, the number of interested parties may be insufficient to implement a market-based mechanism, and the FCC therefore may need to use an alternative approach to drive subsidies to efficient levels.
The plan does not estimate the amount of support that may be necessary to sustain broadband service in those areas where it already is available. The estimates focus on the investment gap to make broadband capable of delivering high-quality voice universally available in unserved areas. While the FCC will initially target CAF funding toward unserved areas, the objective over time is to develop a mechanism that supports the provision of affordable broadband and voice in all areas, both served and unserved, where governmental funding is necessary. The amount of support ultimately required for those areas that currently are served through the receipt of universal service subsidies will depend on many factors, including the evolution of market demand, the precise distribution mechanism selected, and the achievement of efficiencies in an IP-based network. To the extent an incumbent rate-of-return company is not the designated broadband provider-of-last-resort for its entire territory, for instance, the FCC would need to determine how changing support levels would impact service to consumers and how to address the costs of past network investments.
The fact that many questions remain to be answered should not stop the nation from starting down the road to universal broadband. There will be ample opportunity to adjust in the years ahead.
Accelerating Broadband Deployment
Active management of the entire USF program by the FCC as described in this plan is the best way to mitigate these risks going forward. To speed deployment, provide the FCC greater flexibility, and ensure significant capital available for broadband, Congress should act.
Recommendation 8.15: To accelerate broadband deployment, Congress should consider providing optional public funding to the Connect America Fund, such as a few billion dollars per year over a two to three year period.
If Congress were to provide such funding in a timely manner, it would enable the FCC to achieve more quickly the objectives set forth in the plan for universal broadband, without having to obtain such funding through the current USF contribution mechanism. Since consumers and businesses bear both the USF contribution burden and the general tax burden, additional public funding would draw money for deployment from the same parties that contribute today, but potentially with less relative impact on vulnerable populations that may have lower broadband adoption rates than the general population.124 Additional funding would allow the country to achieve the National Broadband Availability Target faster and ease the glide path for implementing other reforms in this plan by removing regulatory uncertainty over USF and ICC revenue streams potentially available for further broadband deployment. In addition, in the event additional funding becomes available, whether through new government funding or careful management of existing funds, that funding could be used to build upon lessons learned from successful Lifeline broadband pilots and expand innovations in the E-rate and other programs to support community institutions (see Chapters 9 and 11).
Although the plan sets forth a vision to achieve universal broadband, no one can accurately foresee every potential market dynamic between now and 2020, nor would it be possible for the plan to accurately predict how private sector investment may occur in the future. The precise timing to achieve universal availability will depend on multiple variables, many of which are beyond the control of regulators. Technology, markets and the industry can and will change. One thing that we can reliably predict is that the world in 2020 will be different than what we envision today. But the fact that the FCC may need to make mid-course corrections along the way does not change the overarching national policy imperative─the need for a connected, high-performance America. For the nation to achieve this goal, the steps outlined in this plan must be taken promptly.
SECTION 8.4: OTHER GOVERNMENT ACTIONS TO PROMOTE AVAILABILITY
Other Federal Financing
Congress should also consider measures to provide greater flexibilty to the Rural Utilities Service (RUS) and other agencies in order to provide additional financing solutions to advance broadband availability.
Recommendation 8.16: Congress should consider expanding combination grant-loan programs.
Most existing funding mechanisms for telecommunications infrastructure, such as those run by RUS, are designed to provide funds via loans, loan guarantees or grants. Recovery Act funding and RUS's Farm Bill Broadband Program and Distance Learning Program have allowed some combinations. To optimize use of taxpayer dollars, more funding should be directed to such combinations. By allowing agencies like RUS to structure funding as combinations of loans, grants and guarantees,125  they can select the most efficient use of taxpayer dollars while simultaneously providing service providers a one-stop financing solution.
Recommendation 8.17: Congress should consider expanding the Community Connect program.
The Community Connect program, administered by RUS, is intended to provide funding for broadband to communities that are otherwise unserved. The program had $13.4 million in funding available in 2009,126 while demand for program funding runs into the hundreds of millions of dollars, principally from communities that are too small to attract interest from private capital. To meet the needs of such communities, Congress should consider expanding the Community Connect program (both in size and in the scope of its eligibility criteria) to be more inclusive in serving such communities.
Recommendation 8.18: Congress should consider establishing a Tribal Broadband Fund to support sustainable broadband deployment and adoption in Tribal lands, and all federal agencies that upgrade connectivity on Tribal lands should coordinate such upgrades with Tribal governments and the Tribal Broadband Fund grant-making process.
Tribal lands face unique connectivity challenges (see Box 8-4). Grants from a new Tribal Broadband Fund would be used for a variety of purposes, including bringing high-capacity connectivity to Tribal headquarters or other anchor institutions, deployment planning, infrastructure build-out, feasibility studies, technical assistance, business plan development and implementation, digital literacy and outreach.127 In addition, a portion of the fund should be allocated to provide small, targeted grants on an expedited basis for Internet access and adoption programs.128 The fund should be administered by NTIA in consultation with the FCC and the Bureau of Indian Affairs.
In order to provide state-of-the-art services to Tribal communities and promote the deployment of high-capacity infrastructure on Tribal lands, Congress should consider providing ongoing public funding for federal facilities serving Tribal lands in order to upgrade and maintain their broadband infrastructure. Telecommunications infrastructure at federal facilities located on Tribal lands frequently has limited broadband capacity.129
Consistent with Recommendation 6.8, which encourages government entities to actively seek out and leverage "dig once" coordination opportunities, all federal agencies that upgrade network connectivity on Tribal lands should coordinate such upgrades with Tribal governments and the Tribal Broadband Fund grant-making process to exploit opportunities for joint trenching, laying of conduit or construction of additional fiber optic facilities.130  
Box 8-4: Broadband on Tribal Lands
Available data, which are sparse, suggest that less than 10% of residents on Tribal lands have broadband available.132 The Government Accountability Office noted in 2006 that "the rate of Internet subscribership [on Tribal lands] is unknown because no federal survey has been designed to capture this information for Tribal lands."133 But, as the FCC has previously observed, "[b]y virtually any measure, communities on Tribal lands have historically had less access to telecommunications services than any other segment of the population."134
Many Tribal communities face significant obstacles to the deployment of broadband infrastructure, including high buildout costs, limited financial resources that deter investment by commercial providers and a shortage of technically trained members who can undertake deployment and adoption planning.135 Current funding programs administered by NTIA and RUS do not specifically target funding for projects on Tribal lands and are insufficient to address all of these challenges.136 Tribes need substantially greater financial support than is presently available to them, and accelerating Tribal broadband deployment will require increased funding.137
Tribal, State, Regional and Local Broadband Initiatives
In addition to Tribal, federal and state efforts to support broadband deployment, local governments and regions often organize themselves to support deployment in their communities. According to recent market research, as of October 2009, there were 57 fiber-to-the-premises (FTTP) municipal deployments, either in operation or actively being built, in 85 towns and cities in the United States. These deployments collectively serve 3.4% of the FTTP subscribers in North America.138
Not all government-sponsored networks serve consumers directly. Several government-sponsored entities, such as NOANet in the Pacific Northwest and OneCommunity in Ohio, are major providers of backhaul capacity in areas that benefit community institutions and local broadband service providers. Their networks are often "constructed" by patching together and opening up to wider use fiber and other connections that might originally have been built for single-purpose institutional needs, such as the needs of government offices and local transportation. By offering up that existing capacity to wider use, including the service provider community, these efforts can benefit an entire community, not just one institution.139
While it is difficult to measure the impact of many local efforts, these efforts should be encouraged when they make sense. However, 18 states have passed laws to restrict or explicitly prohibit municipalities from offering broadband services. Some states, like Nebraska, have outright bans on municipalities offering any wholesale or retail broadband service. Other states, such as South Carolina and Louisiana, set conditions that make municipal broadband both harder to deploy and more costly for consumers.140 In addition, restrictions on the use of institutional networks can substantially impede the ability of local and regional authorities to utilize that infrastructure to benefit the broadband needs of the community as a whole. Restricting these networks in some cases restricts the country's ability to close the broadband availability gap, and should be revisited.
Recommendation 8.19: Congress should make clear that state, regional and local governments can build broadband networks.
Local entities typically decide to offer services when no providers exist that meet local needs. These local entities do so only after trying to work with established carriers to meet local needs.141 This experience is similar to how some municipalities responded in the early part of the 20th century when investor-owned electric utilities left rural America in the dark while they electrified more lucrative urban centers. Public and cooperatively owned power utilities were created to fill the void. More than 2,800 public and co-op operators still provide electricity to 27% of Americans today.142 Many of these same rural areas now face similar challenges attracting private investment to connect civic institutions, businesses and residences to high-speed data networks. In some areas, local officials have decided that publicly-owned communications services are the best way to meet their residents' needs (see Box 8-5).
Municipal broadband has risks. Municipally financed service may discourage investment by private companies. Before embarking on any type of broadband buildout, whether wired or wireless, towns and cities should try to attract private sector broadband investment. But in the absence of that investment, they should have the right to move forward and build networks that serve their constituents as they deem appropriate.
Box 8-5: Community Broadband in Rural America
Bristol, Va., provides a good example of the potential of community broadband in rural America. This small town, which also operates the local electric utility, initially deployed a fiber optic network to connect its government, electric utility and school buildings. Local businesses and residents expressed interest in connecting to this high-speed network, so Bristol made plans to build a fiber-to-the-premises network. After overcoming a series of state legislative barriers and legal challenges by incumbent providers offering slower services, Bristol launched a FTTP service. Today, 62% of Bristol's residents and businesses subscribe to the service despite competition from the incumbent telephone company and cable.
Recommendation 8.20: Federal and state policies should facilitate demand aggregation and use of state, regional and local networks when that is the most cost-efficient solution for anchor institutions to meet their connectivity needs.
Government policy often limits the ability of schools, hospitals and other community institutions to serve as community broadband anchors. FCC universal service policies and the policies of other grant-making agencies frequently drive institutions to use dedicated, single-purpose networks that are not available for broader community use, resulting in a situation in which "[c]ommunity residents working in health care or education often have unlimited access to the Internet while other rural residents are left with no access."143 These restrictions make it difficult to expand and share broadband with other community institutions in the most cost-effective way.
This problem is especially acute in rural areas and Tribal lands where broadband may only be available and affordable to residents and small businesses in a community if the fiber optic infrastructure in that town is shared not only by commercial users but also by the local hospital, government office and school system.144 Because broadband networks–particularly fiber optic networks–demonstrate large economies of scale, bulk purchasing arrangements for forms of connectivity like second-mile and middle-mile access can drive down the per-megabit cost of such access considerably. As a result, policy restrictions that impede the ability of school networks funded by E-rate to share capacity with hospitals funded by the Rural Health Care program, or the public safety system which may be funded by state and other federal sources, drive up the cost of connectivity for those institutions and for others in the community.145
At least 30 states have established state networks operated by public agencies or the private sector to aggregate demand among schools, universities, libraries, and state and local government agencies to reduce costs.146 Better collaboration among government agencies could reduce the potential for waste of federal resources and maximize available federal funding for broadband-related community development projects. Federal and state policy should not preclude or limit networks that serve one category of institution from serving other institutions and the community as a whole.147 The FCC should explore creative solutions to help schools, libraries and health care providers reduce their broadband-related costs by aggregating demand with other community institutions so that they can purchase the maximum amount of broadband with their USF dollars. For instance, the FCC should remove barriers to the shared use of state, regional, Tribal, and local networks by schools, libraries and health care providers when such networks provide the most cost-efficient choice for meeting broadband needs.148
Because community anchor institutions are large--if not the largest--potential consumers of broadband in even the smallest of towns, adopting these recommendations will not onlyexpand broadband options for the institutions themselves but also will improve availability in the community as a whole.
Recommendation 8:21: Congress should consider amending the Communications Act to provide discretion to the FCC to allow anchor institutions on Tribal lands to share broadband network capacity that is funded by the E-rate or the Rural Health Care program with other community institutions designated by Tribal governments.
In recognition of the unique challenges facing Tribal communities, Congress should consider amending the Communications Act to provide discretion to the FCC to define circumstances in which schools, libraries and health care providers that receive funding from the E-rate or Rural Health Care program may share broadband network capacity that is funded by the E-rate or the Rural Health Care program with other community institutions designated by Tribal governments.149
Recommendation 8.22: The federal government and state governments should develop an institutional framework that will help America's anchor institutions obtain broadband connectivity, training, applications and services.
Earlier in this chapter, the plan proposes a path to ensure that homes in high-cost areas have access to broadband, largely by reforming the High-Cost program and intercarrier compensation.  In other chapters, the plan proposes reforms to USF to improve connectivity to schools, libraries and health care providers. Government should take additional steps to enable these and other community institutions to better utilize their connectivity to provide a better quality of life for all people.
One approach to ensure connectivity for facilities that serve public purposes is to give a non-profit institution the mission and capability to focus on serving the broadband needs of public institutions, including health clinics, community colleges, schools, community centers, libraries, museums, and other public access points. In the past, the connectivity needs of research institutions have been met by non-profit research and education (R&E) networks such as Internet2 and National LambdaRail. R&E networks played a central role in the development and growth of the Internet itself through ARPANET and later NSFNET. Today, similar R&E networks provide high-speed (10 Mbps-1 Gbps) connectivity to 66,000 community anchor institutions.150 But more can be done--it is estimated that only one-third of anchor institutions have access to an R&E network today.151 This model should be expanded to other community institutions. 
A group of R&E networks, including Internet2 and the National LambdaRail, with the support of the National Association of Telecommunications Officers and Advisors and the Schools, Health and Libraries Broadband Coalition, have proposed that the federal government and state governments create a non-profit coordinating entity, the "Unified Community Anchor Network", that would support and assist anchor institutions in obtaining and utilizing broadband connectivity.152 Expanding the R&E network model to other anchor institutions would offer tremendous benefits. Many community institutions lack the institutional resources to undertake the many tasks necessary to maximize their utilization of broadband. Facilitating collaboration on network design and how best to utilize applications to meet public needs could result in lower costs and a far more efficient and effective utilization of broadband by these institutions.   
Working with the R&E and non-profit community, the federal government and state governments should facilitate the development of an institutional framework that will help anchor institutions obtain broadband connectivity, training, applications and services. One method of implementation would be to establish federal and state coordinators and consortia of anchor institutions. These coordinators would help secure connectivity and would also provide hands-on experience and capacity in the building and running of networks.153 A coordinating entity also could have a national procurement role in negotiating bulk equipment and connectivity purchase agreements, acting as a sophisticated buyer, which would then be available to community institutions.154 There also could be a platform for interconnected networks to share resources and applications and provide training opportunities. Coordinating and building common resources and capacity in this manner at the national and state levels would lower the overall costs of building and running anchor institutional networks.