NCATS Advisory Council
According to its charter, the NCATS Advisory Council provides guidance, consults and makes recommendations to the secretary of Health and Human Services, the NIH director and to the NCATS director on Center initiatives, policies and programs. It also conducts a second-level review of scientific grant applications and discusses concept clearances for potential NCATS initiatives. 
Members
The NCATS Advisory Council is comprised of 18 appointed members who serve four-year terms. 
Meeting Information
The NCATS Advisory Council meets three times each year. View the schedule below for upcoming meetings, which are typically videocast; past meeting minutes, agendas and videocasts also are available.
2013
January 23
Open Session: 8:30 a.m. to 2:45 p.m.
Building 31, C Wing, 6th Floor, Conference Room 10
31 Center Drive
Bethesda, Md. 20892
Federal Register Notice • Agenda • Videocast
May 17
September 16
2014
January 16
May 16
September 19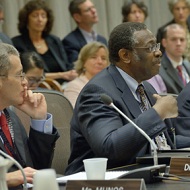 Sept. 14, 2012, marked the first-ever meetings of the NCATS Advisory Council and Cures Acceleration Network Review Board on the NIH campus in Bethesda, Md. Read more about this milestone event.