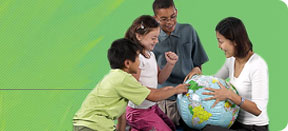 Building Blocks Know Kit and Character Cards
We're continuously looking for new ways to adapt Building Blocks products to work best for you in the classroom. These tools work for the whole class or for small groups. They can be used on bulletin boards or in individual projects. Be creative, and then tell us about your classroom successes.
Building Blocks Know Kit Cards (ages 3-4 or 5-6) (PDF) and Character Cards (PDF) provide children the opportunity to "bond" with the characters. The pictures, questions, and answers help children see the many ways that people may feel and react to different situations. They show that all of us have different qualities, different favorites, different fears—and all of these are valid. All of the cards offer children a nonthreatening way to open up and talk about themselves.
Please note—to view and print these materials, you must have Adobe's free Acrobat Reader software. If you do not already have this software installed on your computer, please download it from Adobe's Web site.
These 8.5 x 11 cards are the perfect classroom tool for small or large groups. Just print them out and you're ready to use them for group "picture reading" or "story starters." Place them on bulletin boards and have children use yarn to match the characters with their character traits. Have children pick a card and say why they would like to be that character's friend.
Note: You may want to print the cards out on cardstock to make them easier to use and handle, or you might laminate them to make them last even longer.