PEERx Partner Toolkit
Help us spread the word about PEERx! With the materials we've assembled in the Partner Toolkit, you do not have to be a professional marketer to get results. On this page, you'll find useful marketing tools, including statistics, a PowerPoint slide, Web badges, drop-in text for newsletters, and suggested posts for social media.
We welcome your questions, comments and suggestions. We also want to hear about your best practices. Contact us via peerx@iqsolutions.com.
Facts:
Drop-in Articles:
Powerpoint Slide:
This slide (PPT, 1.9MB)
can be inserted into presentations about prescription drug abuse resources for teens, educators, mentors and community leaders.
Web Badges:
The following badges may be used on your Web site to link to the following PEERx resources:
Activity Guide – 150x150 and 235x235
Choose Your Path – 150x133 and 235x235
PEERx – 150x150 and 235x235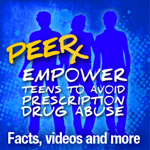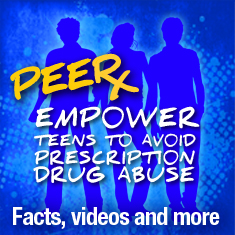 Social Media:
The following posts may be used on your organization's Twitter account and Facebook page, respectively.