Rescuing and Repurposing Drugs
Discoveries about the molecular basis of disease are providing unprecedented opportunities to translate research findings into new medicines. However, developing a brand-new drug takes an enormous amount of time, money and effort, mainly because of bottlenecks in the drug discovery process. These barriers mean that translation of a promising molecule into an approved drug often takes more than 13 years. Strategies to reduce this time frame, decrease costs and improve success rates are critically needed.
Drug rescue and repurposing are two such strategies. Drug "rescue" refers to research involving small molecules and biologics whose development was abandoned before they could be approved by the U.S. Food and Drug Administration (FDA). "Repurposing" refers to studying small molecules and biologics approved to treat a disease or condition to see if they are safe and effective for treating other diseases. (More about the need for drug rescue and repurposing)
Approved drugs and many abandoned compounds already have been tested in humans, so detailed information is available on their pharmacology, formulation, dosing and potential toxicity. Because rescue and repurposing build upon previous research and development efforts, new candidate therapies could be ready for clinical research trials quickly, hastening their review by the FDA and, if approved, their integration into health care.
Bringing Together the Key Players
In April 2011, NIH convened an NIH-Industry Roundtable that brought together senior leaders and experts from the pharmaceutical industry, government, academia and the nonprofit sector to explore opportunities to foster new partnerships that could facilitate drug rescue and repurposing. Participants identified several challenges to rescue and repurposing efforts.
Launching a Pilot Initiative
In May 2012, NIH launched a collaborative program that matches NIH-funded researchers with a selection of pharmaceutical molecular compounds to help scientists explore new treatments for patients. Administered by NCATS, the Discovering New Therapeutic Uses for Existing Molecules program aims to spur the drug development process by finding new uses for compounds that already have cleared several key steps in the development process, providing scientists with a strong head-start in this complex and time-consuming process.
Through this innovative collaboration, several pharmaceutical companies have agreed to make some of their high-quality compounds available for research. By making these resources broadly available, NIH and its partners aim to stimulate the development of therapies for diseases that still lack treatments.
NCATS Pharmaceutical Collection
Already, NCATS is enhancing repurposing activities to organize available data on drugs and investigational compounds through the NCATS Pharmaceutical Collection. This resource, published in the April 27, 2011, issue of Science Translational Medicine, is a publicly accessible database of small molecule compounds that have been approved by regulatory agencies from the United States, Canada, Europe and Japan as well as all compounds that have been registered for human clinical trials.
NCATS and Eli Lilly and Company recently agreed that NCATS' Pharmaceutical Collection of 3,800 approved and investigational medicines will be screened using Lilly's state-of-the-art Phenotypic Drug Discovery (PD2) panel. Comprehensive knowledge of the biological profiles of these medicines and molecules may enable biomedical researchers to better predict treatment outcomes, improve drug development, and lead to more specific and effective approaches.
Therapeutics Discovery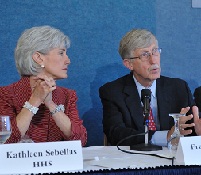 HHS Secretary Kathleen Sebelius and NIH Director Francis Collins talk with journalists at the National Press Club about the new NIH-NCATS Therapeutics Discovery initiative. (Ernie Branson Photo)