Traveling Exhibits
The National Archives is dedicated to providing access to the historic documents and artifacts that form the fabric of our national experience. To promote access to these records, the National Archives makes its holdings available to the public through its traveling exhibition program so citizens across the country can see these records first hand.
"What's Cooking, Uncle Sam?"
The Government's Effect on the American Diet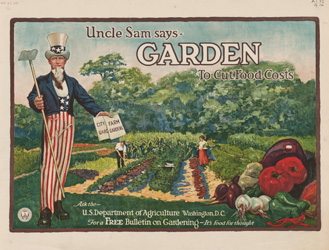 Food. We love it, fear it, and obsess about it.
We demand that our Government ensure that it is safe, cheap, and abundant. In response, the Government has been a factor in the production, regulation, research, innovation, and economics of our food supply. It has also attempted, with varying success, to change the eating habits of Americans. "What's Cooking, Uncle Sam?"explores these efforts through over 100 eclectic records spanning the Revolutionary War to the late 1900s.
From the farm to the dinner table, discover the records of the National Archives that trace the Government's effect on what Americans eat.
"What's Cooking, Uncle Sam?"is made possible in part by the Foundation for the National Archives with support from Mars, Incorporated and Mars Food.
Specifications and Requirements
Size: Approximately 3,000 square feet
Rental Fee: $75,000 for 3 months (includes shipping and installation)
Shipping: Included in the fee
Contact Us:
Christina Rudy Smith, Director of Exhibits: Chris.Smith@nara.gov, (202) 357-5264
Alice Kamps, Curator: Alice.Kamps@nara.gov, (202) 357-5484
Karen Hibbitt, Registrar: Karen.Hibbitt@nara.gov, (202)-357-5318
Previous Traveling Exhibits Itineraries