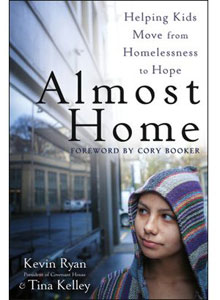 "Almost Home: Helping Kids Move From Homelessness to Hope"
by Kevin Ryan and Tina Kelley, with foreword by Cory Booker
The president of an international organization for homeless youth teams up with a New York Times reporter to tell the stories of young people who overcame homelessness. We think you'll want to recommend this book to people you know.
Four years and eleven stays at a shelter for homeless teens. That's how long it took for the teenaged Paulie to escape family abuse, drugs and homelessness and to follow his own path in kickboxing and restaurant work.
The ups and downs of Paulie's story will be no surprise to those who work with homeless youth day in and day out. But people unfamiliar with youth homelessness...