Standard Forms and Model Agreements
Request Forms
Confidential Disclosure Agreements (CDAs)
Cooperative Research and Development Agreements (CRADAs)
A CRADA is used when NIH and industry collaborate to further develop a technology for commercialization. There are three different versions of CRADAs:
Employee Invention Report (EIR)
Material Transfer Agreements (MTAs)
NCATS Wins Technology Transfer Award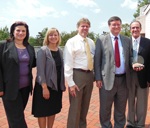 NCATS wins its first award for excellence in technology transfer for collaborative research project on a rare genetic disease of cholesterol storage. Read the full story.