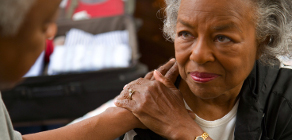 A new Cancer Facts & Figures for African Americans has been released, and it reveals some good news and some not-so-good news for cancer death rates and health equity. Carol DeSantis, MPH, tells us more.
Caring for your appearance during cancer treatment can help you feel better about yourself. We have tips and resources that can help you look and feel your best.
A new Society report shows that the decline in cancer mortality has reached 20%, translating to the avoidance of about 1.2 million deaths from cancer since 1991. That's more than 400 lives saved per day!