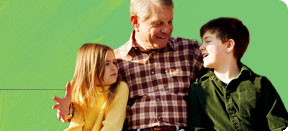 Family Game Time
Children learn best when they're ready for a new task, so be careful not to force young children to try games that are too complex for their stage of development. Even simple games can be challenging and fun. And, more challenging games can be adapted to make them simpler.
Board and Card Games
Age-appropriate board games. The stores are filled with traditional games for ages 3 and up that all of us remember and that the whole family can play, including:



Candy Land
Hi-Ho Cherry
Chutes and Ladders
Cranium
Cariboo
Trouble

Note: These, and others, are so common they can easily be found even more cheaply as used items online or at garage sales.

Age-appropriate card games. Card games are inexpensive and easy-to-use with even the youngest children. For example:



Battle helps children recognize numbers and identify matching cards.
Memory provides an opportunity for children to improve memory and spatial awareness and identify matches.
Go Fish and Old Maid are excellent games to help children follow rules and solve problems by looking for matching sets.
Crazy Eights and Slap Jack require quick response and eye-hand coordination.

Note: Although some of these games can be bought as special boxes of cards, all of them can be adapted to a regular deck of cards.
Word and Guessing Games
These games are great in the car or while waiting at the doctor's office or in a restaurant:
I Spy With My Little Eye is an excellent way to help children identify and differentiate between objects, colors, sizes, and shapes.


Find three things that… can be adapted to initial or final letter sounds (Find things that start with "b" or end with "t."), or it can be used to help children understand classification (Find things that travel or things made of wood.)


I'm going to __________ and I'm going to take a _____________.
For younger children, the object of the game is to remember what each person has said they will take with them in the order the items were said.
For older children, the objects can be alphabetized, so that each person not only remembers what everyone has said, but must think of items that start with the correct letter of the alphabet.


Play Categories. Each person takes turns naming an item that fits in a category, such as animals in the zoo, things that fly, or things that have wheels.
Online Games
Games for very young children are ever more available. You know your child is safe, the games are educational, and the information is correct if you look for government sites such as these for children.
SAMHSA: Building Blocks


Boogie Band Studio Game guides children to practice pattern recognition and increase memory.

The Great Weather Race is an excellent tool for listening comprehension.

Favorite Snacks Memory Game helps children match pictures and words, an important pre-reading skill.

I Feel Many Different Ways develops word recognition skills using picture clues.

Get to Know the Friends Match Game uses picture clues and word recognition to solve a simple matching puzzle.

The Recording Studio focuses on the progression of the keys and on improving direction, matching, and motor skills.

Moving in a Circle Game and Mee's Maze provide practice in direction and small motor skills, which are important pre-reading and writing skills.

Free E-Cards and E-Mail the Friends give children practice with reading, writing, and social skills in a real-world situation.

USDA: Life Stages for Kids


Eat Smart. Play Hard. For Kids. The kid-friendly site has games, printouts, and information that helps children and families learn to shop, eat, and exercise for good health.

U.S. Department of Health and Human Services


SmallStep Kids provides games and activities for healthy eating.