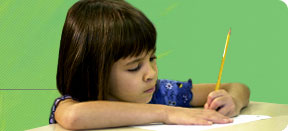 Modeling Good Eating
The U.S. Department of Agriculture (USDA) Dietary Guidelines for Americans (PDF) recommends that we eat more fruits and vegetables, choosing at least a cup of fruit a day and a variety of vegetables—dark, green, and leafy vegetables; orange vegetables; beans; and peas.
Purpose
To help students become healthy eating role models by identifying, classifying, and choosing a more healthful diet.
A Simple Look at Why We Need To Make Smart Choices

Fruits and Vegetables
Vitamin A from dark green and deep orange fruits and vegetables helps our eyes and skin. Fiber-rich fruits and vegetables make our bodies work better. Vitamin C helps repair tissue and fights disease and infections.
Calcium
Calcium helps make bones and teeth stronger and healthier and keeps muscles moving properly.
Whole Grains (Complex Carbohydrates)
Whole grains provide nutrients and fiber that are broken down during digestion and provide our bodies with energy.
Lean Protein
Lean protein is essential for our muscles to develop and our bodies to stay strong and healthy.
Materials
Bulletin board
Chart paper and markers
chalkboard
Smart Choices (PDF) printouts:
"Vary Your Veggies"
A group of vegetables, including dark, green, and leafy vegetables like spinach; orange veggies such as carrots; legumes like chickpeas; and starchy vegetables such as corn.

"Focus on Fruits"
A group of fruits, including orange fruits such as mango or apricot; citrus fruits and juices like orange or grapefruit; and berries such as blueberries and strawberries.

"Get Your Calcium"
For example, cheeses, milk (skim or low fat), yogurt, and soy milk.

"Make Your Grains Whole"
For example, cereals, multigrain breads, crackers, brown rice, and oatmeal.

"Eat Meat, Fish, Nuts, and Beans"
For example, poultry, fish, lean meats, soy, nuts, and seeds.

"Healthy Snacks"
Apple, crackers and cheese, banana, celery, popcorn, soup, orange, granola bar, cereal, peanut butter, oatmeal, milk, and juice.
Preparation
Print out the pictures in Smart Choices (PDF). Prepare a bulletin board chart with the days of the week down the side and the food group pictures (fruits, vegetables, calcium, grains, meat) across the top (see below). Then, set the "Healthy Snacks" picture aside.
Model Good Eating

Monday

Tuesday

Wednesday

Thursday

Friday

Procedure
Play the Healthy Snacks song for the class. Have the students listen carefully for the names of foods in the lyrics. As they name each one, point to the appropriate item in the "Healthy Snacks" picture: apple, crackers and cheese, banana, celery, popcorn, soup, orange, granola, peanut butter, oatmeal, milk, and juice.
Determine where each snack fits in the Smart Choice Food Groups. For example, "popcorn" fits under "Make Your Grains Whole" and "banana" fits under "Focus on Fruits." Have students discuss where "soup" might fit: "Vary Your Veggies" for vegetable soup or "Eat Meat, Fish, Nuts, and Beans" for chicken noodle.
Once you have classified all of the snacks, have students discuss where some of the things they have eaten today fit within the food groups.
Each day, have students talk about what they have eaten and where each item fits on the bulletin board. By placing checkmarks in the correct column for each child or writing down the names of foods, you soon will be able to help students analyze their classroom chart:
"Are we eating more grains than vegetables?"
"Are we getting our calcium so we can grow healthy bones and teeth?"
"How many different fruits are we eating?"
"Are we eating meats, nuts, and beans to get protein and grow up strong?"
"What do we need to add to our healthful diets?"
Optional Procedure: Share this bulletin board and the children's analysis at a teacher-parent meeting and distribute information to parents from the Resources section below.
Teaching Note: If you laminate copies of the "Smart Choices" pictures, students can use them in small groups for matching or classification games.
"Dietary Guidelines for Americans 2005" (PDF) from the USDA provides a guide for proper nutrition and exercise for all ages. Check out their key recommendations.
"Let's Try New Foods!" from the Wisconsin Nutrition Education Program is a short five-page parents' guide to help make good family nutrition easy and fun.
"Healthy Eating" from KidsHealth provides excellent tips for parents who want to help build healthy eating habits for the whole family.
Please note—to view documents in PDF format, you must have Adobe's free Acrobat Reader software. If you do not already have this software installed on your computer, please download it from Adobe's Web site.