Division of Transportation
Mission Statement

To provide and assist tribes to develop their capacity to plan, construct and maintain safe and efficient transportation networks; and to promote tribal tourism.
---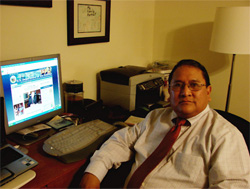 Mr. LeRoy Gishi, Chief, Division of Transportation
The Division of Transportation oversees the road maintenance and road construction programs for the Indian Reservation Roads in Indian Country. Transportation related activities are provided directly and through contracts, grants, and compacts to American Indian and Alaska Natives. Programs within Transportation include:
Operation and Maintenance of Bureau of Indian Affairs (BIA) roads;

Indian Reservation Roads (IRR) Program; and
Programs administered through the Federal Highway Administration which are specifically related to IIRs.
Operation and Maintenance
Under the operation and maintenance of BIA roads, transportation facilities located on Indian Reservations and within tribal communities. The roads maintenance program funds are administered at the BIA Region offices for the maintenance of roads identified as part of the BIA roads system. The BIA road system is part of the Indian Reservation Roads system. As public roads, BIA roads and bridges serve as major access for tribal communities through which services are provided or delivered to tribal members and the general public. As public roads, BIA roads are public corridors through which much of the services (educational, medical, commercial and recreation) are provided. In addition, Indian Reservation Roads also provide access to Indian communities, trust and fee lands. As a public authority, the BIA assumes the responsibility for the maintenance and improvement of BIA roads and bridges. The broad definition of BIA roads includes all transportation related facilities used in surface transportation (roads, bridges, ferry terminal, ferry boats, trails, boardwalks, primitive roads and administrative roads to BIA agency offices).
Road maintenance activities are delineated into the following functions:
1) Road maintenance;
2) Routine maintenance;
3) Bridge Maintenance;
4) Snow and Ice Removal;
5) Emergency Maintenance;
6) Ferry boat operation; and
7) Program management. Ferry boat operation is limited to a facility located in the Northwest Region in the state of Washington.
Road maintenance for the BIA is defined as the preservation of the roadway template and related structures in the as-built condition. It does not consider new construction, improvement or reconstruction as an eligible activity. It is the policy of the BIA Maintenance Program to preserve, repair, and restore the BIA system of roadways and transportation facilities in accordance with Federal, State, Tribal, and Local laws, as applicable. The BIA is mandated to maintain roads, and transportation facilities constructed with Highway Trust Funds.
Many of these roads are in failing to fair condition and are not built to any adequate design standard and have safety deficiencies. In FY 2007, approximately 4,100 miles or 15% were considered in acceptable condition based on the BIA Service Level Index condition assessment criteria. The remaining roads, 23,000 miles, were unacceptable. Many of these roads were never planned or designed for vehicular traffic, but are used exclusively as such today.
The number of miles currently identified as BIA roads is approximately 28,000 miles and 930 bridges. Included in this inventory are other appurtenances such as roadway signs, protective devices, guide posts, various drainage structures, fencing and one ferry boat system.
Indian Reservation Roads Program
The Indian Reservation Roads (IRR) Program addresses transportation needs of tribes by providing funds for planning, designing, construction, and maintenance activities for all public roads. The program is jointly administered by the Federal Highway Administration's Federals Lands Highway Office and the BIA, Division of Transportation, in accordance with an interagency agreement. The authorizing legislation is the highway authorization act (currently the Safe, Accountable, Flexible and Efficient Transportation Equity Act – A Legacy for Users (SAFETEA-LU)) and codified in Title 23 U.S.C. and 25 C.F.R. Part 170.
The Indian Reservation Roads are public roads which provide access to and within Indian reservations, Indian trust land, restricted Indian land, and Alaska native villages. Approximately 29,000 miles are under the jurisdiction of BIA and tribes and another 73,000 miles are under State and local ownership. The IRR program funds can be used for any type Title 23 transportation project providing access to or within Federal or Indian lands and may be used for the State/local matching share for apportioned Federal-aid Highway Funds
The BIA and Tribal governments undertake most of the design and construction of IRR projects. Under Public Law 93-638 contracts, Tribal governments can develop and operate portions of the IRR Program.
---
Additional Transportation Information
Federal Highways Administration (website)
Link will display in a new window, leaving the BIA.gov site.