NCATS Collaborative Project Wins Award for Excellence in Technology Transfer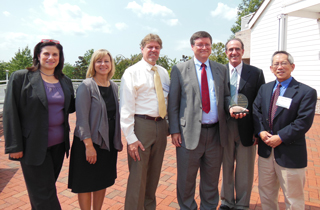 A collaborative research team, including nine experts from NCATS, was honored last month for its work on an investigational treatment for Niemann-Pick disease type C (NPC), a rare genetic disease of cholesterol storage that eventually leads to neurodegeneration. Comprising investigators from four NIH institutes and one pharmaceutical company, the team won the Excellence in Technology Transfer Award for its work with 2-hydroxypropyl-β-cyclodextrin (HPβCD) as a potential treatment for NPC ― a disease for which there are no Food and Drug Administration (FDA)-approved therapies.
It is the first award of its kind to NCATS, recognizing laboratory employees and their partners who have outstanding accomplishments in transferring federally developed technology to the marketplace. The Federal Laboratory Consortium for Technology Transfer (FLC) of the mid-Atlantic region presented the award to the investigators at a ceremony on Aug. 30, 2012, in Cambridge, Md.
Experts from NCATS, the Eunice Kennedy Shriver National Institute of Child Health and Human Development (NICHD), the National Cancer Institute (NCI), the National Human Genome Research Institute (NHGRI) and J&J Pharmaceutical Research & Development, LLC (J&J/Janssen) all participated in the research. Staff from NCATS' Therapeutics for Rare and Neglected Diseases (TRND) program and from the Office of Policy, Communications and Strategic Alliances included: Christopher P. Austin, M.D., John McKew, Ph.D., Elizabeth Ottinger, Ph.D., Lili Portilla, M.P.A., Juan Marugan, Ph.D., Wei Zheng, Ph.D., Nuria Carillo-Carrasco, M.D., Xin Xu, Ph.D., and Pramod Terse, Ph.D.
The research team selected HPβCD because studies in animal models have shown that it can reduce cholesterol and lipid storage in cells. By reducing this biochemical burden associated with NPC, the drug improves neurological pathology, decreases neurological dysfunction and increases lifespan.
Aiming for a Rare Disease Treatment
Sometimes, it can take a village to advance rare diseases research, particularly when aiming for a treatment. NIH understands that collaboration with industry, advocates and researchers is critical to moving the process forward.
This research project ― one of 14 organized by TRND and selected for the 2012 regional FLC award ― is a model for this kind of innovative partnership. Each partner played a critical role in the project. J&J/Janssen provided the proprietary formulation of HPβCD and access to the FDA drug master file to NICHD and NCATS. NICHD's Forbes Porter, M.D., Ph.D., is the project's team leader and directed the research effort. NCATS' McKew selected this TRND pilot project, and TRND project manager Ottinger coordinated efforts among the collaborators. J&J/Janssen's Mark Kao, Ph.D., is participating in the pre-clinical research and biochemical analysis in support of the clinical study. NCI's technology transfer specialist Alan Hubbs, Ph.D., and Portilla, acting director of the NCATS Office of Policy, Communications and Strategic Alliances, drafted and negotiated the associated agreements. TRND staff clinician Carillo-Carrasco developed the protocol and will facilitate coordination among the NIH Clinical Center and other NIH institutes. Several academic institutions are performing the pre-clinical research, and a clinical trial agreement is in negotiation.
"Joint efforts by the NCATS and NICHD technology transfer team in developing and executing a collaborative agreement helped facilitate the quick accumulation of the pre-clinical results that we needed for the Investigational New Drug application to the FDA," said NCATS Director Christopher P. Austin, M.D. "This agreement makes it possible for us to efficiently redistribute HPβCD to participating academic laboratories so that critical experiments can get under way."
Now, the team is one step closer to moving HPβCD forward as a potential treatment for NPC.
Innovation to Accelerate Research
Accelerating the research process is a primary focus of NCATS. The Center strives to create innovative methods and technologies to enhance the development, testing and implementation of diagnostics and therapeutics across a wide range of diseases. One of the ways the Center does this is by providing its research partners with the tools and expertise they need to advance their research faster and more efficiently.
The NCATS Strategic Alliances branch aims to make it easy for industry and academia to partner with NCATS laboratories and scientists, providing a complete array of services to support technology development and partnership activities. These services include negotiating standard forms and model agreements between NCATS and outside parties. These template agreements can help investigators with:
The exchange of research materials under material transfer agreements.
Collaborative research conducted under cooperative research and development agreements.
Clinical studies to determine the safety and efficacy of new agents under clinical trial agreements.
The exchange of confidential information under confidential disclosure agreements.
Staff in the NCATS Strategic Alliances branch also assist in reviewing employee invention reports, making recommendations to NIH's Office of Technology Transfer regarding patent applications and licensing NCATS technologies. For questions about technology transfer and partnerships, e-mail the NCATS Strategic Alliances branch or call 301-217-4679.
Posted September 2012