Tissue Chip Funding Information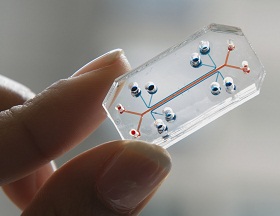 In September of 2011, NIH launched a five-year collaboration with the Defense Advanced Research Projects Agency (DARPA) and the U.S. Food and Drug Administration to develop 3-D human tissue chips containing bio-engineered tissue models that mimic human physiology. The aim is to use these chips to better predict the safety and effectiveness of candidate drugs.
The NIH's Tissue Chip for Drug Screening initiative marks the first interagency collaboration launched by NCATS. NIH's Common Fund and National Institute of Neurological Disorders and Stroke initially led trans-NIH efforts* to establish the program. NIH plans to commit up to $70 million over five years for the program, subject to funding availability.
2012 Awards
In fiscal year 2012, NIH awarded 11 two-year projects to support studies to develop 3-D cellular microsystems that represent a number of human organ systems. It also awarded eight two-year projects that will explore the potential of stem and progenitor cells to differentiate into multiple cell types that represent the cellular architecture within organ systems. 
After two years, these studies will be evaluated. Those meeting milestones will be expanded for a second phase, three-year award to integrate these models at the organ or systems level with DARPA- and NIH-funded investigators.
View the 2012 Tissue Chip Project Awards for details about each project. NCATS contributed about $9 million for these awards in fiscal year 2012. In addition, the NIH Common Fund provided about $4 million.
Funding Announcements
For details about these now-closed funding announcements, reference the following links:
RFA-RM-11-022: Integrated Microphysiological Systems for Drug Efficacy and Toxicity Testing in Human Health and Disease (UH2/UH3)
RFA-RM-12-001: Stem/Progenitor Cell-Derived Human Micro-organs and -tissues (U18)
Related Links
*NCATS acknowledges the following NIH Institutes and Centers for their contribution to this trans-NIH program: National Cancer Institute; National Eye Institute; National Heart, Lung, and Blood Institute; National Institute of Allergy and Infectious Diseases; National Institute of Arthritis and Musculoskeletal and Skin Diseases; National Institute of Biomedical Imaging and Bioengineering; Eunice Kennedy Shriver National Institute Child Health and Human Development; National Institute of Dental and Craniofacial Research; National Institute of Diabetes and Digestive and Kidney Diseases; National Institute of Drug Abuse; National Institute of Environmental Health Sciences; National Institute of General Medical Sciences; National Institute of Neurological Disorders and Stroke; and National Institute of Nursing Research.
Contact
For More Information