The OIG Hotline receives, screens, and refers OIG mission-related complaints within VA. Cases are accepted on a select basis regarding issues having the most potential risk to veterans, VA programs and operations, or for which the OIG may be the only avenue of redress.
Examples of Issues Often Accepted
VA-related criminal activity
Systemic patient safety issues
Gross mismanagement of VA programs
Waste of VA resources
Misconduct by senior VA officials
Visit our Assignment of Hotline Cases and Results Page for additional information on the organizations that review Hotline cases and their results.
Examples of Issues Not Accepted
Routine healthcare disputes or claims decisions
Issues that are addressable in another legal or administrative forum
Issues that are covered in an existing or recent case
Visit our Frequently-Asked Question page for additional information about the types of complaints that the Hotline does not accept.
Download the Hotline Poster!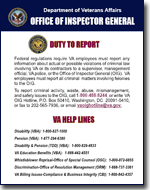 The VA OIG Hotline Poster makes a great addition to employee bulletin boards. Download and print this poster for use in your office today!