Notes
New National Cancer Advisory Board Members Named
Last week, President Barack Obama announced his intent to appoint the following individuals to the National Cancer Advisory Board (NCAB):
Dr. David Christiani, Elkan Blout Professor of Environmental Genetics, Harvard School of Public Health
Dr. Judy E. Garber, director of the Center for Cancer Genetics and Prevention, Dana-Farber Cancer Institute
Dr. Liz Jaffee, co-director of the Gastrointestinal Cancers Program, Sidney Kimmel Comprehensive Cancer Center
Dr. Beth Karlan, Board of Governors' endowed chair in Gynecologic Oncology, Cedars-Sinai Medical Center
Dr. Mack Roach III, professor of Radiation Oncology and Urology, University of California, San Francisco
Dr. Charles Sawyers, chair of the Human Oncology and Pathogenesis Program, Memorial Sloan-Kettering Cancer Center
The NCAB is an 18-member advisory body that meets quarterly and advises the Department of Health and Human Services secretary and the NCI director on NCI activities.
NCI Recognizes 12 Clinical Investigators with Leadership Awards
NCI has announced the recipients of this year's Cancer Clinical Investigator Team Leadership Awards. These awards recognize 12 highly exceptional clinical investigators for their contributions to the advancement of clinical research through collaborative team science:
Dr. Lyudmila Bazhenova, UC San Diego Moores Cancer Center
Dr. Lisa Bomgaars, Dan L. Duncan Cancer Center
Dr. Alberto Broniscer, St. Jude Children's Research Hospital
Dr. Daniel DeAngelo, Dana-Farber Cancer Institute        
Dr. Konstantin Dragnev, Dartmouth-Hitchcock Norris Cotton Cancer Center
Dr. Shirish Gadgeel, Barbara Ann Karmanos Cancer Institute
Dr. Shannon Puhalla, University of Pittsburgh Cancer Institute
Dr. Bart Scott, Fred Hutchinson Cancer Research Center
Dr. B. Douglas Smith, Sidney Kimmel Comprehensive Cancer Center
Dr. Jonathan Strosberg, H. Lee Moffitt Cancer Center & Research Institute
Dr. Antoinette Tan, Cancer Institute of New Jersey
Dr. Jason Zell, Chao Family Comprehensive Cancer Center        
Designed for mid-level clinical investigators, these 2-year awards provide recognition and up to $50,000 in funding for those who lead cancer research programs and clinical trials at NCI-designated cancer centers. The funding is provided to the recipient's institution and is applied toward the investigator's salary, fringe benefits, and associated facilities and administrative costs. Recipients are expected to devote 10 to 15 percent of their time to the activities associated with the award.
The awardees are all actively engaged in NCI-funded collaborative clinical trials and collaborate freely across disciplines, institutions, and programs to advance the design and conduct of cancer clinical trials. The clinical researchers also serve as mentors and academic role models for trainees and junior faculty interested in clinical research and clinical trials.
This annual award opportunity, now in its fourth year, is the result of the recommendations of NCI's Clinical Trials Working Group (CTWG). The working group was established to advise the institute on methods to improve and enhance publicly funded cancer clinical trials.
Learn more about how NCI is restructuring the national cancer clinical trials enterprise online.
National Cancer Advisory Board Discusses NCI Funding Patterns, Program Updates
On November 28 and 29, the National Cancer Advisory Board (NCAB) met on the NIH main campus in Bethesda, MD.
NCI Director Dr. Harold Varmus opened the meeting with several updates, including the search for new leaders for the Division of Cancer Epidemiology and Genetics (DCEG), Center for Cancer Genomics, Center for Bioinformatics and Information Technology, and Center for Cancer Research's Medical Oncology Branch. He also spoke at some length about funding patterns, noting that about 15 percent of R01 applications and 10 percent of R21 applications were funded in 2012 and that the rate for renewals was about twice as high.
Dr. Varmus concluded his remarks with brief updates on several items, including the Recalcitrant Cancer Research Act of 2012, Provocative Questions Project, and the future of The Cancer Genome Atlas.
NCI Deputy Director Dr. Douglas Lowy then spoke about the need to increase human papillomavirus vaccination rates to prevent cervical cancer in the United States and elsewhere. He mentioned the Lasker Foundation's cervical cancer initiative and noted that Mexico will now offer the vaccine to all fifth-grade girls. "What governments decide to do could have immense impact," he said.
Dr. James Doroshow, director of NCI's Division of Cancer Treatment and Diagnosis, gave a brief update on the changes to the cooperative group program, noting that applications for the National Clinical Trials Network are due in mid-January. He also explained a new initiative on molecular identification that will take data from targeted drug trials in which fewer than 10 percent of patients had a response and try to identify why those patients responded.
The board also heard updates on DCEG, the Pancreatic Cancer Working Group, Frederick National Laboratory for Cancer Research, the Division of Cancer Prevention, and the NCI Community Oncology Research Program, a new program that will combine NCI's three community-based research networks.
The agenda and an archived videocast of the proceedings are available online. Videocasts of past meetings are available here.
NCI FY2013 Budget Proposal Published Online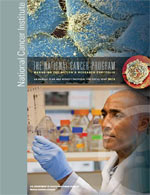 NCI recently released The National Cancer Program: Managing the Nation's Research Portfolio, a request for support for fiscal year 2013.
This report, which constitutes NCI's annual plan and budget proposal for current and future cancer programs, is presented directly to the president and Congress. The document summarizes many of the contributions that NCI has made to cancer research and their practical consequences.
This year's report also describes some of NCI's broad research programs that address a wide range of cancers and their underlying biological properties, and it discusses five specific types of cancer that exemplify the various strategies to address the different diseases and the progress being made.
NCI E-Books Available on Mobile Website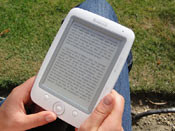 E-book versions of many popular NCI patient education publications are now available on NCI's mobile website, m.cancer.gov, making it easier to download and read them on a smartphone, tablet, or e-reader.
On your device, go to the E-Book  Library to see a list of currently available e-books.
Click the title of an e-book. The next page will have two links for that title: one for Kindle and one for other e-readers (Nook, Sony e-Reader, Kobo, etc.).
Click the format that will work with your device, or click a reader app on your smartphone or tablet to download and open the file.
New e-books are being added frequently, so check NCI's e-book page often.
Annual Report on NCI Disparities Research Released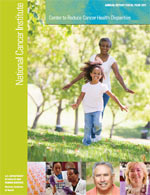 NCI's Center to Reduce Cancer Health Disparities (CRCHD) has just released its Annual Report for Fiscal Year 2011. The new report describes the impact of CRCHD's efforts to enhance the understanding of the biological and nonbiological causes of cancer health disparities, increase the diversity of the cancer research workforce, and reduce the unequal burden of cancer that still exists in this country.
The report also outlines CRCHD's fiscal year 2011 programs, and selected projects, investigators, and partnerships that represent the variety of research addressing different cancers, training, and community outreach efforts supported by NCI/CRCHD grant mechanisms.
The investigators, projects, and partnerships profiled in the report illustrate the range of efforts and significant strides being made to address the goal of eliminating disparities.