Notes
Biospecimens from SELECT and PCPT Now Available
The Southwest Oncology Group (SWOG) is now making resources from the Selenium and Vitamin E Cancer Prevention Trial (SELECT) available to the wider research community.
SELECT is the largest prostate cancer prevention trial ever undertaken. Funded by NCI and conducted by SWOG, a national clinical trials research network, the study opened in August 2001 and quickly exceeded its accrual goal of 35,533 men. In the fall of 2008, the trial's Data Safety and Monitoring Committee recommended that participants discontinue taking study supplements based on an interim finding of no preventive benefit.

The rich and growing biorepository from SELECT study participants includes baseline toenail clippings and baseline and post-baseline plasma, buffy coat, red blood cells, and whole blood. These samples are linked with nutritional data, adherence cohort data, and a vast clinical database from semiannual visits with each participant. The biorepository also holds prostate biopsies and surgical specimens collected from a subset of the more than 2,100 men who were diagnosed with prostate cancer during the course of the trial. DNA has been extracted and aliquotted from the serum of these prostate cancer patients and from an age- and race-matched cohort of controls.

Information and application materials for use of biorepository materials from SELECT as well as the Prostate Cancer Prevention Trial (PCPT), which randomized more than 18,800 men to receive either finasteride or a placebo for prostate cancer prevention, are now available on the SWOG Web site.
Researchers who are interested in using samples from SELECT or PCPT must submit a letter of intent to SWOG by Monday, November 29, 2010.  Full applications will be due on Monday, January 10, 2011.  
Fraumeni Recognized for Achievements by American Cancer Society, American Italian Cancer Foundation
The American Cancer Society awarded the Medal of Honor to three cancer scientists on November 5 at the Society's annual meeting in Atlanta. Dr. Joseph F. Fraumeni, Jr., the director of NCI's Division of Cancer Epidemiology and Genetics (DCEG), received the Medal of Honor for Cancer Control. Other awardees included Dr. Patricia Ganz, University of California, Los Angeles, for achievements in clinical research and Dr. Jeffrey Pollard, Albert Einstein Cancer Center, for discoveries in basic research. The medal is the Society's highest honor for outstanding contributions "to the fight for a world with less cancer and more birthdays."
Dr. Fraumeni was also awarded the American Italian Cancer Foundation's Alexander Bodini Foundation Prize for Scientific Excellence in Medicine. Dr. Fraumeni and fellow award recipient Dr. Mina J. Bissell, of the Lawrence Berkeley National Laboratory, received their awards at the Foundation's 30th anniversary celebration in New York City on November 8.
Dr. Fraumeni is one of the world's premier epidemiologists, specializing in research into the genetic and environmental determinants of cancer. He is best known as co-discoverer of the familial cancer syndrome named after him and his colleague Dr. Frederick P. Li (see the related article in this issue) and for a series of cancer mortality atlases that revealed distinctive patterns of cancer at the U.S. county level, enabling the detection of carcinogenic exposures in high-risk populations. These findings have resulted in the development of public health measures and policies aimed at cancer prevention and control. Dr. Fraumeni is an elected member of the National Academy of Sciences, the Institute of Medicine, and the Association of American Physicians.
NCI Recognizes Clinical Investigators with Team Leadership Award
NCI has announced the recipients of its Cancer Clinical Investigator Team Leadership Award for 2010, recognizing exceptional contributions to the advancement of new therapies through collaborative team science:
Dr. Rafat Abonour, Indiana University Melvin and Bren Simon Cancer Center
Dr. Jeffrey Bradley, Siteman Cancer Center
Dr. Steven Cohen, Fox Chase Cancer Center
Dr. Linda Duska, University of Virginia Cancer Center
Dr. Naomi Haas, Abramson Cancer Center
Dr. Elisabeth Heath, The Barbara Ann Karmanos Cancer Institute
Dr. Susan Kelly, The University of Texas M. D. Anderson Cancer Center
Dr. Smitha Krishnamurthi, Case Comprehensive Cancer Center
Dr. Suresh Ramalingam, Winship Cancer Institute
Dr. David Rizzieri, Duke Comprehensive Cancer Center
Dr. Cheryl Saenz, Moores Cancer Center
Dr. Sheri Spunt, St. Jude Children's Research Hospital
Designed for midlevel clinical investigators, the 2-year awards provide recognition and $50,000 in funding for those who lead cancer research programs and clinical trials at NCI-designated Cancer Centers. The funding is provided to the recipient's institution and can be applied toward the investigator's salary, fringe benefits, and associated facilities and administrative costs. Recipients are expected to devote 10 to 15 percent of their time to the activities associated with the award.
The awards are the result of one of the recommendations of NCI's Clinical Trials Working Group (CTWG), which was established to advise the Institute on methods to improve and enhance the publicly funded clinical trials enterprise. The broad clinical trials community, including the Clinical Trials and Translational Research Advisory Committee, provided input into the award's development.
"NCI is pleased to be able to recognize these key clinical investigators without whom we couldn't conduct clinical trials," said Dr. Sheila Prindiville, director of NCI's Coordinating Center for Clinical Trials, the office that oversees implementation of the CTWG's recommendations. "These recipients have exceptional leadership skills in cancer clinical trial activities and have demonstrated a commitment to conducting cancer clinical trials that promise to advance care for patients."
The awards, available to investigators at all NCI-designated Cancer Centers that participate in NCI-funded collaborative clinical trials, ultimately support a shared culture in which investigators collaborate freely across disciplines, institutions, and programs to most expeditiously advance the design and conduct of cancer clinical trials.
Learn more about how NCI is restructuring the national cancer clinical trials enterprise online.
New Brochure on Biospecimens Available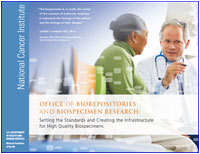 NCI's Office of Biorepositories and Biospecimen Research (OBBR) issued OBBR: Setting the Standards and Creating the Infrastructure for High Quality Biospecimens, a brochure detailing the critical role of biospecimens in cancer research, OBBR's role in setting standards to ensure high-quality biospecimens, and the benefits of a national, centralized biospecimens resource to address the current shortage of high-quality biospecimens necessary to advance medicine.
The brochure features the following topics:
The Impact of Biospecimens
The Link Between Biospecimens and Personalized Medicine
Setting Biospecimen Priorities
OBBR's Stepwise Approach
The OBBR was established in 2005 in recognition of the critical role that biospecimens play in cancer research. The office is responsible for developing a common biorepository infrastructure that promotes resource sharing and team science to facilitate multi-institutional, high-throughput genomic and proteomic studies.
Read OBBR: Setting the Standards and Creating the Infrastructure for High Quality Biospecimens online.
New Issue of Cancer Health Disparities Newsletter Released
The latest issue of the NCI Center to Reduce Cancer Health Disparities (CRCHD) newsletter is now available online. The newest issue of the CRCHD E-Bulletin features information about the recent Geographical Management Program (GMaP) summit held in Miami, FL, as well as the Center's participation in the 17th Annual Black America's Dialogue on Health Conference.
In addition to information about research, training, and funding opportunities, the issue also highlights recent accomplishments of the Center's award-winning programs, such as the Patient Navigation Research Program (PNRP).
Get more information about CRCHD and begin your free subscription to the E-Bulletin online.
NCI Exhibit Booth Wins APHA Award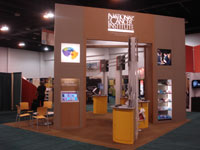 The NCI exhibit booth was awarded first place for outstanding exhibit design, customer service, and resources in a nonprofit category at the American Public Health Association's 138th Public Health Expo, held November 7–10 in Denver, CO.
NCI was one of more than 700 exhibitors at this annual meeting, which was attended by approximately 13,000 health care professionals, including national and international physicians, administrators, nurses, educators, researchers, epidemiologists, and others.
Many of the free NCI publications and resources that were available at the exhibit booth can be accessed through the NCI Publications Locator. The locator allows users to print out their selections or order copies that can be mailed to them or others in need of reliable cancer information.