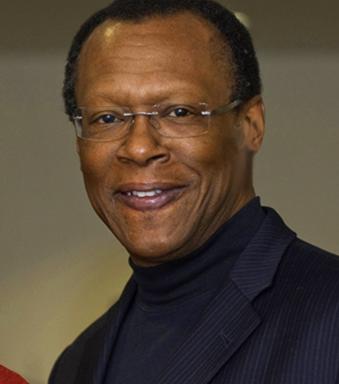 Stephen B. Thomas, PhD, is professor of Health Services Administration in the School of Public Health University of Maryland, College Park and founding Director of the Maryland Center for Health Equity. One of the nation's leading scholars in the effort to eliminate racial and ethnic health disparities, Dr. Thomas has applied his expertise to address a variety of conditions from which minorities generally face far poorer health outcomes, including cardiovascular disease, diabetes, obesity and HIV/AIDS. He is principal investigator of the Research Center of Excellence on Minority Health Disparities, funded by the NIH-National Institute on Minority Health and Health Disparities. He is also principal investigator, with Dr. Sandra Quinn, of the NIH National Bioethics Infrastructure Initiative: Building Trust Between Minorities and Researchers, awarded in 2009.
Dr. Thomas has been recognized at the national level for his professional accomplishments, receiving the 2005 David Satcher Award from the Directors of Health Promotion and Education for his leadership in reducing health disparities through the improvement of health promotion and health education programs at the state and local levels and the 2004 Alonzo Smyth Yerby Award from the Harvard School of Public Health for his work with people suffering the health effects of poverty. In 1998, he received the K-01 NIH Mentored Research Science Award in Applied Research Ethics to explore strategies for overcoming the legacy on Tuskegee on willingness of African Americans to participate in medical and public health research. Over the years, his work is recognized as one of the scholarly contributions leading to the 1997 "Presidential Apology to Survivors of the Syphilis Study Done at Tuskegee".
Dr. Thomas has served on numerous national committees, including, but not limited to, the NIH State of the Science Committee on Tobacco Cessation, Prevention and Control; the National Research Council committee on Assessing Fitness for Military Enlistment: Physical, Medical and Mental Health Standards; the Institute of Medicine Committee on Reducing the Odds: Preventing Perinatal Transmission of HIV and the Centers for Disease Control and Prevention's Agency Wide Research Agenda Collaborative. Dr. Thomas serves on the advisory board for the Mayo Clinic's Cancer Center and Mayo's Center for Translational Science Activities. He is a training site director for the Kellogg Health Scholars Post-Doctoral Program at the Center for the Advancement of Health. His work has been published in leading peer reviewed journals such as the Journal of the American Public Health Association, Social Science and Medicine, Health Promotion Practice and Archives of Internal Medicine.
After completing his undergraduate degree in school health education at The Ohio State University, Dr. Thomas went on to earn his master's degree in health education at Illinois State University and later earned his doctorate in community health education from Southern Illinois University in Carbondale. He has held tenured faculty positions at Emory University's Rollins School of Public Health in Atlanta and the University of Pittsburgh Graduate School of Public Health where he was also the Inaugural Philip Hallen Professor of Community Health and Social Justice. For more information on the University of Maryland Center for Health Equity please visit www.newsdesk.umd.edu/scitech/release.cfm?ArticleID=2154
Sandra Crouse Quinn, PhD, is the Associate Dean for Public Health Initiatives, Professor in the Department of Family Science, and Senior Associate Director of the Center for Health Equity at the School of Public Health, University of Maryland at College Park. She is the Principal Investigator on Building Trust between Minorities and Researchers: A Bioethics Research Infrastructure Initiative funded by the National Institute for Minority Health and Health Disparities (NIMHD), NIH and co-Principal Investigator on the Research Center of Excellence in Minority Health Disparities, also funded by NIMHD. Her research interests include engagement of minority and marginalized communities in research; community advisory boards; and risk communication in emergencies and disasters, with a particular focus on the implications for minority communities.