Telemedicine integrates powerful telecommunications technology into health care research and delivery to allow medical professionals to communicate and collaborate from distant locations. The technology enables clinical researchers to communicate while simultaneously viewing and manipulating patient information such as medical images and pathology samples. Using telemedicine, experts on opposite sides of the world can share their knowledge to accelerate research discovery as well as to advise on difficult cases.
Researchers at the National Cancer Institute (NCI) have collaborated with the National Institutes of Health's Center for Information Technology (CIT) to develop TELESYNERGY®, a telemedicine system capable of transmitting diagnostic-quality radiology and pathology images. The TELESYNERGY Medical Consultation WorkStation allows numerous collaborators at separate geographic sites to interact as if they were in the same room, viewing the same medical images. By making the knowledge and experience of oncology experts accessible regardless of where in the world those experts are, TELESYNERGY has the potential to dramatically accelerate cancer research and improve cancer care by facilitating unique collaborations and connections.

The system is equipped with software – largely custom-developed by staff of the CIT Telemedicine and Applied Imaging Section – to allow simultaneous display of high-resolution medical images. The original version of the TELESYNERGY Medical Workstation includes microscopes and video cameras that can be operated remotely, allowing participants to manipulate biopsy samples from any site, with the results of that manipulation being instantly transmitted to other locations. For example, an exam camera allows high-resolution views of dermatological lesions, skin coloration, and other physical signs during a patient examination. CIT continues to develop the TELESYNERGY System in accordance with the needs of other NIH Institutes and the NIH Clinical Center.
Because it can eliminate geographical barriers, telemedicine has the power to reduce health disparities by bringing highly expert care to underserved populations. NCI is utilizing TELESYNERGY as a key component in its Cancer Disparities Research Partnership program. This program supports radiation oncology clinical trials in institutions that care for disproportionate numbers of medically underserved, low-income, ethnic, and minority populations. The program pairs these institutions with more experienced researchers and clinicians, and relies on the TELESYNERGY system to facilitate communication and consultation between partner institutions.
In addition to two TELESYNERGY systems at the NIH, and 16 other sites in the U.S., TELESYNERGY has also been installed or is under construction at four sites internationally, in Northern Ireland (U.K.), the Republic of Ireland, Jordan, and Belgium (see BenchMarks Photos/Stills page). In early 2003, the system in Belfast, Northern Ireland, U.K., was used for the first time to consult with experts at NCI-US, allowing a trans-Atlantic collaboration to develop the best treatment plan for a patient with a rare form of leukemia.
To learn more about TELESYNERGY and its potential applications in cancer and other areas of medicine, BenchMarks interviewed Frank Govern, Ph.D., head of Oncology Outreach for the Radiation Research Program of NCI's Division of Cancer Treatment and Diagnosis and deputy director of NCI's Radiation Oncology Sciences Program; Kenneth Kempner, chief of the Telemedicine and Applied Imaging Section of CIT's Division of Computational Bioscience; and Robert Martino, Ph.D., director of CIT's Division of Computational Bioscience. The following is an edited transcript of that interview.
Do you see TELESYNERGY more as a tool for research or clinical care?
Mr. Kempner: Actually, the TELESYNERGY environment can both facilitate research protocols and have a positive impact on clinical care. The system allows medical and research professionals to communicate and collaborate with their colleagues at cooperating institutions. Physicians, research nurses, radiation therapists, medical physicists, and other specialists can use the system to collaborate on difficult cases, participate in staff meetings, and participate in training sessions.
There is essentially no end to the potential uses for this system within the medical infrastructure. The Holy Cross Hospital in Fort Lauderdale, Florida, for example, found that the TELESYNERGY system could be extremely valuable as an audiovisual system for presenting images of clinical information at twice weekly tumor boards, even when not connected to other sites. In fact, the TELESYNERGY paradigm can also be used in other technical fields that require the presentation of large amounts of high-resolution imagery.
How long has the system been in use?
Dr. Govern: The system has been in developmental stages for many years, but was first demonstrated to the public in Belfast, Northern Ireland, in October 1999 at the first NCI/All-Ireland Cancer Conference. It has been in increasing use and deployment for the last four years, with increasing rollouts planned over the next year of TELESYNERGY Version 3 – a less costly, more compact, but still diagnostic-quality system.
How has the system been used so far?
Dr. Govern: The systems in use have been used in a variety of ways. These include: discussions with physicians treating patients with rare cases, determination of patient eligibility for clinical trials, participation in multi-modality cancer clinics, discussions of unique cancer cases and treatment alternatives, distance education of various types, radiation oncology quality assurance activity through review of treatment planning, residency program education and organization meetings, research journal clubs, mentoring discussions between inexperienced cancer researchers with experienced ones, genetic counseling, and so on.
How does TELESYNERGY compare to other telemedicine systems?
Dr. Govern: Historically, applications such as teleradiology, telepathology, and telepsychology have themselves been called telemedicine. We believe that fragmenting telemedicine into separate medical disciplines gives a false sense of thoroughness, and that this will ultimately limit the expansion of telemedicine.
As an example, abnormalities on a patient's X-ray films can be seen through teleradiology. However, if this is the only facet shared, other important aspects of the patient's health and well-being may be missed, thereby providing a distorted view of the patient's overall health status and an inaccurate diagnosis and treatment decision.
TELESYNERGY integrates the major subsets of telemedicine into a comprehensive environment to enable the most meaningful research, the best diagnosis of the patient, and the most appropriate clinical care.
How will telemedicine affect health care costs?
Dr. Govern: Telemedicine can reduce time and lodging expenses usually required for travel for both professionals and patients participating in clinical trials. Since all involved in the care of the patient can stay within their communities, the system reduces time away from the workplace and thus reduces the usual lost wages and productivity for everyone involved, including the patient.
Screening and consulting via telemedicine would also reduce the cost of unnecessary diagnostic tests and treatments, ultimately improving care and outcomes for patients in their battle against cancer.
TELESYNERGY is an enabling technology, but we are also conducting a research project to study improvements to cancer research and care through its use. NCI's Radiation Research Program is creating an online analytical database to formally collect specific examples and related data that quantify the cost savings, utilization, and value of TELESYNERGY Version 3. After each session, participants visit the Cancer Disparities Research Partnerships Web site and complete a questionnaire. We are able to analyze usage of the system as well as the opinions of the professionals and patients who participate in each session.
What kind of maintenance and training are required for users at TELESYNERGY sites?
Dr. Govern: It has been developed to the point where it is almost a plug-and-play system. However, due to the sophistication of the system, we request a day of training for all professionals involved in its use. We also request the identification and involvement of one individual at each site who is more intimately trained on all aspects of the system. This function usually only requires a few hours a week. In the event that this person cannot resolve an issue onsite, we have the ability to troubleshoot using videoconferencing through the TELESYNERGY system.
Do you see the system moving into use for other areas of medicine?
Dr. Govern:Potential additional areas of application of the TELESYNERGY system include clinical and research efforts in radiology, general medicine, family practice, obstetrics and gynecology, cardiology, nuclear medicine, radiology, otolaryngology, ophthalmology, dermatology, urology, cytogenetics, and pathology.
Mr. Kempner: The TELESYNERGY system, as installed in any of our collaborating sites, does not contain any features that are restricted to radiation oncology or any other cancer-related subspecialty. A collaborator at one site could add a software package specific for radiation treatment planning, for example, and we will support its addition and provide for compatibility with other existing software.
Likewise, we can assist in adding software suitable for 12-lead electrocardiogram transmission and display, if requested by the National Heart, Lung, and Blood Institute, for instance. The system has also been shown to be able to transmit real-time images from retinal cameras. The list of medical specialties that can capitalize on the TELESYNERGY system is endless and encompasses virtually every medical specialty.
What kinds of patients are likely to benefit most from telemedicine?
Dr. Govern: Telemedicine is particularly applicable to cancer care and research in rural or semi-rural areas of the country because it allows the pooling of regional, national, and even international expertise. By removing the constraints of time and distance, it also significantly improves direct collaboration in cancer care and cancer research for those professionals and patients who would normally not have the opportunity. It is a large burden for any sick patient to physically travel to health care or research facilities, some hundreds of miles away. It would add greatly to any patient's psychological and physical comfort to remain within the support structure of their community and still receive the value of expert opinions and the possibility of clinical trial participation. Telemedicine allows this to occur.
How will TELESYNERGY be incorporated into clinical trials?
Dr. Govern: The system allows remote interaction, consultation, and education between geographically distributed medical specialists of all types. Thus, NCI-sponsored research trials can and are being conducted "beyond the campus" of NCI and our nations' comprehensive cancer centers. These studies and subsequent treatment developments and improvements will be applied in community hospital settings throughout the country as soon as possible.
How is TELESYNERGY facilitating international cooperation?
Dr. Martino: In October 2002, the medical staff of Belfast City Hospital was able to utilize its TELESYNERGY system to enlist aid from the NCI staff in the diagnosis and treatment-planning for a patient with a rare form of cancer, never before seen at this Northern Ireland facility. Other such examples should soon follow, as the TELESYNERGY environment becomes routinely used by those participating in the NCI/All-Ireland Cancer Consortium. We are installing additional TELESYNERGY systems in the Republic of Ireland and Northern Ireland.
Also, the King Hussein Cancer Center in Amman, Jordan, is collaborating with NCI in an international program to improve cancer diagnosis and treatment in Jordan. The original TELESYNERGY system is being installed at this facility, providing a link to the NCI facilities in Bethesda as well as other TELESYNERGY sites. Medical staff at the King Hussein Cancer Center will establish medical collaborations on an as-needed basis in the treatment of cancers common among the Jordanian population, including lung, bladder and colorectal cancer in men, breast and colorectal cancer in women, and leukemia in children.
Dr. Govern: TELESYNERGY can foster collaborative activities among the NCI, the European Organization for Research and Treatment of Cancer (EORTC), the International Network for Cancer Treatment and Research (INCTR), and other cancer research organizations throughout the world. These important collaborations will create a substantial "critical mass" of experts to address cancer research and treatment questions, establish world-wide standards and accelerate the delivery of advancements to clinical applications to patients, wherever they may be.
The NCI Liaison Office in Brussels, located in the complex that houses the EORTC, is an ideal geographic location to establish a TELESYNERGY telemedicine hub. This will occur in late 2003. One can envision linking NCI-U.S. with EORTC and INCTR using TELESYNERGY as a communications-enabling nodal hub. The NCI Liaison Office staff will also take on additional roles in data management and education, as well as help in translational research.
INCTR has established cancer research linkages in an incredible number of countries and regions of the world. These are not only locations that need assistance, but also advantageous places for the U.S. to have positive initiatives. INCTR can serve as a synergist in building stronger links among the NCI Liaison Office, TELESYNERGY sites, and other U.S. and European cooperative research groups.
Animation/Video
This animation requires the Flash plug-in. If you do not have the plug-in, please click here to install.
Text Transcript
Telemedicine can help bring quality health care to patients in rural or underserved areas. For example, a woman in a rural area without access to a mammography center may visit a mobile unit to receive a digital mammogram.
After the digital mammogram, the technician at the local site reviews the x-ray. The technician sends the image to an expert at a distant location via satellite or telephone land lines.
Rather than waiting for traditional x-ray films to arrive by mail or courier, the expert receives and views the results of the digital mammogram almost instantly. The expert examines the digital mammogram to locate potentially cancerous masses in the breast.
A quick e-mail or phone call conveys the diagnosis.
Photos/Stills
1. TELESYNERGY locations throughout the United States.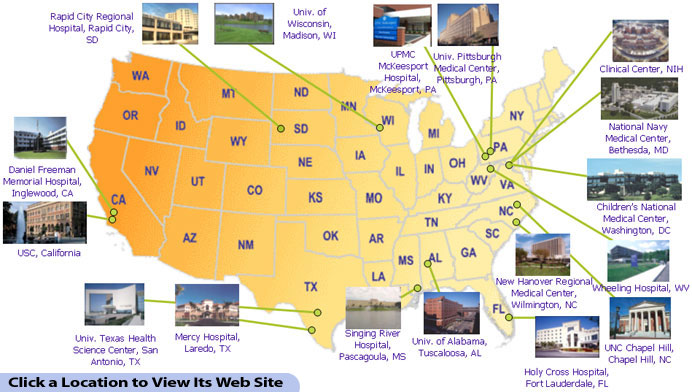 2. TELESYNERGY locations throughout the world.