The National Cancer Institute oversees the U.S. National Cancer Program and is also involved in the promotion of global health and cancer control. The National Cancer Act of 1971 directed the NCI to collect, analyze and disseminate research on the prevention, diagnosis and treatment of cancer, to share cancer research information globally, and to support research being conducted by highly qualified foreign nationals outside the United States. The landmark law also mandated that NCI support collaborative research involving American and foreign participants, and support training of American scientists abroad and foreign scientists in the United States.
NCI's spending in the developing world
During its 2006 fiscal year, NCI's international spending, including intramural research and training, was approximately $80 million. This included support and lab supplies for visiting scientists.
In a typical year, NCI has about 80 foreign grants and 10 contracts to such countries as Australia, Belgium, Canada, China, Denmark, Finland, France, Germany, India, Israel, Italy, Jamaica, Netherlands, Russia, Senegal, South Africa, Spain, Sweden, Switzerland and the United Kingdom.
During the 2006 fiscal year, NCI, foreign grants totaled $24.5 million, and foreign contracts totaled an additional $3.7 million.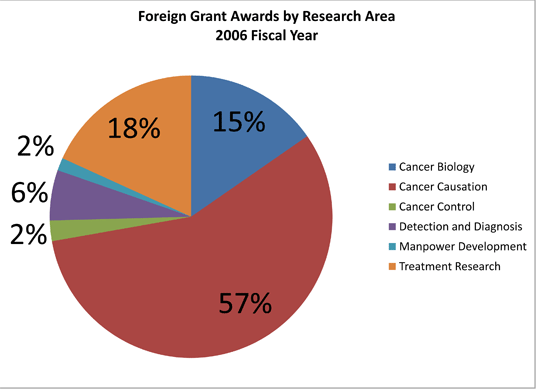 Over half (57 percent) of international grants in 2006 went to research into the causes of cancer. Eighteen percent of funding dollars went into treatment research.
Research into the biology of cancer accounted for 15 percent of funding; six percent was for detection and diagnosis, and the other four percent went into cancer control efforts (2 percent) and manpower development (2 percent).
Additionally, in 2006 there were 376 domestic grants and six domestic contracts with foreign components, including 134 in non-high-income countries.
Basic Research
Working with international researchers, NCI participates in several research projects studying the environmental and genetic factors that contribute to the development of cancer. As an example, the NCI's Chernobyl Research Unit is working with researchers in Ukraine and Belarus to research leukemia, lymphoma and other blood diseases among Ukrainian clean-up workers, and thyroid cancers and other thyroid-related disease among Ukrainians and Belarusians exposed to radiation as children during the Chernobyl nuclear accident in 1986.
Cancer Prevention
As part of its Tobacco Free Initiative (TFI), the World Health Organization (WHO) established a scientific advisory committee on tobacco product regulation. NCI scientists have been working with this group since 2002, developing recommendations to improve public health and scientific research on the effects of tobacco use.
NCI has also worked with WHO's TFI to create an International Network for Tobacco Testing and Research for Regulation to address research issues related to global capacity building for tobacco product testing and research. In addition, NCI, as part of a multi-agency collaboration with five other institutes of the National Institutes of Health, the NIH Fogarty International Center and the WHO's TFI, funds research on tobacco use and related illnesses in the developing world.
Cancer Detection and Diagnosis
NCI researchers are working with scientists at the University of Tokyo, which hosts one of the world's premier fluorescence imaging laboratories, to develop a new optical imaging system to detect smaller cancers with a higher sensitivity compared to current methods. NCI scientists are also working with researchers from Princess Margaret Hospital in Toronto to improve magnetic resonance imaging-guided (MRI-guided) prostate biopsy techniques, which improve the ability to visualize the anatomy and pathology of the prostate.
In the field of AIDS-related malignancies, NCI established the AIDS and Cancer Specimen Resource, a repository of tissue and biological samples available to researchers working in the fields of AIDS, cancer, virology and others, to encourage research on AIDS and cancer. The repository contains over 100,000 specimens, including samples from Africa, Brazil, Russia and Thailand.
Cancer Treatment
The NCI supports the International Center for Studies of Traditional Chinese Medicine, a partnership between the University of Texas M.D. Anderson Cancer Center in Houston, and the Cancer Hospital of Fudan University in Shanghai, China, to study the benefits of some traditional Chinese medicine treatments for cancer patients.
In addition, the NCI has a liaison office in Brussels, Belgium, which coordinates several of the Institute's research and treatment programs in Europe. The goal of the NCI liaison office is to facilitate the interchange of information, ideas and research between NCI and its European partners. The office works with universities, research institutions and other organizations through a mixture of informal partnerships and formal agreements with international organizations, such as the European Organization for Research and Treatment of Cancer, Cancer Research U.K., the Southern Europe New Drugs Organization, the European Drug Development Network and the International Network for Cancer Treatment and Research.
Quality of Care
The National Cancer Institute has been involved in a number of workshops and training programs to improve the quality of care in various nations. In collaboration with the International Network for Cancer Treatment and research, NCI co-sponsored a series of workshops for health care providers in developing countries about the latest tools and techniques in the treatment of cancer and symptom relief. These conferences have been held in China, the United Arab Emirates, Jordan, the Palestinian Authority, Egypt and Iraq.
In addition, in April 2006, NCI sponsored a conference on traditional Chinese medicine which brought together researchers from China and the National Cancer Institute, as well as a conference on palliative care in the Middle East.
Training of Scientists
Yearly, approximately 1,000 visitors (including post-doctoral trainees) from more than 74 countries contribute to intramural research projects being conducted at NCI's Center for Cancer Research through the NIH Visiting Program. Formal researcher exchange programs also exist through the U.S.-Japan Cooperative Cancer Research program and the Ireland-Northern Ireland-NCI Cancer Consortium. The NCI Office of Nursing Affairs has also hosted nurses from Ireland and Jordan to provide mentoring on core oncology nursing training, cancer genetics and clinical trials. Each summer, NCI's Division of Cancer Prevention hosts a course on the Principles and Practice of Cancer Prevention and Control which draws a number of international attendees. In the past, scientists and health professionals from countries such as China, Ghana, India, Lithuania, Russia and Turkey have attended this course.
In addition, the NCI Office of International Affairs hosts a Scientist Exchange program in which NCI partially funds training of scientists from developing countries in non-NCI laboratories in the United States and other developed countries.
Building Capacity and Infrastructure
The All-Ireland NCI Cancer Consortium, also known as the "Ireland-Northern Ireland-NCI Cancer Consortium" was established to facilitate collaboration between the governments and cancer research communities of the United States, Ireland and Northern Ireland in order to improve the infrastructure for cancer research and cancer care on the island of Ireland, and to develop joint research programs and educational exchange programs.
The consortium has several working groups, the most active of which has been the prevention working group, which has participated in several workshops in Ireland related to tobacco control and obesity, and is working to build an Ireland-wide community of prevention-oriented scientists and caregivers.
Cancer communications have also been improved through TELESYNERGY®, a global medical consultation workstation developed by the National Institutes of Health. (See BenchMarks Volume 3 Issue 6 for more information about TELESYNERGY®). The TELESYNERGY® system combines cameras, microscopes, audio equipment and other devices to enable clinicians and scientists from multiple locations to collaborate. The full version of the TELESYNERGY® system is being used in five hospitals on the island and smaller versions have been installed in five other sites. The TELESYNERGY® system links researchers with scientists and clinicians in the United States and in Amman, Jordan.
The King Hussein Cancer Center (KHCC) in Jordan forged a cooperative agreement with NCI to enhance medical sciences and improve care in the Middle East region. Major achievements of this cooperation include the launch of the TELESYNERGY® system.
Jordan is also part of the Middle East Cancer Consortium (MECC), a coalition between the United States and the Ministries of Health in Cyprus, Egypt, Israel, Jordan, the Palestinian Authority and Turkey. Their principal initiative, the Cancer Registry Project, supports the development of population-based cancer registries in all of the member countries. The first report on cancer incidence, which includes date from Cyprus, Egypt, Israel and Jordan, was released in 2006 and is available on the NCI website.
In Africa, the NCI, in cooperation with other parts of the National Institutes of Health, provides awards to establish and maintain several Centers for AIDS Research (CFARs) including one at Case Western Reserve University which conducts research on prevention, detection and treatment of HIV, AIDS and AIDS-related malignancies, such as cancer, with Makere University in Kampala, Uganda. NCI also supported the 6th International Conference on the Burden of Cancer in Africa which was held in October 2007 in Cape Town, South Africa.
The NCI also provides capacity building assistance through an expansion of its Comprehensive Cancer Control Leadership Institutes (CCLI). As a collaboration between the NCI's Cancer Information Service, the American Cancer Society, the U.S. Centers for Disease Control and Prevention, and the Intercultural Cancer Council, the CCLIs provide an opportunity for highly-skilled, influential individuals to support cancer control implementation efforts in their local areas. After a successful run in the United States, the program has spread to Peru, Mexico, Brazil and Uruguay.
The NCI Office of International Affairs, lead by Joseph Harford, Ph.D., coordinates the Institute's international activities. The office collaborates and works with international agencies, as well as coordinating international cancer research and overseeing international scientist exchange programs. The OIA is also very involved in sponsorship of international workshops, and dissemination of cancer information.
For more information about the international activities of the National Cancer Institute, please visit http://oia.cancer.gov.
Photos/Stills
Print This Post