Who We Are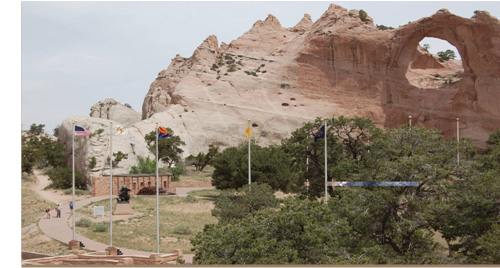 BIA Navajo Region: The Bureau of Indian Affairs (BIA) Navajo Regional Office's mission is to enhance the quality of life, facilitate economic opportunity, carry out the responsibility to protect and improve the trust assets of the Navajo Nation and individual Indians.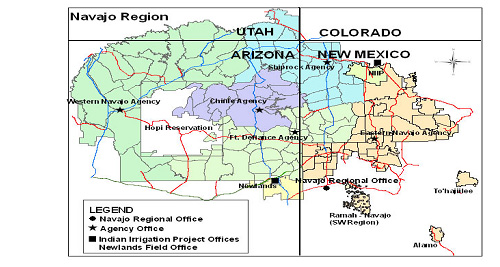 Vision Statement
The Bureau of Indian Affairs (BIA) Navajo Region is committed to provide high quality services to our customers in a timely and professional manner; to have a challenging and dynamic organization that is flexible in addressing the changing needs of our customers; to have employees who are committed, knowledgeable and empowered; to strive for excellence while fostering cooperation, coordination, and consultation in support of Indian self-determination and tribal sovereignty.
Organization
The Navajo Region is unique in that it provides services only to the Navajo Nation and its members due to their substantial population and large land base. The Region reports to the Deputy Bureau Director, Field Operations for all non-education related Bureau programs, functions, and activities assigned to the Region. The Regional Director represents the Bureau in dealings with other governmental entities to work toward strengthening intergovernmental assistance to the Navajo Nation, and to improve interagency and intergovernmental cooperation and coordination within the Region. This includes providing program direction and supervision to five agencies responsible for formulating and promulgating Region applications of national policies; for monitoring and evaluating operating programs and offices to ensure program effectiveness, efficiency, and conformance with established policies; and for obtaining or providing adequate technical advice and assistance to support field operations.
The Bureau of Indian Affairs (BIA) Navajo Region supports 34% of all Bureau-operated schools and manages more than 2,000 institutional buildings and approximately 2,400 quarters. The Branch of Roads (Transportation) provides construction and maintenance service for 6,051 miles of roads and bridges of which 1,460 miles are paved and 4,590 miles are unpaved. The Branch of Environmental Services provides support to nearly every program in the region in that it deals with constant receipts and disposal of lands and structures. The Branch of Forestry manages one-half million acres of commercial timber; 4.8 million acres of woodland; provides wildland fire management on the entire reservation; treats 10,000 acres a year of hazardous fuel reductions; and, supports an emergency fire-fighting project comprised of nearly 400 firefighters. The Branch of Natural Resources monitors operation and maintenance of 490 windmills on Navajo trust lands; is responsible for the operation and maintenance of 98 windmills on the Navajo Partitioned Lands (NPL); and, is responsible for grazing management of 16.2 million acres of trust lands. Other services include, but are not limited to, social services, safety and emergency services, tribal government services and real estate related services.
Navajo Region Agencies
The Navajo Region is comprised of five (5) Agencies. Agency program staff report directly to their respective Regional Program Division or Branch Chiefs, whom report to the Deputy Regional Director for Trust or Indian Services, with the exception of the Eastern Navajo Agency. The staff at the Eastern Navajo Agency report to the Superintendent. The majority of the Navajo Regional staff work at the following agency offices.