What We Do
The Navajo Regional Office is comprised of the following BIA programs:
Division of Natural Resources
This Division provides coordination, management, planning, oversight, and monitoring for development and protection of trust natural resources, construction, operation, and maintenance of irrigation and power projects, protection of Indian water rights, water development projects, BIA dams and fish hatcheries.
Branch of Agriculture (Farm & Range) The Branch of Agriculture plans, protects, conserves and develops tribal agricultural trust assets for the Navajo Nation. The program further protect and eradicates Noxious Weeds, implement the Navajo Nation's Grazing Regulations, protect and conserve fish, wildlife, and plant resources on trust lands by preserving the forage, land and water resources. The Branch also adjusts livestock numbers to its carrying capacity by promoting responsibility through proper management.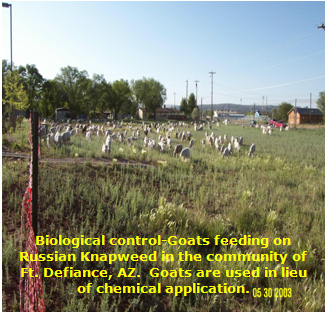 Branch of Water Resources/Safety of Dams The Water Resources and Safety of Dams Branch is responsible for developing and implementing a sound program for the Navajo Nation in the development and management of Indian water and mineral resources, and land management. The mission of the Regional Safety of Dam Program (BIA SOD) is to protect, to the extent practicable, people who reside in or who otherwise occupy the floodplain downstream from BIA Dams from the risks posed by the dams within the Navajo Nation.
---
Division of Forestry/Fire Management
The Division is responsible for providing coordination, management, planning, oversight, and monitoring for activities related to development, enhancement and protection of trust forest resources including the National Wildland Fire Program. The division provides for the protection and management of the Navajo Nation's forest and woodland resources in a manner that benefits the Navajo Nation and all tribal members. The division is located in Fort Defiance, AZ.
Branch of Fire Management The Branch of Fire Management's mission is to enhance the quality of life, to facilitate economic opportunity, to carry out the responsibility to protect and to improve the trust assets of the Navajo Nation and individual Indians. To provide safe and effective wildland fire protection on privately-owned Indian forest and range lands held in trust by the United States of America and to carry out the aviation resources Bureau-wide.
---
Division of Real Estate Services
This Division of Real Estate Services provides assistance, advice, policy, oversight, monitoring, and coordination for the protection, management, planning, conservation, development, utilization, and probate of trust and restricted Federal Indian-owned lands that include acquisition, disposal, tenure, rights-of-way, permits, leasing, and sales. Real Estate Services protect and maintain the integrity of trust lands and trust resources through preservation of these resources. The Regional Realty Program provides policy direction, technical assistance, training, administrative review, and monitoring in the evaluation of Agency real property operations, thus, ensuring budget and performance integration. Additional responsibilities include, but are not limited to:
deciding appeals of Agency actions; assisting in the negotiation of Public Law 93-638 contracts for realty related functions
litigation support
review of real property initiatives
review and approve numerous real estate services transactions, e.g. acquisition, disposal, surface and sub-surface lease, appraisal, and land use planning proposal transactions for Indian tribes who have contracted or compacted the program as well as those Indian tribes and individuals for whom the Regional Office serves as an agency office
coordinate environmental studies; rights-of-way; easements; exchanges; partitions; patents in fee; removal of restrictions; permits; probate and estate planning; and initiation of rights protection issues such as trespass and land damages
technical review of real estate transactions which are for the most part prepared at the Agency level
approving real estate transactions for contract and self-governance Tribal transactions
---
Division of Probate & Estate Services
The division provides functional control, assistance, policy development coordination for probate programs, and monitors and evaluates probate operations. The division exercise program oversight and provides planning and scheduling of Bureau probate and assisted activities. The division coordinates the implementation of the Bureau's policies and procedures, to ensure that the probate initiatives meet the Secretary's fiduciary responsibilities and improves efficiency of services to tribes and individual Indians. The division is responsible for developing action plans and systems for probate programs and for developing and implementing improvements to the probate process. The division is responsible for management and implementation of probate-related outsourcing efforts and coordinates associated operations with other trust reform activities and other Departmental initiatives.
---
Division of Environmental and Safety Management (DESM)
The mission of the Division of Environmental and Safety Management program is to protect the environmental status of trust and federal properties through compliance with federal environmental laws and regulations and assure that all users of trust lands protect tribal natural resources. DECSM provides technical and compliance assistance to the Bureau of Indian Education, Office of Indian Program facilities, Transportation, Forestry, Realty, Natural Resources, Property Management, Navajo Partition Lands and the Navajo Nation. DECSM works with the two enforcement entities: the Navajo Nation Environmental Protection Agency and U.S. Environmental Protection Agency Region 9 and Region VI.


---
Division of Tribal Services (Human Services, Tribal Government Services, Housing, Self Determination)
The Division provides technical and program assistance in the areas of social services, housing improvement, tribal government services and Indian self-determination that pertain to policy matters, administrative processes, tribal membership rolls, Secretarial elections, approval and monitoring of Tribal Attorney contracts, and comprehensive planning and priority setting. The Navajo Nation, through the Public Law 93-638 Contracts, provides direct services for social services, tribal enrollment, housing improvement program, and law enforcement.
---
Division of Transportation (Roads)
The Division of Transportation's mission is to work in concert with the Navajo Nation to identify and prioritize reservation roads within the Navajo Nation for road maintenance and road improvements to further the Nation's Economic and Self-Determination goals. The Division administers road construction and maintenance programs in conformity with regulations and agreements (MOAs) jointly approved by the Secretary of the Interior and the Secretary of Transportation. The Federal HWA-BIA Memorandum of Agreement specifies that the BIA shall carry out the planning process for Indian Reservation Roads and shall perform required environmental, public notification, engineering and architectural services needed for each according to established regulations and policies. The Division of Transportation program shall also advertise, award and administer the contracts in conformance with approved plans and specifications.
---
Farmington Indian Minerals Office (FIMO)
Established in 1998, the FIMO comprises of BIA, BLM and MMS, located in Farmington, New Mexico. This "one-stop office concept" serves Navajo individual Indian allottees with mineral leases in accordance with the Mescal Settlement Agreement. FIMO conducts four outreach meetings annually.
---
Navajo Indian Irrigation Project (NIIP)
In 1962, NIIP was authorized as a participating project of the Colorado River Storage Project Act in the four corners area of the Navajo Nation. The Navajo Indian Irrigation Project's principal purpose is to furnish irrigation water to approximately 110,630 acres of land on the Navajo Nation. This program is located in Farmington, New Mexico.
---
Lockbox Trust Coordination
The Lockbox/Trust Coordination provides oversight and initiates corrective actions to ensure lockbox transaction and income associated are processed accurately, timely and efficiently for the Navajo Nation and Navajo Indian beneficiaries. The Lockbox/Trust Coordination coordinates with BIA regional and agency staff, and the Office of the Special Trustee for American Indians (OST) to resolve issues related to the allocation and distribution of trust income.
---